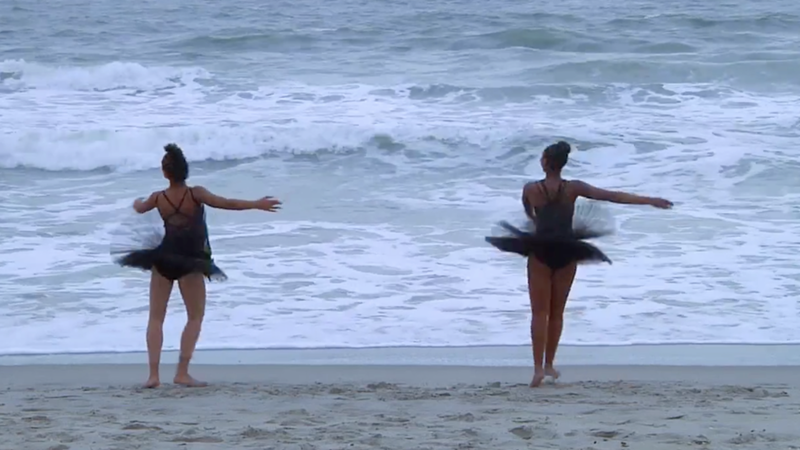 When we last saw "Gasland" director Josh Fox, he was being arrested on Capitol Hill for trying to film an EPA hearing on fracking. He was still in hot pursuit of the antagonists in his original film, the fracking companies that had were squaring off against landowners in rural northeast Pennsylvania over drilling rights.
Fox's activism—and that of the anti-frackers he rallied—actually worked. In 2011, regulators declared the nearby Delaware River Basin offlimits to fracking. And earlier this year, a group of "Gasland" families won a $4 million verdict against the drilling companies.
But now Fox has a new problem. A hemlock tree that he'd planted as a boy at his family's country home is being eaten away by an insect species that has never before made it that far north. The culprit: climate change.
That sets him on a global trek taking him to five different continents to learn how they're being affected by climate change. He's captured his findings in a new documentary, "How To Let Go Of The World—And Love All The Things Climate Change Can't Take," which is set to air on HBO later this year.
We know the film discusses climate change, but as the title might suggest, what the film is really about ends up being hard to nail down. For anyone who follows climate change closely, there's not much news here that will be surprising: Pacific Islanders are drowning, renewable resources are being ignored, and Superstorm Sandy was a sign that all coastlines, no matter how developed, are at risk. And for anyone still skeptical of climate change's impact, they will find some grist as Fox sometimes succumbs to the trap many journalists can fall into of conflating any localized environmental issues, like a South American oil spill or Beijing's smog problems, with global climate change as it is strictly defined. Fox largely ignores asking hard practical questions about whether we should be ramping up investment in carbon capture or nuclear energy to put a lid on CO2 emissions.
But he ends up taking on an even more profound truth, as he discovers that it is probably too late to even worry about these types of issues. "Overwhelming, overwhelming, overwhelming," he keeps saying to himself as he encounters one after another of hopelessly monumental environmental quandries. This is the true genesis of the film's title: At this point, there isn't much we can do to stop the ravages of climate change. We can only hope to prepare for them.
It was in remarks after a screening of the film in Miami that Fox clarified this main argument: We are going to have to be ready to abandon the material goods that climate change is going to take away from us, and begin strengthening the bonds between us. He referenced the Danzinger Bridge shooting incident in the wake of Hurricane Katrina that saw police open fire on black families trying to retrieve supplies as an example of the conflicts that we must attempt to stave off as climate change takes its toll.
"If what happens after Katrina on the bridge, where people were drowning and the police were telling them to go back, if that happens across America as the climate gets worse, it would be an utter disgrace, it would be a tragedy," Fox told me.
"On the other hand," he said, "if we get ready the spare bedroom or the couch and make sure we have meal planned for when refugees arrive from sea level rise, that attitude is what we need more of in the United States."
Rob covers business, economics and the environment for Fusion. He previously worked at Business Insider. He grew up in Chicago.