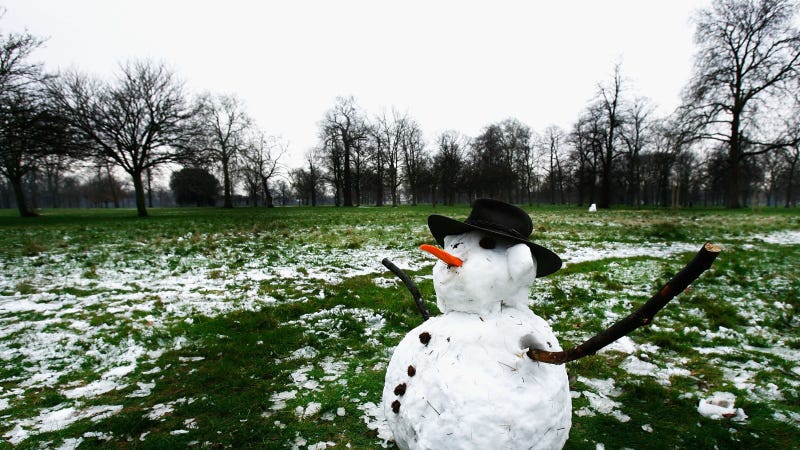 Not since 1899 has Buffalo, New York remained snowless this late in the year. On Friday, the northeastern city broke its 116-year-old record for latest snowfall by making it past December third without a flake on the ground—and the snow drought goes on. The city's late-snow record may end up being "shattered" according to Jennifer Stanonis, a meteorologist with WGRZ Channel 2 in Buffalo, as warmer than average temperatures across the region are expected for much of December.
"We probably won't see snowfall here in Buffalo until maybe next week," Stanonis told Fusion. "So we are expected to shatter this record by potentially almost two weeks. It's truly amazing."
Many Buffalonians are enjoying the unseasonable weather, especially after last year's autumn during which the so-called "Snowvembor" or "Snowmaggedon" or "Snowpocalype" dumped almost seven feet across the region in mid-November.
Stanonis said that the city has seen dramatic swings in the winter weather from year-to-year over the last decade, with the winters of 2011-2012 and 2012-2013 being the 4th and 15th warmest out of 145 years on record. On the other end of the mercury, she said that the winter of 2013-2014 was "very cold and snowy" with two blizzards; a rare occurrence as the city usually only gets one full-on blizzard every two decades or so. Then after "Snowvember" last year the city experienced its coldest January in 145 years.
Fast-forward to fall of this year in which one of the strongest El Niños on record is keeping cold air and moisture from reaching much of the Northeast. Twenty-one days reached or exceeded 50°F in Buffalo last month—tying 2001 and 2011 for the most such days in November. It was also the third driest November on record in Buffalo, with 67% below average rainfall for the month.
Jessica Owley, an associate professor at SUNY Buffalo Law school who teaches environmental law, told Fusion that everyone in the area is noticing how warm it is this year.
"We already had variable weather, but climate change means that these variations are getting more dramatic," she said. "I am not a climate scientist, but there's certainly a feeling among folks in Buffalo that our community is experiencing the effects of climate change first hand."
Owley traveled to Paris this week with a group of six law students to attend the COP21 climate conference and try and get more young people from Buffalo energized around the issue.
"If we can get people in Buffalo serious about climate change, our region can do something about it," she said. "We can talk about better land use planning, increasing bike lanes, improving public transit, adopting responsible procurement policies, encouraging and using renewable energy, and many other measures that can happen now… without waiting for the international stage or even Congress."
Aaron Mentkowski, a meteorologist with WKBW in Buffalo, told Fusion that El Niño plays a huge role in Buffalo's weather and that he doesn't think climate change has "has led to our weather being any different." He also said he doesn't incorporate climate change into his analysis when forecasting the weather.
Many weathercasters are still hesitant to bring up climate change in their work as it could alienate audiences or become politicized. Some are also not familiar enough with climate science to understand how to convey the present and potential future weather impacts. (Buffalo's lakeside setting makes it an especially interesting and complex case, a concept elaborated upon below).
According to the New York State Department of Environmental Conservation, temperatures in the state have been rising for a century, with winter warming exceeding 4ºF since 1970. Overall snow cover is decreasing as spring comes a week or so earlier than it did "a few decades ago," according to the state agency, with blooming advancing as much as eight days in many areas of the state. Going forward, winter temperatures in New York are projected to rise by another 2.5ºF to 4ºF by mid-century.
Buffalo isn't the only northeastern city to be unseasonably warm so far this fall. As the Washington Post recently reported, it could end up being "one of the warmest Decembers on record in parts of the Midwest and Northeast."
While the combination of human-caused climate change and an El Niño year have all but assured that 2015 will be the hottest year on record globally by a wide margin, residents around Buffalo should actually expect more "Snowvembors" or "Snowmaggedons" or "Snowpocalypes" in the future.
This is because, as Eric Holthaus at Slate has reported, "global warming is probably juicing lake-effect snows:"

Truly extreme lake-effect snows gather their energy from a wide temperature differential between the lake temperature and the air temperature. That temperature contrast produces atmospheric instability—the warm air immediately over the lake wants to surge upward through the colder air on top, bringing with it heaps of evaporated moisture. That moisture is quickly converted to snowfall in massive quantities, and deposited squarely on the hills and towns at the far end of the lake.
According to Holthaus, this phenomenon should taper off after several more decades of warming, and "total snowfall should begin a permanent decline." But for now, extreme snowfall events in Buffalo—which sits on the eastern shore of Lake Erie—will probably become more common.
It's predictions like this that make global warming feel more like global weirding, a phrase meant to describe how the rise in average global temperatures results in not only unprecedented heatwaves, but also "weird" things like more intense cold spells, longer droughts, heavier flooding and uneven sea level rise. Then there's all the unpredictable-yet-alarming problems occurring in the world's oceans as they become increasingly acidic due to their accumulation of carbon dioxide, a process known as ocean acidification.
Across the globe from Buffalo, residents of South India are reeling from some of the most intense flooding in more than a century after relentless rainfalls throughout November and now into December. Maybe next year I'll be writing about a prolonged drought in the area and referring to the "Rainmagedon" of 2015.