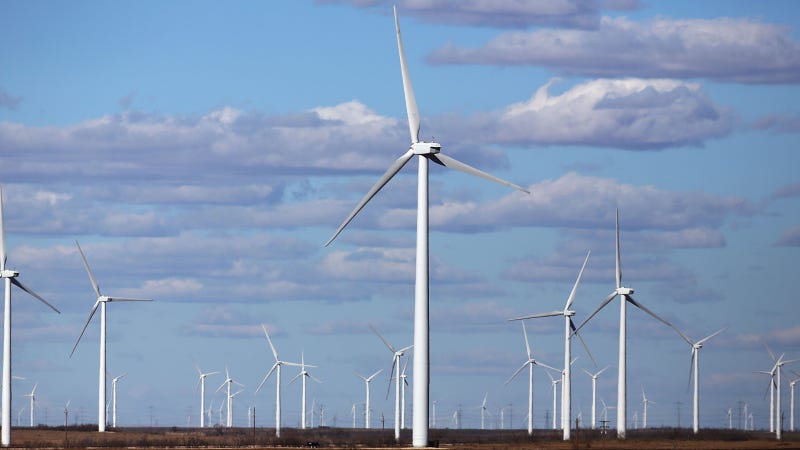 Global wind capacity reached 432.42 gigawatts (GW) at the end of 2015, up 17% from a year earlier and surpassing nuclear energy for the first time ever, the Japan Times reported.
The world installed 63.01 GW of wind last year, equivalent to about 60 nuclear reactors. China led all countries in wind energy generation capacity at 145.10 GW, followed by the U.S. (74.47 GW), Germany (44.95 GW), India (25.09) and Spain (23.03). Global nuclear power generation capacity stood at 382.55 GW on Jan. 1, 2016.
Earlier today, I reported that the U.S. had installed more solar capacity than natural gas in 2015 for the first time. In fact, new wind capacity topped both of these. Wind accounted for more than 35% of all new generating capacity, while all renewable resources together provided 68% of new capacity.
Texas is far and away the No. 1 U.S. state for wind, with nearly 14 GW installed.
"The levelized cost of energy (LCOE) from wind has fallen dramatically in recent years. Increases in overall turbine efficiencies coupled with reduced turbine costs, have made wind competitive with alternate sources of generation," said David Engels, Senior Manager, Operations Renewable Asset Strategy, Alliant Energy. "Independent Power Producers and Utilities alike continue to evaluate and make investments in their wind portfolios."
The U.S. had zero installed nuclear in both 2015 and 2013, according to the Federal Energy Regulatory Commission.
The International Energy Association recently projected renewables will become the No. 1 energy source by 2040. Last week, China, the world's No. 1 coal consumer, said it would close more than 1,000 mines this year.
Rob covers business, economics and the environment for Fusion. He previously worked at Business Insider. He grew up in Chicago.