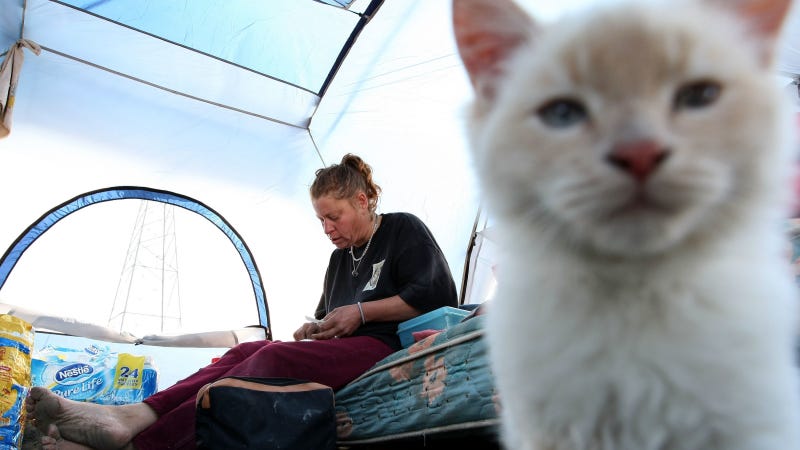 On my last visit to New York City, I gave a few dollars to a homeless person near the Rockefeller Center because she had a dog. I thought I recognized the American pit bull terrier at the lady's side along the sidewalk, and on a whim I decided to talk to his owner about her experience being homeless with a pet.
Before saying anything, I noticed her dog was well fed and his coat was in good condition. A passerby gave her a bottle of cold water, which she emptied into a bowl for her dog. She told me she makes sure her dog always drinks and eats first.
She didn't want to share her name, but said she's been living on the streets for several months and that her dog kept her safe. She was in her early twenties, thin, and had stringy brown hair. Her dog was spread out on a sleeping bag next to her; she had a knapsack, stuffed with what appeared to be clothing, close by.
It's not unusual to see homeless people with dogs. It's the ones with cats that make me do a triple take. I'm a cat person and I know that cats don't offer much protection. The homeless person with the two small cats that I spoke to by Grand Central Station told me he lost his job and his apartment. One cat laid across his legs and the other sat comfortably by his side. He swore he'd never get rid of his cats.
According to Genevieve Frederick, founder of Pets of the Homeless, a Nevada-based nonprofit that aids homeless people with their pets, there are approximately 3.5 million homeless Americans. Of that number, five to 10% have dogs or cats—In some areas of the country, the rate approaches 25%.
The exact number is a mystery because most homeless people deny having pets. Telling a social worker that a pet is involved often means forgoing services. Dogs, cats, and other pets are not welcomed at homeless shelters, job interviews, or any type of health or public assistance where one has to apply in person. Some homeless people with pets will ask another person to look after their dog or cat if they have an interview. Most homeless people are alone and don't have anyone available to ask.
While the homeless are often criticized for failing to give their pets a physical home, they are attached and will not leave them.
"It's a bad cycle," Frederick said. "Some call us for food and veterinary care."
Pets of the Homeless has a paid staff of three part-timers. Since opening in 2006, they've helped treat more than 12,800 pets.
"The calls are often desperate," Frederick said. "You can hear the pain in their voices because their pets are hurting and they don't know what to do. Mostly we listen and calm them."
What prompted her to start her nonprofit was what Frederick calls her "moment of wow."
"I was in New York City and happened to see a homeless gentleman with his dog," she said. "I wondered how can he take care of his dog when he can't take care of himself?"
What she also saw was a strong emotional bond between that gentleman and his dog. When she got home, she called her local food bank and asked if they would accept pet food donations for those with pets. She was told if she could get pet food donated, they would distribute it.
Frederick used her marketing background to reach out to other food banks and to veterinarians who would discount their services.
"Once you explain to them that these pets mean so much to these people, they want to help," she said. "About 76% of homeless have either mental illness, addiction, HIV, or a physical disability. Their pets give them unconditional love when most people shun them. These animals touch them every day. The pets also keep them in reality. Plus, the pets alert them if someone dangerous is approaching. A lot of women have big dogs for protection."
Homeless people who call Pets of the Homeless are asked if they receive food stamps, where they're living, if they sleep at night, and if their dog or cat is spayed or neutered. Once the homeless person is vetted, an appointment at a nearby participating veterinary clinic is made.
"We tell the veterinary hospital that we'll pay for the exam," Frederick said. "Then they will call us about additional costs, which can add up quickly."
Pets of the Homeless won't pay to treat a terminal ongoing illness like cancer or diabetes. In those cases, the animal may be put down. All monies come from donations. To date, participating veterinarians have worked on dogs, cats, ferrets, and even a few snakes.
Most often they cover spay and neuter services and wellness vaccines. So far, they've distributed 431 tons of pet food and supplies to shelters and food banks across the country.
"Every homeless person we talk to has their own individual story," Frederick said. "What they all need is to get into a shelter with their pets. Then they could get the services they need."

Protecting Pets in Cases of Domestic Violence
Last year, Representative Katherine M. Clark (D-MA), reintroduced the Pet and Women Safety Act (H.R. 1258). Her bill, which she worked on with congresswoman Ileana Ros-Lehitnen (R-FL), was developed to keep pets and abused women together. According to Clark, domestic violence is something one in every four women will experience at some point in their lives.
"This isolating experience is made even worse for those who fear for the safety of their pet," she said. "Despite the urgent need, resource-strapped domestic violence shelters are rarely able to offer protection for pets accompanying families who are forced to leave a dangerous environment. To date, only 3% of domestic violence shelters nationwide can accommodate pets."
Clark first introduced this bill in 2013 and reintroduced it last year. It has not yet received a vote on floor of the House.
Domestic survivor Pamela, who preferred not to give her last name, would like to see the bill pass. She remained in an abusive relationship to protect her three cats, Rikki, Lucy, and Gizmo.
"If I left, I worried what he would do to my cats," she said. "I tolerated a lot of abuse so my cats and I would have a home."
When her situation went from bad to worse she had to leave. She moved into a shelter that didn't accept pets and gave her three cats to her adult son.
"He took care of them for a month until his landlady told him that the cats had to go," she said. "My cats are family. I was frightened of losing them."
Instead of winding up homeless, she found out about the Urban Resource Institute's People and Animals Living Safely (URIPALS) program. URIPALS provides shelter to victims and their pets living in New York City.
Currently, there are 15 apartments in their Safe Haven shelter in Brooklyn and 12 apartments in Harlem. Additional housing is slated for this year.
"It's a major problem," Nathaniel Fields, president and CEO of URIPALS, said. "As many as 48% of domestic violence victims stay in abusive relationships for fear of what would happen if they left their pets behind. Pets are members of the family and no one, especially victims of domestic violence, should have to make the impossible decision to leave their pets behind during times of crisis."
According to the National Coalition for the Homeless, when a woman leaves an abusive relationship, she often is forced to choose between abuse at home or life on the streets. Approximately 63% of homeless women have experienced domestic violence.
"In working with victims of domestic violence, URIPALS identified a great need for domestic violence shelters that accept animals," Fields said. "We believe it is important for those families to be able to have their pets by their side during the entire healing process."