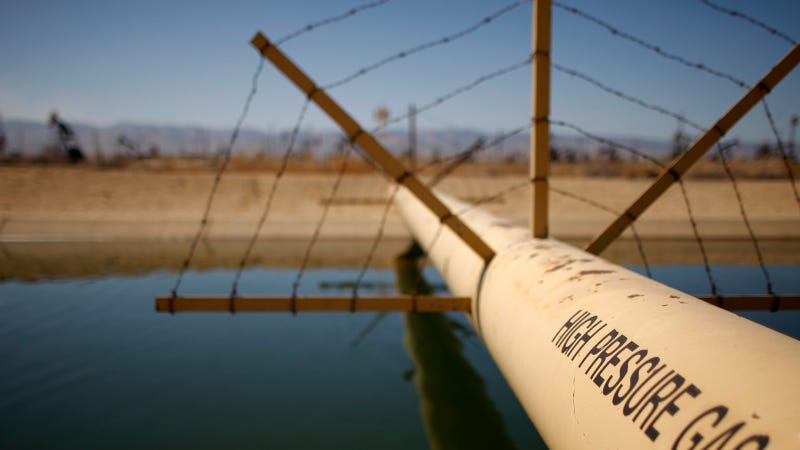 Legislation that will likely allow fracking to proceed in Florida cleared committees in the state's house and senate this week.
In their current forms, the bills will indicate that the most common form fracking, which involves shooting hundreds of thousands of gallons of water into rock formations to free up oil and gas, won't be permitted until the Florida Department of Environmental Protection (DEP) completes a study on its impact. That's according to bill sponsor Rep. Ray Rodrigues, per a report by the Naples Daily News' Jenna Buzzacco-Foerster.
But according to Jennifer Hecker, director of natural resource policy for the Conservancy of Southwest Florida, the bills will not only allow fracking to eventually proceed, they will fail also to regulate two other types of unconventional oil and gas extraction that are likely to occur in Florida.
Because the rock beneath the state is not very thick, conventional fracking, may not be needed. The last instance of conventional fracking in the state was recorded in 2003.
Instead, the oil and gas can be accessed through acidization. This involves the same basic technique as regular fracking, except a diluted acid is used to dissolve limestone and other carbonate formations. Such formations are common in Florida.
Acidization occurred for the first time in the state in 2013, but was halted by the DEP over concerns about groundwater contamination, although no evidence of this has been found. The drilling company, Hughes, is suing the state over the stop order.
This type of fracking, along with a form that uses less than 100,000 gallons of water, go virtually unregulated in the package of bills proposed, Hecker says.
"This [legislation] is basically giving false assurances and doing very little to regulate the techniques that are most likely to be used in our region," Hecker told Fusion.
According to a Florida House of Representative staff analysis of one of the bills, chemical disclosure requirements would only apply to the most conventional form of fracking.
While the conservancy initially worked to push through the legislation once they recognized that a statewide ban was not going to work, it has withdrawn its support after legislators turned down their proposals to include language regulating the two other forms of well stimulation.
There are currently 161 active conventional oil and gas wells in the state, concentrated in the southwest near the Everglades, and its western panhandle.
But Hecker says oil companies do not have to give advanced notice to the state if they change their operations to unconventional extraction — and that the new bills don't change this.
Oil production in Florida peaked at 48 million barrels in 1978, but has steadily declined over the years, producing only 2.2 million barrels in 2014. Natural gas production has also decreased, from 52 billion cubic feet (BCF) in 1978 to approximately 21 BCF in 2014.
"We cannot stop advances in technology, but what is responsible to do is to regulate," Senate bill sponsor Garrett Richter told Buzzacco-Foerster of the Naples Daily News. "As has been clearly established today, this increases regulation."
Rob covers business, economics and the environment for Fusion. He previously worked at Business Insider. He grew up in Chicago.