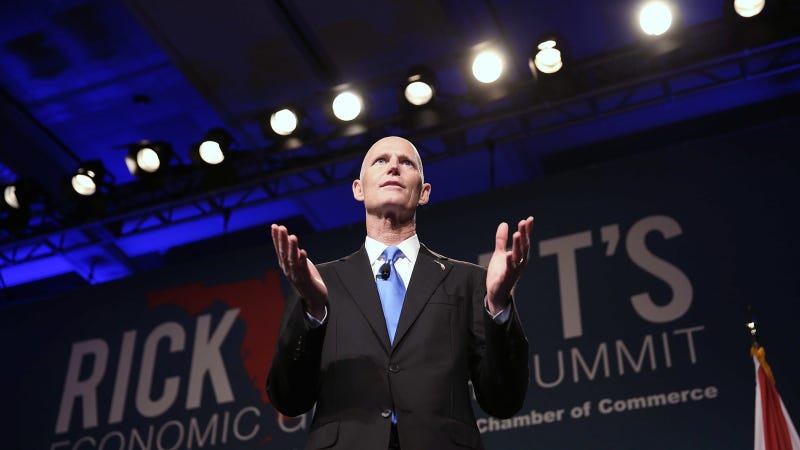 Florida Governor Rick Scott just swiped away a life preserver from Miami Beach.
Among the budget vetoes he announced yesterday was the city's request for $750,000 to help pay for its $400 million pump program. The program, Scott said, "did not provide a clear statewide return for the investment."
Mayor Philip Levine is calling it "the budget cut heard 'round the world."
"Miami Beach is one of the major economic engines of the county and the state of Florida, and one would believe that assisting us in our fight to make our city more resilient would be one of the greatest returns on investment the state could ever make," he told Fusion.
Levine estimates that Miami Beach real estate alone is now worth $30 billion, which implies hundreds of millions in state property tax revenue. He also said the city provides the second greatest volume of tourist-based sales tax revenue after Disney World in the state.
The city has already installed a handful of pumps, which are designed to flush excess water into Biscayne Bay to the city's west, but has dozens left to go. As a result of sea level rise, the city is already seeing daytime flooding during high tides, and gets swamped during any significant rainfall.
A recent study from University of Miami climatologist Brian McNoldy showed that in the last five years, sea levels near Miami Beach have increased 1.27 per year. At that rate, high tide levels would increase over five feet by 2065. and its drinking water supplies are at risk due to saltwater intrusion.
Michael Grieco, an attorney and a city of Miami Beach commissioner, foreshadowed this outcome at a sea level rise summit earlier this year, saying the city had "begged" the governor's office for help in funding its sea level rise fight but had received zero guarantees.
"I'm wondering whether Rick Scott remembers we're on the water," he said. "And I encourage him to research how much revenue this city generates for the state and county."
Governor Scott's office did not respond to an additional request for comment.
Grieco said that the city's pump plans will not change, but that other local taxes and fees will likely increase, and that other city investments are likely to be affected.
"We do all the work when it comes to sending tourist dollars to Tallahassee, but then they don't want to reinvest in the golden goose egg," he said.
Rob covers business, economics and the environment for Fusion. He previously worked at Business Insider. He grew up in Chicago.