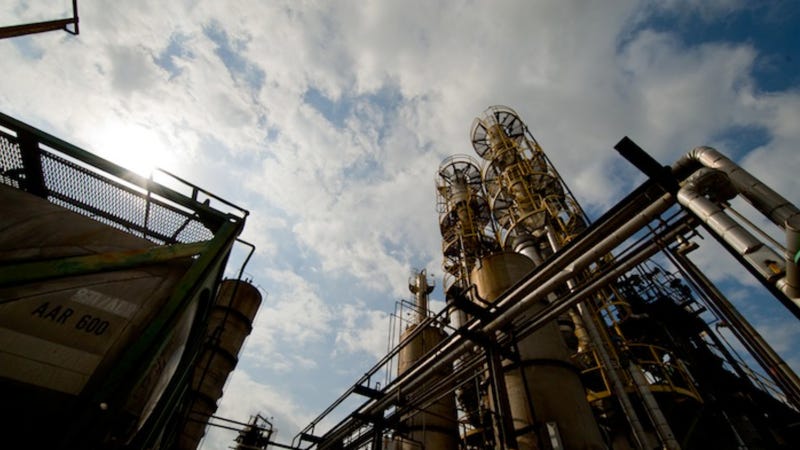 A Houston-based company, Raven Petroleum, plans to build the largest new oil refinery in the United States in 40 years, and they say that they're going "green."
Raven Petroleum's managing director, Christopher Moore, announced February that they will partner with Austin-based Thermal Energy Partners to build a 55,000 barrel-per-day crude oil refinery with an onsite geothermal plant on 832 acres in Duval County, just east of Laredo, Texas. The refinery will process sweet crude oil from Texas's Eagle Ford Shale and export diesel, jet fuel, naphtha, gasoline, and liquefied petroleum products to Mexico via railway.
"This is going to be a near-net-zero emission, and we will not be burning any dry gas for our energy," Moore told The San Antonio Express-News during a press conference. "We will be pulling that completely from the geothermal."
The geothermal plant will be capable of generating up to 20 megawatts of power using the heat from wells dug 12,000 feet deep to power turbines, according to James Jackson, Chief Business Development Officer at Thermal Energy Partners.
"Many people don't even realize that geothermal is possible in Texas," Jackson said. But according to the native Texan, the state has vast untapped potential: He estimates Texas holds up to 10% of the total geothermal energy latent in the United States.
"The idea is to make the cleanest, greenest refinery possible, and the intent is to replicate this model," said Jackson, who has already been approached not just by other oil companies, but by other industries interested in using geothermal energy to power their operations.
According to the U.S. Energy Information Administration, the last major oil refinery to be built in the U.S. was the 1977 Marathon Petroleum facility in Garyville, LA, with an original capacity of 200,000 barrels per day. Several smaller refineries have been built since, but nothing with what the EIA considers "significant downstream unit capacity."
Despite Moore and Jackson's assurances that the groundbreaking South Texas refinery will be "the cleanest refinery model in the world," local activists remain skeptical.
On February 1, a coalition of residents, landowners, and environmental groups calling themselves South Texans Against the Refinery (STAR) organized a meeting at the Bruni town hall. Over a hundred came from Duval, Jim Hogg, and Webb Counties to voice their concerns about the possible environmental and health hazards the new refinery poses to their community.
"If they use renewable energy to power the plant, that still has nothing to do with emissions," said Tricia Cortez, Executive Director of the Rio Grande International Study Center, an environmental non-profit located in Laredo and a member of the STAR coalition. The process of refining oil produces a number of known toxins that are emitted into the air, including benzene, toluene, and xylene, as well as a number of volatile organic compounds—all of which have been linked to pulmonary and respiratory diseases, cancer, birth defects, and other health problems.
Opponents of the refinery like Cortez don't have to look far to find examples of how communities near refineries can suffer. Texas is home to 29 out of 141 petroleum refineries nationwide, most of these densely located among poor minority communities along the Gulf Coast. Areas like the colloquially named refinery row in Corpus Christi, have been described as "toxic wastelands," by residents stuck coping with a myriad of health problems and no option for escape.
Raven Petroleum promises that their new refinery will be much cleaner than its outdated predecessors, but with little dialogue taking place between the company and local communities, skeptics are left with few details and a lot of concerns. According to Cortez, from what little they do know the new refinery will be located only six miles upwind from the town of Bruni and the Webb County ISD Middle and High School campuses.
"These school kids and communities will be bearing the brunt of millions of pounds of toxins in the air," she said.
Other members of STAR, like local rancher Tom Benavides, are worried about the amount of water the new refinery will require. The numbers here vary depending on the type of product produced and the type of processes used. According to one USGS study, it takes an average of 468 gallons of water to refine a single barrel of crude oil, while the EPA states it takes 1,851 gallons. Regardless, it takes a lot of water to refine oil into things like jet fuel or plastic, and that has ranchers in the area nervous.
"I've come from a family that's raised cattle for many years, and I have no cattle without water," Benavides said. "I have no grass to feed the cattle. If the water table drops, it doesn't just affect me, it affects the whole water district."
Benavides' ranch borders the proposed refinery site, and he too is concerned about the health of his family and the future of the community. "I grew up in Bruni," said Benavides. "I love my town. I love the rural life and clean air. That's what I wanted to provide for my kids. I wanted them to experience the same things that I did; the freedom, the open air, the ability to enjoy the stars at night, and a lot of that is being put into jeopardy."
Not everyone is against the refinery though. Duval County Judge Ricardo Carrillo and Jim Hogg County Judge Humberto Gonzalez have both come out in support of the project, citing the much needed economic stimulus the new refinery will give to the surrounding communities.
Judge Carrillo estimates the new refinery will bring in $147 million during the construction phase alone and hopes that once the facility opens it will employ hundreds. "Right now in Duval County there is a high unemployment rate of 10%. I know that Jim Hogg County is also around 10%," said Carrillo, who has seen the area hit hard by the oil downturn. "We think that this refinery will help bring us back down to the Texas average."
While the new refinery has generated buzz on both sides of the spectrum, the project is still in its infancy. Raven Petroleum has yet to apply for the necessary permits through the Texas Commission for Environmental Quality (TCEQ), but is expected to do so by the second quarter of this year. Until then, the full scope of the refinery's "greenness" remains uncertain.
In the meantime, Jackson urges critics to be patient while the plans for the refinery are finalized. "This isn't going to be a normal refinery," he insisted. "I think people are going to be really happy."
But for Cortez, the problem is more fundamental. "Why do we want another fossil fuel, high polluting facility to go online?" she asked. "We need to be moving in the opposite direction if we are really serious about the planet in the long run."
Raven Petroleum could not be reached for comment on this article.