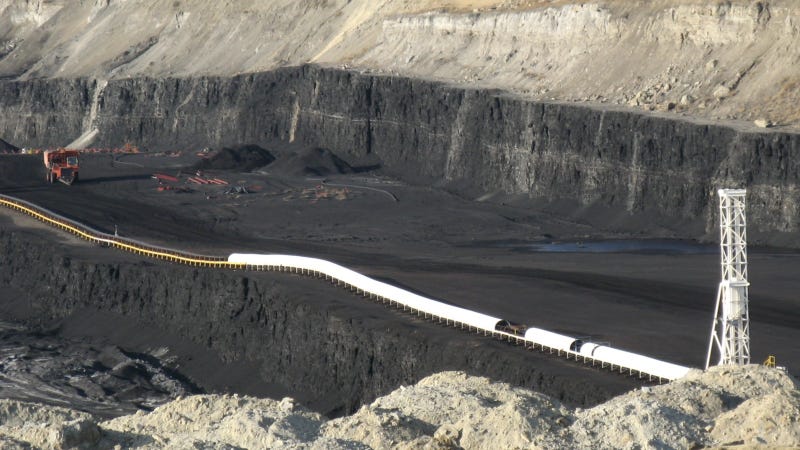 For not being magnetic, coal is exceptionally polarizing.
Some people seem to be tractor-beamed directly into the alluring power of this combustible rock, while others are repelled from it. Depending on your occupation, location and environmental disposition, coal can either be a trusty resource to exploit for the progress of humankind, or a dark, deadly substance that should be eschewed at all costs. Coal is a lump: a lump sum, or a lump in your stocking.
This prevalent organic rock—composed mainly of carbon, hydrogen and oxygen—fueled the entire Industrial Revolution, and to this day it remains a key element of manufacturing and energy production. But the further we progress into the 21st century, the more it seems like coal's heyday has passed.
At the end of December, the International Energy Agency released a report showing that after a decade of aggressive growth, global coal demand stalled in 2015. Why did this happen? And why is the agency sharply lowering its five-year global coal demand forecast?
One word: China. The rising Asian superpower is responsible for half the world's coal consumption.
According to the report, coal demand in China is suffering due to the Chinese economy's shift towards the service industry and other less energy-intensive industries. Beyond this shift, Chinese cities have been crippled by air pollution from coal-fired power plants and other manufacturing in recent years, and the government is looking for ways to transition rapidly to more renewable forms of energy. In December, China announced that it was closing some 1,000 coal mines to address air pollution and greenhouse gas emissions.
But China's modernization is not the only factor keeping coal underground. According to IEA Executive Director Fatih Birol, environmental policies worldwide, such as the recent climate agreement in Paris, "will likely continue to constrain global coal demand."
On Friday, a month after Birol's comments, the Obama administration announced a halt to new coal mining leases on public lands in order to address "serious concerns raised about the federal coal program," according to Interior Secretary Sally Jewell.
This was far from a symbolic gesture: About 40% of the 900 million tons of coal burned in the United States annually comes from public lands. It is also far from a death knell, as there are already enough reserves already under lease to sustain current levels of production from federal land for 20 years.
With the moratorium in place, the government will conduct the first comprehensive review of the impact of coal leasing on wildlife, water quality, climate change, and other types of environmental impacts since 1979. According to Friends of the Earth, a justice-minded environmental group, the review could lead to higher royalty rates for coal extraction, especially if the social cost of carbon—a comprehensive estimate of climate change damages—is factored in.
A 2012 study by the Institute for Energy Economics and Financial Analysis determined that the federal government has left as much as $28.9 billion in revenue on the table over the last 30 years by getting below-market value for its coal.
"With this decision President Obama sent a clear signal to coal companies, and their investors, that the days of dumping their pollution onto the American public are ending," said Friends of the Earth President Erich Pica in a statement.
Pica's words are not just hot air either. Since July, four major U.S. coal producers have filed for bankruptcy: Walter Energy Inc., Alpha Natural Resources Inc., Patriot Coal, and most recently Arch Coal, the second largest coal producer in the country. Since 2012, more than 50 coal companies have filed for bankruptcy.
While the downward trajectory may seem to be getting clearer, it is yet to make an impression on some of those most invested in coal mining. National Mining Association President and CEO Hal Quinn called the Obama administration's action the latest move in their 'Beyond Jobs' campaign.
"The idea that future coal leasing requires a pause to evaluate environmental impacts defies credulity," he said in a statement.
What Quinn didn't mention in his remarks is that the coal industry in the United States doesn't need a campaign to bring it into an era beyond jobs.
As New York Times Op-Ed columnist Paul Krugman recently pointed out, employment in the coal mining sector has been declining since long before Obama took office in 2009. Meanwhile, jobs in other energy sectors such as natural gas and renewables like wind and solar have grown significantly since 2009. Part of this trend is due to the fact that technological advancements in the coal industry are making it so that fewer workers are needed.
In 2015, coal production in the United States fell to a 30-year low, according to the U.S. Energy Information Agency, which attributed the decline to "low natural gas prices, lower international coal demand, and environmental regulations."
As one study last year in the journal Energy Policy put it: "Counties that continue to rely inordinately on the coal industry for jobs may be in for a long period of lowered employment by the industry. Policymakers responsible for these regions should consider options for adapting to the energy industry shifts."
The energy industry is preparing for an even bigger shift with the coming implementation of the Environmental Protection Agency's Clean Power Plan, which looks to limit carbon dioxide emissions from coal-fired power plants, the biggest source of greenhouse gas emissions in the country. When Republicans harp on the "war on coal," this is the primary target, as the rules could result in the shuttering of hundreds of coal plants.
The CPP, which was finalized last August, sets benchmarks starting in 2022 that aim to reduce carbon dioxide emissions from power plants by 32% from 2005 levels by 2030.
One thing those still compelled by the power of coal can take heart at is that it is by far the most plentiful fossil fuel on the planet, and at current extraction rates it will far outlast known natural gas and oil reserves. Then there's the fact that even with the CPP, the United States is still expected get about a quarter of its energy generation from coal in 2040.
On the downside, burning all the fossil fuels already leased worldwide would emit far more than enough greenhouse gas emissions to raise temperatures by 2 degrees Celsius—the point at which the impacts of climate change will become catastrophic, according to scientists.
With coal there is no middle ground: It either stays underground or burns up the atmosphere. More than 150 years into the realm of coal, the calculus on which option is better is starting to change.