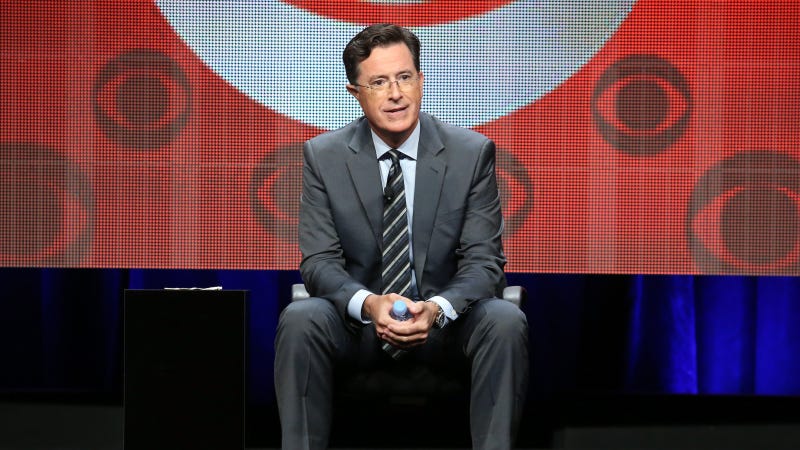 On Tuesday night, Stephen Colbert, former host of "The Colbert Report" on Comedy Central, makes his debut as host of "The Late Show" on CBS. His rise to comedic prominence and the daunting task of replacing recently retired host David Letterman have been favorite topics of the media this summer.
So what can we expect from Colbert when it comes to environmental issues?
For "The Late Show" Colbert is shedding his Comedy Central made-for-TV persona in which he emulated right-wing pundits like Bill O'Reilly in exchange for his actual personality. This absence of guise will allow him to approach controversial topics like climate change without the veil of irony required of his former character.
One of his first guests on CBS is presidential candidate Jeb Bush, who has made a point of being ambiguous on his position on climate change, especially when it comes to who's responsible. Bush's willingness to at least accept that climate change might require some adaptation—he hails from Florida after all where sea level rise threatens many coastal cities—actually puts him near the progressive end of the current slate of Republican presidential candidates when it comes to climate change.
(Example A; Donald Trump's long list of totally ignorant anti-global warming tweets.)
Will Colbert use the spotlight of his first show to send the message that environmental issues will be an important part of the mix in this new era of "The Late Show"?
A quick glance back at his past engagement with climate change, especially the when it comes to the politics of the matter, shows he very well might.
In November 2014, near the end of the run of "The Colbert Report", Colbert devoted near five minutes to Republicans' approach to climate change as they were poised to take over the Senate. Watching the segment reminds one of how easy it is to ridicule leading Republicans on the hyperbolic and hypocritical ways they attack climate change. Sen. James Inhofe (R-Okla.), now chairman of the Senate Environment and Public Works Committee, literally wrote a book on climate change denial.
After illustrating the trend of Republicans using the phrase "I'm not a scientist" to avoid any responsibility on the topic, Colbert says, "yes everyone who denies man made climate change has the same stirring message: we don't know what the fuck we're talking about."
"I hope that these conservative leaders can inspire all the children out there watching to think to themselves, 'hey maybe someday I can grow up to be not a scientist,'" he continues.
That's exactly the opposite of what kids need to be thinking. Solving climate change requires not only scientifically minded youth, but also a trust in the process of science. And this requires an understanding of the scientific process. And this requires at least a somewhat engaged interest in the material. And this is difficult.
Even with the highly anticipated  United Nations' climate conference in Paris fast approaching and time running short for global action to avoid some of the worst impacts of climate change, it can still be hard to get the public's attention on the issue—let alone provide reliable information. In Colbert's new position he will go from a trusty source of "truthiness" to someone in a position to arouse genuine passion, or at least outrage, from the late night masses.
As Colbert's former colleague on Comedy Central, Jon Stewart, recently said of his character, what made it "work was the thing that Stephen had to hide, which is his humanity."
"Instead of throwing off the cape and revealing the monster, he reveals, actually—oh, this incredibly lovely, talented man," Stewart told New York Times reporter Dave Itzkoff.
If only more of the politicians he mocked for their climate change agendas could reveal something similar.