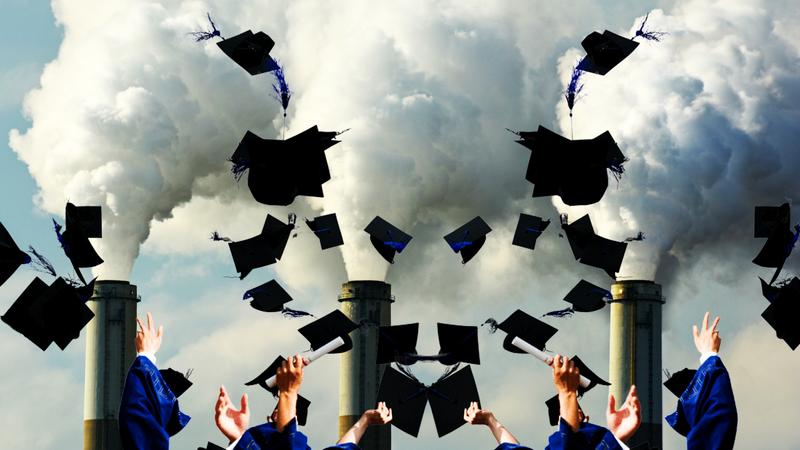 Environmental justice is about protecting underserved communities from unfair environmental and health hazards. Areas with large low-income and minority populations are often burdened by unjustifiable levels of air or water pollution (example A: the recent water contamination crisis in Flint, Mich). At the same time they lack the necessary funds and connections to do much about it. A new, nine-month Environmental Justice Academy administered by the Environmental Protection Agency (EPA) aims to address these longstanding issues by training community activists how to effectively further their causes.
The inaugural program, which wrapped up outside of Atlanta in May, helped 21 participants from five Southeastern states learn how to write grants, track pollution, manage leadership roles, and develop other important skills. Omar Muhammad, a 43-year-old marine biologist with the state of South Carolina, told me that the program was well worth the one weekend a month commitment. It was even worth the travel costs that he was forced to accrue when EPA couldn't cover all the expenses.
"A lot of environmental justice groups work on a shoestring budget and don't have the resources to hire consultants to talk about how to develop organizational capacity or stakeholder engagement," he said. "To have EPA give that type of assistance really helps communities."
Muhammad has been working on environmental justice for nearly a decade around Charleston, S.C. He is the president of the Lowcountry Alliance for Model Communities (LAMC) and a board member on the Charleston Community Research to Action Board, a group of local organizations promoting environmental justice (CCRAB).
He said his focus is community housing and environmental monitoring and that a lot of his work deals with both cleaning up the environment and making others aware of the environmental justice issues they face. But what he wanted most from the EJ Academy was help broadening his network in order to partner with other organizations, government entities, and academic institutions. He also hoped to improve his fundraising chops so he could rely less on grants.
With the added benefits of his experience at the EJ Academy, Muhammad said he's been able start taking some ideas from development to fruition. One of the main concerns in Muhammad's community is zoning and preventing more pollution-heavy industries from locating in the area. With this in mind, he said he came up with the notion of an "environmental preservation district" that will act like a historic preservation district but for communities that are already facing environmental justice challenges and can't afford any more local pollution. He said EPA has been very supportive of this idea, and is helping to figure out what could logistically work as far as rezoning the area.
"Our community is sandwiched between the interstate and an expanding port, and is a diesel-heavy corridor," he said. "We don't need other pollution sources to come in and exacerbate concerns."
The EJ Academy was initiated by EPA's Office of Environmental Justice and Sustainability (OEJS), which was established in 1992 after the Congressional Black Caucus undertook a report that found that EPA appeared to neglect enforcements and inspections in minority and low-income communities where environmental risks were generally higher.
There is a growing body of research showing that exposure to air pollution, especially at a young age, can stunt physical and mental development and cause numerous health issues later in life. One recent study found that children exposed to even small increases in air pollution can suffer increased psychiatric problems. EPA is required to monitor six types of air pollution under the Clean Air Act, including ozone, particulate matter, sulfur dioxide, carbon monoxide, nitrogen dioxide, and lead.
In recent years, a Republican-controlled Congress has made EPA's job all the more challenging by cutting its budget every year and reducing staff to the smallest size in almost three decades. Unhappy with the Obama administration's efforts to reign in air pollution, especially greenhouse gas emissions that contribute to climate change, Congress has used its budgetary authority to block the EPA from carrying out these initiatives to the best of its ability. In May, the House Appropriations Committee approved a spending bill that would cut EPA's budget by $164 million.
Chet Kibble traveled from Memphis, Tennessee to Atlanta once a month to participate in the Environmental Justice Academy. He told me his goal in attending the program was to address lead issues in the area, including better testing of children, replacing lead pipelines and paint, and creating "zero-tolerance" lead zones in certain neighborhoods.
Kibble works with Inform the People, a local environmental justice nonprofit, and spends a lot of time engaging community leaders and stakeholders to further the group's cause. He said the city recently released the locations of the lead water lines and Inform the People's goal is to work towards actually taking those lines out.
According to Kibble, Memphis has the highest rate of infant mortality in the country and parts of the city with very low average lifespans have tested positive for lead over 90% of the time when a certain portion of the population was tested.
Kibble said the EJ Academy gave him a lot of insight into esoteric legal processes surrounding environmental justice issues as well as a much better understanding of how to use all the available tools to track and monitor local pollution levels and any related health concerns.
Davina Marraccini, the Public Affairs Specialist for EPA Region 4–which includes Kentucky, Tennessee, North and South Carolina, Mississippi, Alabama, Georgia and Florida–told me that each module of the EJ Academy detailed one element of EPA's seven-step Collaborative Problem-Solving (CPS) model, which focuses on community revitalization and partnerships. She also said a rotation of subject-matter experts gave the students feedback and guidance to help them develop action plans, amongst other things.
"One of the biggest challenges that EJ communities face is the multiplicity and complexity of challenges that plague their communities," she said. "Oftentimes, well-intentioned leaders need the knowledge to address challenges which range from lack of funding, financial and technical resources, planning expertise, organizing or human capital."
Davina said that this initial program "confirmed that there is a great need for the training that was provided" and that going forward they hope other EPA offices across the country will try and replicate their efforts.
In a blog post commemorating the program's first year, Denise Tennessee, the director of EPA's Region 4 OEJS, said that many communities throughout the region are "burdened by inequitable environmental concerns."
She said the achievement of the program "underscores our commitment at EPA to help improve the health and viability of all communities, including some of the most vulnerable populations."
Anne Fulcher, a graduate of the program and a community coordinator for the Graniteville Brownfield Project in Graniteville, S.C, is working to address one of these vulnerable areas. Eleven years ago, a train wreck spilled around 60 tons of liquefied chlorine gas that vaporized and ended up killing nine people, injuring hundreds more, and displacing over 5,000 residents according to Waste360. The town has struggled to fully recover since then, and Fulcher hopes to use her EJ Academy experience to not only help revitalize the community economically but to also realize a vision of bringing parks and gardens to the town.
"Those things produce happiness, and when people in the community engage in these projects, they become stakeholders in it," she said. "They can see what their hard work can accomplish."
A full list of the 21 graduates can be found here.