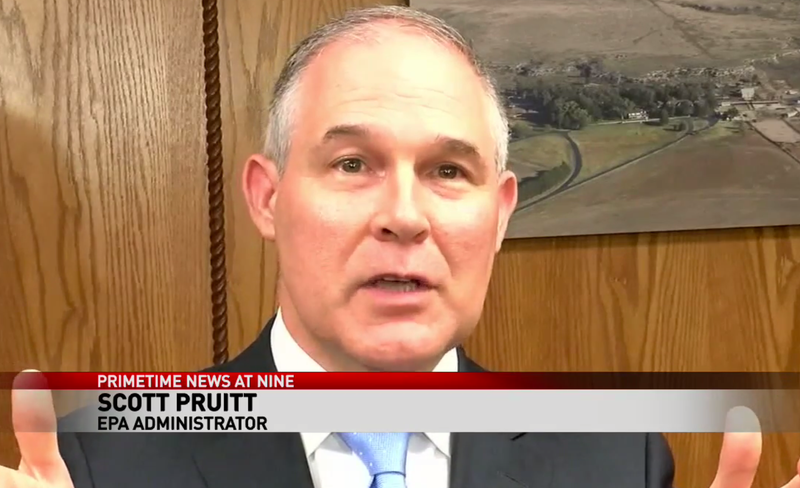 People are upset at EPA chief Scott Pruitt for something not directly related to his evisceration of the agency he oversees or his climate change denial, although the carbon footprint he's accruing on all his travels back to Oklahoma is a bit unwieldy.

On Monday, the Environmental Integrity Project, a nonprofit group founded by former E.P.A. officials, released a report showing that Pruitt traveled to his home state over 10 times between March and May, largely at taxpayer expense. Documents obtained by FOIA show Pruitt spent 43 out of 92 days from March through May in Oklahoma or traveling to or from the state. Overall, he spent some $12,000 in taxpayer dollars on travel to and from Oklahoma over that period.

This disclosure caused immediate backlash for Pruitt, who is very secretive about his schedule, and on Thursday the non-partisan ethics watchdog American Oversight filed a complaint with the Office of Special Counsel requesting an investigation into the report, saying "EPA Administrator Scott Pruitt has spent thousands of dollars of taxpayer money on frequent travel to his home state of Oklahoma – potentially for the purpose of laying the groundwork for a future political campaign."
American Oversight Executive Director Austin Evers said that as "the Trump administration is seeking to cut EPA's budget by 31% ... Pruitt is spending scarce taxpayer dollars to fuel his personal ambition for higher office."
"How is it that 90% of Pruitt's taxpayer funded travel has been to his home state? The EPA's jurisdiction extends to the entire nation, not just Oklahoma, and its assertion that all this travel was related to agency business is ludicrous," said Evers in a statement.

Pruitt had a chance to respond to these accusations on Thursday when asked directly about them during a news conference held, somewhat ironically, during a trip to Oklahoma.
He vehemently stood his ground, accusing the group that put out the report of both having the facts wrong and of being biased.

"I think the whole question about travel— you've got to consider the source," Pruitt said. "The folks talking about this, one, their facts are wrong and that's not a surprise, but it's an alt-EPA. It's a group of employees that worked for Obama, that formed an organization to put out these kinds of things that are not accurate."
An EPA spokesperson told the local Fox affiliate that most of Pruitt's travel to Oklahoma was on weekends from Friday afternoon to Monday morning, but that EIP calculated that a four missed days of work.

"The inconvenient truth is that radical environmentalists are counting weekends, Mondays and Fridays spent in Washington, and holidays like Easter Sunday in their opposition research in an effort to distract from the Administrator's significant accomplishments, including more than 30 regulatory actions, review of the Clean Power Plan, and rewriting the definition of a 'Water of the U.S.'" said EPA spokesperson Amy Graham.