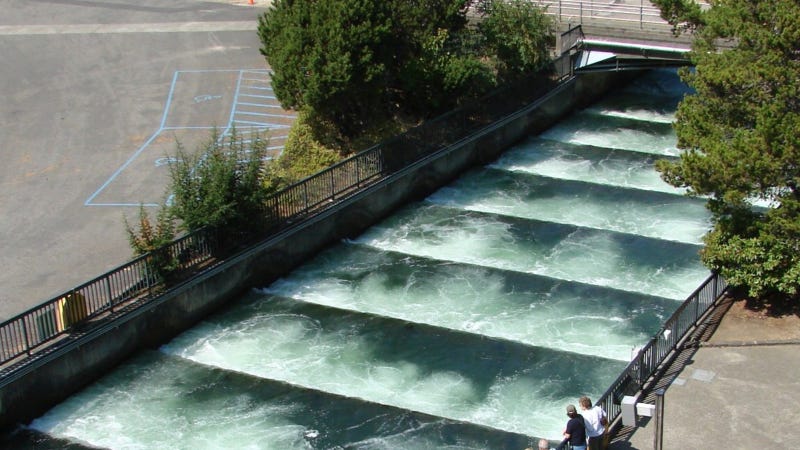 Last week, the Senate confirmed former Oklahoma Attorney General Scott Pruitt to run the Environmental Protection Agency, an agency he holds in contempt and sued more than a dozen times in his last job. Now, an Oregon environmental group is borrowing a page from Pruitt's playbook and suing his agency for inaction.
On Thursday, Columbia Riverkeeper and several other regional organizations filed a lawsuit demanding the EPA act under the Clean Water Act to protect salmon from exceptionally high water temperatures in the summer. It is believed to be the first new lawsuit against Pruitt since he became EPA administrator.
Filed in federal court in Seattle, the suit would force the agency to write "a plan to keep the rivers cool enough for salmon and steelhead in the face of global warming."
Pruitt's reluctance to accept the reality of climate change is one of the main concerns environmental groups have about his tenure.
According to the suit, in 2003 the EPA concluded that the dams on the rivers create shallow reservoirs that heat up in the summer, leading to unusually high temperatures. In the summer of 2015, an estimated 250,000 adult sockeye salmon died while migrating up the Columbia and Snake Rivers due to the effects of the warm water.
In response to the 2015 fish deaths, the EPA stated that "the need to lower water temperatures becomes more critical as the Pacific Northwest Region continues to address…climate change."
Last May, a federal judge ruled that the U.S. government needs to do more to improve the salmon runs in the Northewest, and ordered a new environmental impact statement by 2021. Big dams across the region are under scrutiny for a number of reasons.
The lawsuit was filed by Columbia Riverkeeper, Snake River Waterkeeper, Idaho Rivers United, Pacific Coast Federation of Fishermen's Associations, and the Institute for Fisheries Resources.
"Salmon and steelhead cannot be allowed to slide further toward extinction because of known increases in water temperatures" said Buck Ryan, Executive Director of Snake River Waterkeeper, in a statement. "Instead of hoping rivers don't get hot enough each year to kill hundreds of thousands of fish like in 2015, we're demanding that agencies make a plan to lower temperatures so endangered populations can spawn and recover."
Pruitt is notoriously anti-regulation and is unlikely to take up the request of creating a temperature pollution budget, also known as a Total Maximum Daily Load (TMDL), for the two rivers with any urgency. He is also likely preoccupied with his agenda to remake the agency in a way that's more to the liking of industry, with whom he's had close ties for a long time.
Pruitt has gotten off to a rocky start, with many members of his agency extremely skeptical and even fearful of his intentions, which likely include an announcement in the next few days to roll back Obama's major effort to reduce carbon dioxide pollution from power plants.
In his first speech to members of his agency, Pruitt said "regulations ought to make things regular."
"Regulations exist to give certainty to those they regulate," he said. "Those we regulate ought to know what's expected of them so they can place and allocate resources to comply."

Listeners noted that he failed to mention climate change or environmental destruction in his remarks.