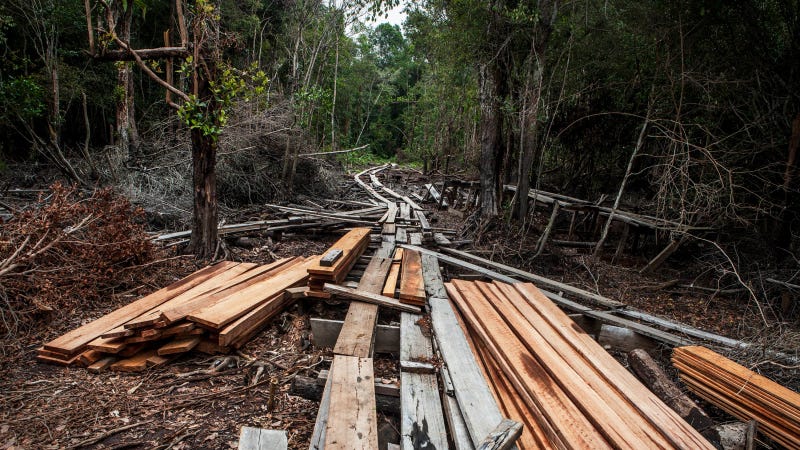 Since it was established in 2002, the UN-backed International Criminal Court has mostly prosecuted cases dealing directly with genocide or war crimes. A new announcement from the court, established by the Rome Statute to investigate crimes against humanity, gives promise to those who feel environmental destruction and land grabs have failed to receive adequate attention.
The change in focus was laid out in a recent policy document released by ICC's prosecutor, Fatou Bensouda. The document states that the office of the prosecutor will give particular attention to prosecuting "crimes that are committed by means of, or that result in, inter alia, the destruction of the environment, the illegal exploitation of natural resources or the illegal dispossession of land."
According to experts, this change this could mean more international businesses will face the court rather than the familiar line-up of warlords and dictators. John L. Washburn, the Convener for the American Non-Governmental Organizations Coalition for the International Criminal Court, said the shift in focus falls in like with Bensouda's interest in going after corporate offenders.
"This derives, I think, from her sense as an African of how these kinds of acts have contributed to a generation of conflict in Africa," he said.
Washburn said that the actions of all forms of extractive industries, ranging from oil drilling in the Amazon to precious earth mining and blood diamonds in Africa, could be targeted.
He also said the emphasis on environmental destruction goes along with a newfound focus at the court on atrocities against indigenous people.
The ICC does not prosecute corporations, but individuals. In order for a mining or fossil fuel company to be prosecuted it would have to be shown that an official at an entity that conducts such operations conducted business with the knowledge that it would have a major negative impact on habitat and/or the life of people in the area.
"The ICC is a real criminal court in that it tries individuals and does not try legal persons like corporations," said Washburn. He also said that the fact that this is only a shift in focus and not actually a new policy makes it a stronger move with clear jurisdiction already established.
"The displacement of people, the destruction of their habitat, can be an element in charges of genocide," he said. "Wanton destruction of the environment is a war crime."
Ashfaq Khalfan, Director of the Law and Policy Program at Amnesty International, said that there is "no doubt that many Rome Statute crimes could have an environmental element or involve illegal exploitation of natural resources or the illegal dispossession of land."
"Exploitation of natural resources in countries affected by conflict or crisis may involve or result in conflict, violence, and environmental harm that targets those most vulnerable," he said. "It is imperative that those responsible are brought to justice."
Both Khalfan and Washburn emphasized that the court's environmental focus could have wide-ranging impacts for companies operating in Latin America, Africa, and Asia where this type of confrontation is most likely to take place. Even just the threat of such prosecution should raise the awareness of corporations conducting potentially environmentally destructive acts, and cause them to take preemptive precautions.
Kaitlin Y. Cordes, an associate research scholar at the Columbia Center on Sustainable Investment, said that while the announcement does not expand the ICC's jurisdiction, it "places government officials and corporate executives on notice about the ICC's willingness to prosecute in situations that have received less attention in the past."
Cordes said a Cambodia land-grabbing claim filed with the ICC in 2014 is the most obvious example right now of how communities suffering environmental injustices might benefit from the court's explicit interest in these types of cases. According to Cordes, the claim argues that the violent and systematic land grabs in the country by the political elite constitute a crime against humanity.
"To be honest, when I first heard about that claim, I thought it was smart and creative but not likely to be accepted," she said. "The ICC's recent move makes those types of claims seem like less of a long shot. This is very important—for too long, communities around the world have suffered from violent evictions and tragic land grabs. When those are occurring in a way that constitutes a Rome Statute crime, survivors might now have a greater chance of seeing those responsible held accountable."
In a recent op-ed published in Truthout, Tara Smith, a lecturer in law at Bangor University, points out that while the new criminal focus in important, a full environmental justice-reckoning will require more than just the ICC:

While the court's new policy is welcome, it is not a silver bullet. People convicted may be responsible for causing harm to thousands of victims and irreparable environmental damage. Putting someone in jail won't "unharm" their victims, regrow the forest or clean up the oil slick.

This is why we should look at compensation as well as punishment. Compensation-based models of liability may be more help for both human victims and the environment—and more of a deterrent to potential perpetrators. One example of this in practice comes from Iraq where, following the oil fires during the 1991 Gulf War, the UN Security Council established a Compensation Commission. The commission was funded by the sale of Iraqi oil and gave money to victims of the attacks and financed environmental reparations.

It's great that environmental crimes are now being considered at the highest level of global justice. But the ICC alone isn't enough. A thorough approach also requires individuals and corporate bodies to become financially liable for the consequences of environment-based atrocities.