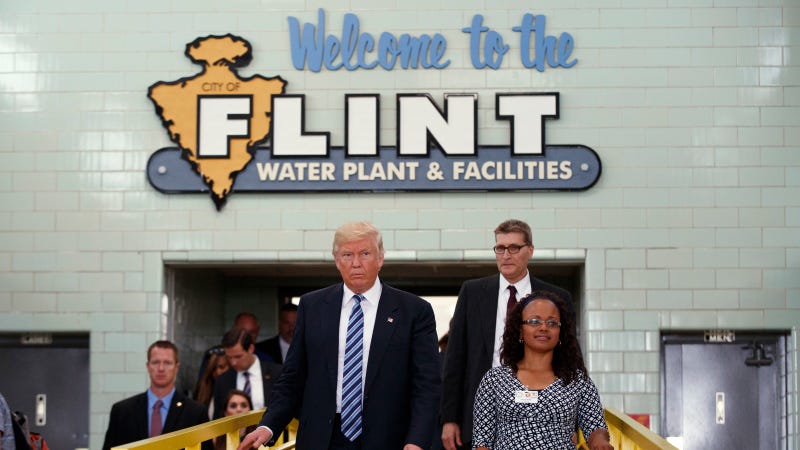 Proposed cuts to the Environmental Protection Agency (EPA) under the Trump administration will slash programs that help address pollution problems disproportionately faced by communities of color across the country; in response, environmental groups have condemned the cuts as racist and called for Congress to intervene.
The Trump administration is proposing to reduce EPA's $8.1 billion budget by about 25%, dramatically shrinking the scale and scope of the agency's operations, and downsizing the agency's employment by almost 20%. These cuts will affect a range of critical departments, including programs designed to improve water and air quality, like the Great Lakes restoration program, and others that investigate climate change, such as the Office of Research and Development. Among the many, many losers in the firing line is the EPA's office of environmental justice.
The environmental justice office, which had an operating budget of just $6.7 million last year, funds cleanup efforts in lower-income communities and communities of color, aiming to address pollution from industrial and agricultural operations that operate near these neighborhoods. The office was established in 1994 following an executive order by President Clinton tasking Congress to "Address Environmental Justice in Minority Populations and Low-Income Populations." Among the list of issues to be tackled in the next four years by the office are such basic environmental matters as lead poisoning, air pollution, drinking water, and hazardous waste sites. However, the Trump administration has proposed slashing the office's already small budget by almost 80%, to $1.5 million; if these cuts are approved by Congress, any issues that the environmental justice office planned to tackle will be left unaddressed, affecting the health and living standards of America's poorest people.
In response to the proposed cuts, the head of the environmental justice program, Mustafa Ali, stepped down this week. In an interview with InsideClimate News, Ali said that the EPA's new leadership has not shown "any indication that they are focused or interested in helping those vulnerable communities." Ali has been with the EPA for 24 years and helped establish the office of environmental justice in the early 1990s. In his resignation letter to Scott Pruitt, the EPA's new administrator, Ali urged Pruitt to consider the effects that such dramatic cuts will have on low-income communities:

When I hear we are considering making cuts to grant programs like the EJ small grants or Collaborative Problem Solving programs, which have assisted over 1,400 communities, I wonder if our new leadership has had the opportunity to converse with those who need our help the most. I strongly encourage you and your team to continue promoting agency efforts to validate these communities' concerns, and value their lives.
Trump is gutting the EPA in part to fund an increase to the military's already huge $600 billion budget. Notably, the total 2016 budget for the EPA was less than 1.5% compared to 2016 military spending, and the budget for the environmental justice office was just 0.08% of the EPA's 2016 budget.
In response to the proposed cuts on the environmental justice office, Ken Cook, the president of Environmental Working Group, said:

If you want to know who Donald Trump really cares about, follow the money. Tax cuts for billionaires? No problem. But an EPA program that spends a paltry amount to address the outsized burden of pollution on low-income communities of color is too expensive. It's a shameful and frankly racist slap in the face to people who are already suffering the most from toxic chemicals in their air and water.
John Coequyt, campaign director of the Sierra Club, similarly accused the cuts of being racist: "To cut the environmental justice program at EPA is just racist. I can't describe it in any other terms than a move to leave those communities behind. I can't imagine what the justification would be, other than racism."

Environmental health injustices
According to the latest data from U.S. Department of Health and Human Services, African American children were almost twice as likely to suffer from asthma compared to white children, and were were about seven times more likely to die from asthma related causes than their white counterparts. And Hispanic children, who were reported as having only slightly higher rates of asthma than white children, were about twice as likely as die from asthma related causes. While there are many factors that contribute to increased rates of respiratory disease, exposure to air pollution has been consistently associated with higher asthma rates.
Dr. Georges C. Benjamin, the Executive Director of the American Public Health Association, explained that there are a whole slew of environmentally related diseases that disproportionately affect lower-income communities and communities of color, including asthma, lead poisoning, rashes, and diarrheal diseases.
"The problem that low-income communities have is that they're living in places where there hasn't been much investment in cleaning up the environment," Dr. Benjamin said. "They live in places where people have literally dumped their trash and it hasn't been cleaned up. They live in places where the core infrastructure is either old or hasn't been well developed."
Because many of the communities that suffer most from environmental injustices are lower-income, their issues are often left unaddressed. Still, every now and then, an environmental injustice is brought to national attention. This is exactly what happened last year with Flint, Michigan, where a low-income and largely black city's water supply was shown to contain toxic levels of lead. The subsequent investigation from the Michigan state government found "systematic racism" had "repeatedly led to disparate racial outcomes as exemplified by the Flint Water Crisis."
Dr. Benjamin explained that examples like Flint are precisely why the EPA is needed. Oftentimes, when local and state governments fail their constituencies in environmental matters, "the federal EPA is kind of the last organization that people can rely on to protect their health." The direct implication here is that gutting the EPA, and the environmental justice office, would deprive underserved communities of their last line of defense.
"Although we hate to admit it, it is not unusual for old cities that are 80-100 years old to have these problems with old infrastructure," said Dr. Benjamin. "The tragedy is that they don't tend to get fixed, and lower income individuals end up living in those communities, and are unable to move."

How cuts will affect real communities
Lowndes County, Alabama, is the perfect example of the type of community that will suffer from the gutting of the environmental justice office. With a little over 10,000 residents, Lowndes Country is low-income (over 35% of its residents live in poverty and the median household income of about $26,000) and primarily African American (just over 25% of country residents are white). It lies directly along the route of the historic civil rights march from Selma to Montgomery. Yet, more than 50 years after civil rights leaders marched for African American equality, the people of Lowndes Country don't have a functioning sanitation system.
Catherine Flowers, the director and founder of the Alabama Center for Rural Enterprise, explained the problem as one of not having a "basic fundamental human right to have sanitation." Whenever it rains, outdated or non-existent sanitation systems result in the surrounding areas being flooded by raw sewage.
According to Flowers, the result has been increasing evidence of "tropical diseases," like hookworm and other intestinal parasites, that are the result of the heat mixed with raw sewage. Health issues of this nature are almost exclusively found in developing nations that struggle to maintain their sanitation systems. But, as Flowers explained, "if you have fecal matter on the ground, like we have it here, that sets up conditions that make people sick."
In addition to health problems, the lack of proper sewage systems has caused legal problems for many of Lowndes County residents. In 2001, 37 families from the county faced arrest or eviction because of health regulation violations. Lowndes County is one of the poorest in Alabama, and, as Flowers explained, residents simply didn't have enough income to fix their sanitation systems by themselves. She reached out to contacts in Washington for help, and was able to get through to then-Alabama Senator Jeff Sessions (yes, the very same Jeff Sessions that serves as Attorney General in the Trump administration).
According to Bob Woodson, an African-American community leader and civil rights activist, Sessions responded by pressing the EPA to look into the problem, and ultimately providing funding for septic tank installment. Over a five-year period, Sessions helped "improve sanitary conditions, create economic development, provide training in financial literacy and created new housing opportunities."
Despite these actions, the problem in Lowndes County persisted. According to data from 2010, just 20% of Lowndes County residents could connect to the municipal sewer systems, with the remaining 80% having to find their own means of disposing their waste. Lowndes County is not alone in its persistent sewage problems; all across the Black Belt, low-income communities of color have faced problems with outdated or nonexistent sewage systems. "You should be able to flush the toilet and have your waste treated properly, but in a lot of rural communities across the U.S., that's not true," said Flowers.
"The office of environmental justice, the EPA, has been the only federal agency, the only entity, that has consistently worked with us the last few years to try to find a solution," said Flowers. "And we are very close to find a solution."
Over the past few years, the office has brought together resources from different federal agencies to address the sewage problem, aiming to design affordable septic systems that would work for the county. "To cut them out of this process, and eliminate them, leaves the people of Lowndes County in these very rough conditions," said Flowers. She is in the process of reaching out to the office of Attorney General Sessions, in the hopes that the once Alabama Senator hasn't forgotten about the people of his home state.
"We're not going to Make America Great," said Flowers. "We're going to put America in the dark ages if the office of environmental justice is eliminated."
*The EPA declined to comment on the article.