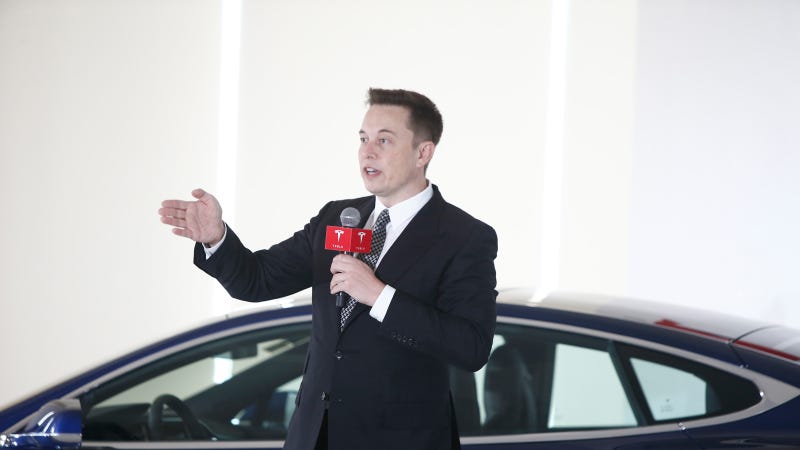 In September, U.S. regulators caught Volkswagen cheating on emissions tests for its diesel vehicles. My colleague Kevin Roose called the fraud worse than the Enron scandal, writing that VW "effectively undid years' worth of work to responsibly lower emissions targets and mitigate the effects of health-damaging smog and climate change."
Now, Tesla CEO Elon Musk has signed an open letter calling on California regulators to give VW a break on retrofitting affected vehicles, in exchange for the company's agreement to, "accelerate greatly its rollout of zero-emission vehicles."
Musk, along with 45 other clean energy CEOs, argue that the cars in violation of emissions rules represent "an insignificant portion of total vehicles emissions" and which, individually, do not present "any emissions-related risk to their owners or occupants."
Instead, the signees say the California Air Resources Board should force VW to follow a five-point plan they would go further toward addressing environmental concerns. Among the demands: have VW roll out cars that would create a "10 for 1 or greater" reduction in pollutant emissions over the next five years relative to the emissions released by the diesel  cheating fleet. They also call for VW "to invest in new manufacturing plants and/or research and development, in the amounts that they otherwise would have been fined."
"We, the undersigned…encourage the CARB to show leadership in directing VW to 'cure the air, not the cars' and reap multiples of what damage has been caused while strongly advancing California's interests in transitioning to zero emission vehicles," they write.
The CARB could not be reached for comment Friday.
Rob covers business, economics and the environment for Fusion. He previously worked at Business Insider. He grew up in Chicago.