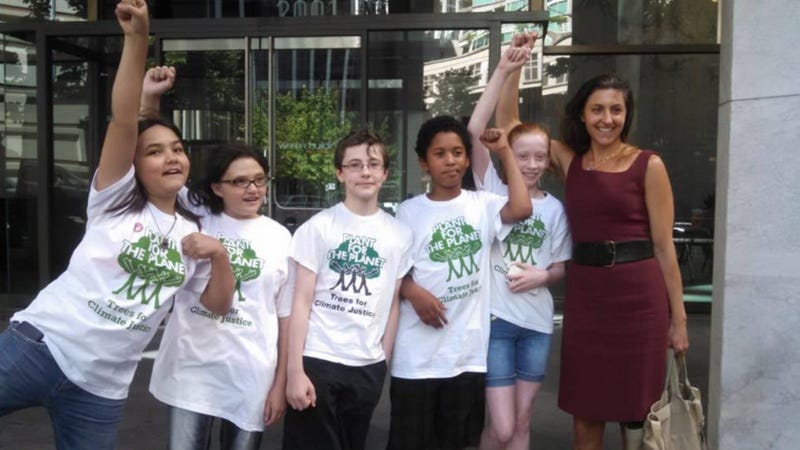 A Washington state judge has ruled in favor of eight kids who sued the state to take decisive action to address climate change.
King County Superior Court Judge Hollis Hill ruled Friday that the Washington State Department of Ecology now has until the end of the year to come up with an explicit emissions reduction rule for the state, Seattle weekly The Stranger reported. The department must also make recommendations to the state legislature on science-based greenhouse gas reductions in the 2017 legislative session.
The kids were named as plaintiffs in a lawsuit filed by a group called Our Children's Trust, an Oregon-based nonprofit created "to protect earth's natural systems for current and future generations." They argued that Washington was not meeting its constitutional public-trust obligations to Washington's "children and future generations," as well as its duty to protect the state's natural resources.
In his ruling, Judge Hill described the situation as "urgent," according to The Stranger, saying:

These children can't wait, the polar bears can't wait, the people of Bangladesh can't wait. I don't have jurisdiction over their needs in this matter, but I do have jurisdiction in this court, and for that reason I'm taking this action.
The trust hailed the ruling as the first of its kind.
"For the first time, a U.S. court not only recognized the extraordinary harms young people are facing due to climate change, but ordered an agency to do something about it," said Andrea Rodgers, the Western Environmental Law Center attorney representing the youths said in a statement.
Washington Gov. Jay Inslee also praised Hill's opinion.
"In a way it is gratifying that the court has also affirmed our authority to act, contrary to the assertion of those who continue to reject action on climate change and ocean acidification," he said in a statement.
The trust has similar legal actions in 10 other states, and, last month, won a victory in its lawsuit against the U.S. government arguing its actions and inactions in the face of climate change have imperiled the American people when a federal judge refused to throw out the suit.
Rob covers business, economics and the environment for Fusion. He previously worked at Business Insider. He grew up in Chicago.