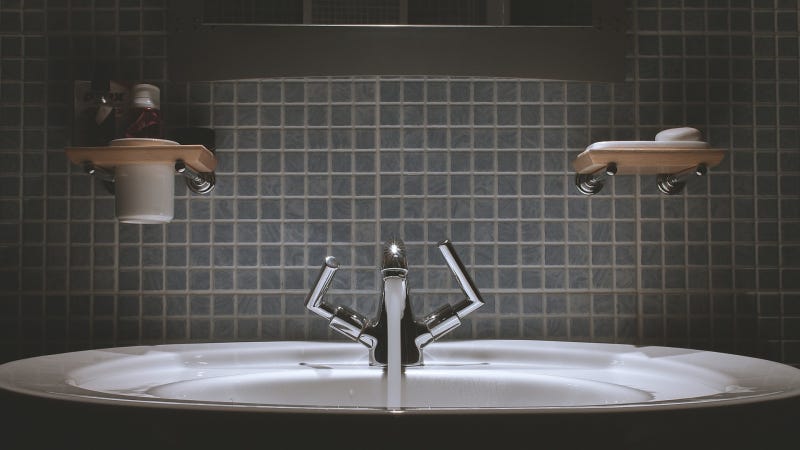 The drinking water for about 15 million Americans across 27 states is contaminated with PFCs (Per- and Polyfluoroalkyl substances, also known as PFOAs and PFOSs), according to a new interactive map put out by the Environmental Working Group (EWG) and Northeastern University. PFCs are a class of toxic chemicals that have been linked to cancer, thyroid disease, and a slew of other health problems. Despite the widespread nature of the contamination and the serious health implications, the EPA has yet to pass any federal regulations for PFCs in drinking water, and things are unlikely to change under the current administration.
"It's imperative that people reach out to their local government officials and water utilities and express their concern [about PFCs], because this is a contaminate that shouldn't be in the water at any level," said David Andrews, senior scientist at the EWG. "The ultimate solution is to stop the pollution from entering the water at the source, that's why the identification of the pollution sites is an important first step…and part of the reason why we've mapped these pollution sites."

The history and mapping of PFCs
Like many chemical contaminants, PFCs have their origin in manufacturing; PFCs were used in a variety of products, including fire retardants, oil and water repellents, furniture, takeout containers and non-stick cookware. Although the chemicals were phased out in the late 1990s, PFCs don't break down in the environment. That means that they're still lingering in the soil and water, and once ingested, can stay in our bodies for years. PFCs can even be passed from mother to fetus through the umbilical cord, and research from the Centers for Disease and Control and Prevention has shown that traces of PFCs can be found in nearly all Americans.
"A couple of years ago, reporters were constantly asking us 'how widespread is this problem, do you have a list of all the places where contamination is found?'" explained Bill Walker, EWG's managing editor. "[The map] is a one-stop shop for people that want to track just how wide the PFC contamination problem in the U.S. is."
The map shows blue circles, representing public water systems where PFCs were detected, and red circle, indicating a contamination site found in Northeastern's PFAS Contamination Site Tracker.  Clicking on the dot brings up detailed information, including contamination levels and people served by the water source. New Jersey has the most known contamination sites with six, closely followed by Alabama, New Hampshire, and New York. Many of the sites had contamination levels far greater than the EPA's nonbinding health advisory level for PFCS, which is set at 70 parts per trillion (the health advisory figure is supposedly the level at which PFC contamination begins to cause human harm). For example, a military base near Trenton, N.J. had groundwater contamination of 580,000 ppt of PFCs, or at an Air Force base near Dover, Del., where groundwater had 270,000 ppt of PFCs.
Many other harmful chemicals, like lead, copper or cyanide, have Maximum Contaminant Levels (MCLs) which legally cap the maximum amount of these chemicals that are allowed in drinking water. This isn't the case with PFCs. Still, because of their status on the Contaminant Candidate List, PFCs are monitored in all U.S. public water systems serving 10,000 or more customers. The resulting data shows just how widespread the contamination problem is; still, it's likely that these figures are underestimating nationwide PFC contamination. That's because the EPA only flags locations where the contamination was at or above 20-40 parts per trillion (depending on the type of PFCs). Additionally, the EPA tests were focused almost exclusively on large public water systems, and didn't cover smaller systems or private wells, which together provide drinking water for about a third of Americans, according to the EWG. "By using the values that they use for reporting and analyzing the testing, it makes the problem seem not nearly as big as it actually is." said Walker.
As if this wasn't troubling enough, many scientists believe that PFCs can be harmful at much lower levels than what the EPA tests for. "The evidence is growing all the time that that EPA number is widely off what it should be," explained Walker. "And now you have a number of states that have adopted their own advisory levels or pending regulatory levels [for PFCs], that in some cases are as much one fifth of what the EPA has set." Some examples include Minnesota,  New Jersey and Vermont, where reviews by state scientists have spurred these states to set or propose health-based limits well below EPA's health advisory limit. Moreover, research suggests that the acceptable level of PFCs contamination could be as low as 1 ppt.

Why regulation is unlikely
Walker explains that as PFCs are on the EPA's Contaminant Candidate List, they could, in theory, be slated for regulation. However, the EPA is unlikely to act unless new regulation is passed by Congress; "In theory the EPA uses this information [from the Contaminant Candidate list] to decide which chemicals to set regulations on," explained Walker. "In practice, in 25 years, they've tested for more than 80 contaminants and only moved forward on one…so there is little hope of action from the EPA on the national level."
In the face of widespread contamination and lack of action from the EPA, several attempts have been made at the federal level to regulate PFCs. In March of 2017, Senators Kirsten Gillibrand and Charles Schumer, both of New York, introduced a bill that would require the EPA to set drinking water standards for PFCs.
"We've seen very clearly how much damage can happen to our local drinking water supplies when toxic chemicals like [PFCs]…aren't monitored by the EPA," said Senator Gillibrand, a member of the Senate Environment and Public Works Committee, in a press release announcing the bill. "My legislation would require the EPA to come up with strong and enforceable safety standards for these toxins…New Yorkers should be able to drink water without having to worry about whether it's safe. Anything less than that standard is unacceptable."
Other attempts to regulate the chemicals have been made by New Jersey representatives Frank Pallone and Josh Gottheimer, and representative Sean Patrick Maloney of New York. Still, none of the bills have made much progress, leaving prospects for regulation bleak.
Trump's proposed federal budget, which would slash EPA funds by about 30%, has made the prospects for regulation even bleaker. The budget proposes to dramatically reduce funding for industrial cleanup programs, like the Superfund program, which means that many PFC contamination sites won't be cleaned up, or will remain undetected. Additionally, Trump has called for shrinking the EPA's enforcement office, which would significantly diminish the EPA's ability to prosecute any environmental violations, including those dealing with contaminated water. "[More cuts] won't just drastically reduce EPA enforcement, it will bring it to a halt," explained Cynthia Giles, head of EPA's Office of Enforcement during the Obama administration, in an interview with The Washington Post. With a crippled enforcement arm, it'll be near impossible to adequately enforce clean water standards.
"We'd like to be optimistic, but there's absolutely no reason for optimism" said Walker. "Even under the Obama administration, which talked a good game and said all the right things about public health and drinking water protections…there was no real advance in water treatment regulations. And now we have an administration that ultimately talks about a disdain for these kinds of things and is trying to rollback the few protections that are in place."
The EWG and Northeastern hope that by releasing their comprehensive PFC contamination map, they can increase awareness on the issue, ultimately spurring legislative action. The release of the PFC map comes just as a major PFCs conference is slated to occur in mid June at Northeastern University, where scientists, policy makers and activists will come together to discuss "the social, scientific, political, economic, and environmental health issues raise by" PFCs.