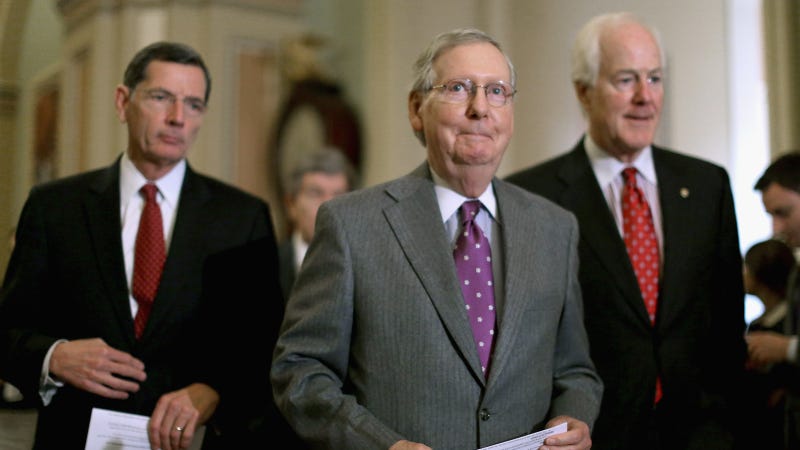 President Obama is outraged at how Republicans are dealing with one Paris tragedy by refusing as accept Syrian immigrants. In a few weeks, his frustration with another Republican position towards a different Paris-centered event—the COP21 climate summit—will likely also boil over. That's because Republicans are doing everything they can to obstruct a global deal that could stand for unity, cooperation and peace in a time of international turmoil and upheaval.
While at first glance it may not be obvious what agreeing to limit greenhouse gas emissions has to do with peace, author and activist Naomi Klein spells it out in a New Yorker column, writing that "the connection between warming temperatures and the cycle of Syrian violence is, by now, uncontroversial:"

If we acknowledge that the instability emanating from the Middle East has these roots, it makes little sense to allow the Paris attacks to minimize our already inadequate climate commitments…A climate summit taking place against the backdrop of climate-fueled violence and migration can only be relevant if its central goal is the creation of conditions for lasting peace.
She goes on to quote author and energy expert Michael T. Klare, who weeks before the attacks, wrote that Paris "should be considered not just a climate summit but a peace conference—perhaps the most significant peace convocation in history."
The terrorist attacks have now amplified the significance of the climate summit as a referendum on peace.
Back in the United States, the GOP is anticipating the conference by doubling down on petty tactics aimed at obfuscating any progress. In their latest move on Wednesday, Senate Republicans said Congress would not approve the Obama administration's request for $500 million for the Green Climate Fund, an international fund supporting de­vel­op­ing na­tions' ef­forts to cut emis­sions and grow sustainably. It's a position meant to "undermine the upcoming climate change summit in Paris," according to Reuters.
Sens. John Bar­rasso (R-WY) and James In­hofe (R-OK)—well known climate change deniers—circulated a letter around the Senate saying that while they "support an international dialogue on environmental problems" they have serious concerns about the Paris deal's impact on "the American economy and our international priorities."
In a Senate hearing on Wednesday, Barrasso said "if there is one mes­sage that I would like to send to the in­ter­na­tion­al com­munity ahead of the in­ter­na­tion­al cli­mate-change con­fer­ence, it is this: Without Sen­ate ap­prov­al, there will be no money."
Providing money for the Green Climate Fund—to which the U.S. has pledged $3 billion—is an important piece of the climate negotiation puzzle. The fund aims to mobilize $100 billion annually from public and private sources by 2020. Developing nations see this is a critical aspect of the agreement, and major players such as India are unlikely to buy into the deal as wholeheartedly without confidence in the financial assistance they expect to receive.
Earlier this month, the Green Climate Fund released its first eight grants to illustrate that it's up and running in time for the Paris talks.
It is no secret that Republicans in Congress are scrambling for ways to make their impact felt at the upcoming climate summit, and to make it clear to the international community that just because some 200 nations might come together on a pioneering accord, they aren't just going to behind it. In anticipation of this filibustering, U.S. and other negotiators are working towards an agreement that won't require congressional approval.
To bring this point home further, on Tuesday the Senate passed two bills aimed at repealing the administration's Clean Power Plan, which looks to reduce greenhouse gas emissions from power plants and help the United States reach its pledge of cutting emissions 26-28% below 2005 levels by 2025. Obama has threatened to veto this legislation, and having passed the Senate only 52-46, the resolution lacks the support for an override.
Sen. Brian Schatz (D-HI) called out the legislation for being a tactical move aimed at the climate talks.
"It is designed to create confusion, to kick up dust, and to raise the possibility that the American government does not stand behind the Clean Power Plan as we go into the final throes of the Paris climate talks," Schatz said.
As the attention around the climate talks builds to the final day of negotiations on December 11, Republicans will likely continue their anti-cooperative, anti-science crusade.
As Politico points out, it just so happens that Friday, Dec. 11, is not only the final day of the climate summit, it's also the same day funding for the federal government runs out. This "creates an opportunity for Republicans to add provisions to federal spending bills to stop any climate aid from flowing overseas," according to Politico.
It's hard to imagine Republicans passing up an opportunity like that.