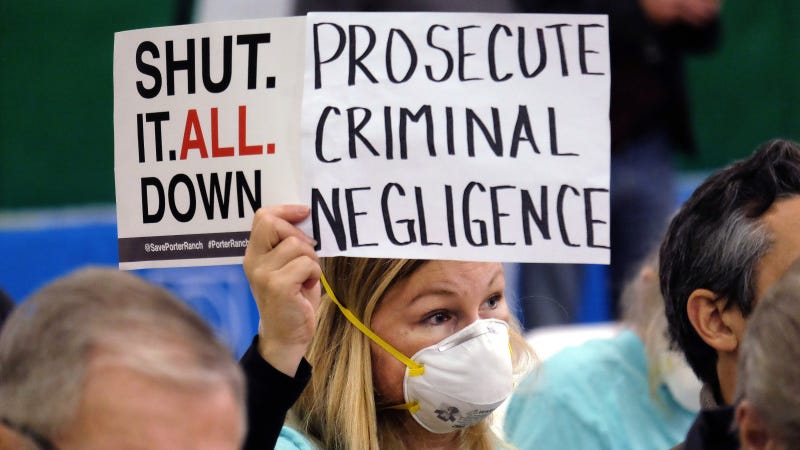 Southern California Gas Co., the largest natural gas distribution utility in America, was charged Tuesday with failing to immediately notify state authorities about a now-massive natural gas leak in Aliso Canyon, Los Angeles.
The L.A. Times reports that the county has filed four misdemeanor criminal charges against the gas company, including releasing air contaminants and neglecting to report the release of hazardous materials for three days after the leak began on Oct. 23.
The charges carry a maximum fine of $25,000 a day for each day the leak went unreported, and $1,000 a day for each day the well has polluted the air.
According to the Environmental Defense Fund's running count of the leak's emissions, Aliso Canyon has now released 7.7 million metric tons of CO2, more than all the CO2 the state of Vermont emitted last year. It's also released more than 92,000 metric tons of methane, a greenhouse gas which, pound for pound, has a comparative impact on climate change more than 25 times greater than CO2 over a 100-year period. Erin Brockovich has called the leak a "catastrophe not seen since the BP oil spill."
"We have just been notified of this filing and we are still reviewing it," Kristine Lloyd, a spokeswoman for the utility, told the Times.
Rob covers business, economics and the environment for Fusion. He previously worked at Business Insider. He grew up in Chicago.