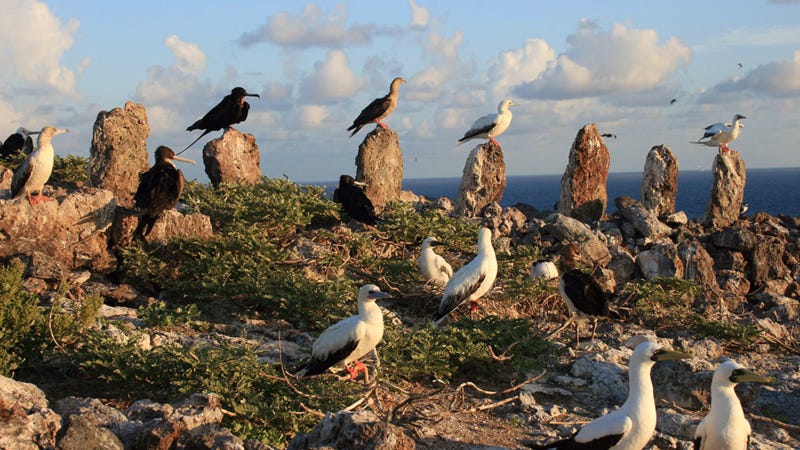 Another key aspect of Barack Obama's environmental legacy is coming under fire from the Republican party—and this may be the most far-reaching shot yet. While plans by President Trump and his EPA head Scott Pruitt to dismantle programs aimed at cleaning up air and water are well underway, a new request by some in Congress asks Trump to help them target remote regions of the Pacific Ocean that Obama and his predecessor George W. Bush protected through the creation of new and expanded national monuments.
In early March, U.S. Representatives Rob Bishop (R-UT), chairman of the House Committee on Natural Resources and strong opponent of increasing federally protected lands, and American Samoa's Congresswoman Aumua Amata sent a two-page letter to Trump asking him to remove all marine monument fishing prohibitions—a key component of the monuments' role in protecting local environments and biodiversity. Bishop is also leading a campaign to undo national monuments on land, including the recently designated Bears Ears National Monument in his home state.
"Using the Antiquities Act to close U.S waters to domestic fisheries is a clear example of federal overreach and regulatory duplication and obstructs well managed, sustainable U.S. fishing industries in favor of their foreign counterparts," states the letter.
Ani Kame'enui, director of legislation and policy for the National Parks Conservation Association, pushed back hard on the idea of the president using his powers under the Antiquities Act to undo monuments and their protections.
"For more than a century this bipartisan law has been in place to safeguard our nation's special places," she told Fusion. "No president has attempted to undo a national monument designation. To do so would mean dismantling 100 years of conservation legacy, starting with President Theodore Roosevelt."
Kame'enui said that nearly half of America's national parks began as national monuments, including iconic ones like the Grand Canyon and Zion.
"These sites continue to put money back into communities—for every dollar invested in the National Park Service, about $5 is generated for local economies, and national parks support nearly $30 billion in national economic activity annually and more than a quarter million private-sector jobs," she said.

The Recent Rise of Marine Monuments
The National Oceanic and Atmospheric Administration (NOAA) manages thirteen Marine Sanctuaries and five Marine National Monuments. Commercial economic activity is typically not permitted within their boundaries, however exceptions can be made for things like sport fishing and transitional periods.
In August of last year, Obama expanded Papahānaumokuākea Marine National Monument off the coast of Hawaii from 140,000 square miles to nearly 600,000 square miles, making it some four times the size of California and creating the largest conservation area on Earth. The designation meant that commercial fishing and mining are be prohibited in the region, while subsistence fishing by locals and scientific research continue to be allowed.
First established in 2006 by President George W. Bush, the expanded monument built on Obama's consistent push to preserve America's most cherished natural sites in the face of numerous grave environmental threats, including climate change, habitat degradation, and over exploitation by economic activities.
Ed Young at The Atlantic deemed Obama "the Ocean President". Obama was born in Honolulu, Hawaii, and he protected more waters than any of his predecessors.
At a State Department conference in Washington last September, Obama said "we don't see the effects of climate change every single day with our own eyes…we just see this great, big ocean—we assume that it's too big to be wrecked.  It's easy, as a consequence, to dismiss the urgency of the challenge."
A new monument in the Atlantic ocean is also being heavily scrutinized. In early March, a coalition of fishing groups in the Northeast sued the federal government over the 5,000-square-mile Northeast Canyons and Seamounts National Marine Monument off the coast of Connecticut. The suit claims that Obama exceeded his power when he designated it last September, stating that the "area of the ocean is not 'lands owned or controlled' by the federal government."
The monument was by far the smallest marine monument designated by Obama, and it encompasses three vast and deep canyon formations. According to Brad Sewell, who oversees all of the Natural Resources Defence Council's work on fisheries and Atlantic Coast ocean issues, the monument only takes up about 1.5% of the U.S. Atlantic.
"Recreational fishing is allowed within the monument," Sewell told Fusion. "Canyons like those in the monument are favorite fishing spots for tuna, billfish, mahi-mahi, and wahoo, which are attracted to the abundant small fish and other forage in the area. Such angling provides significant economic, as well as social and cultural, benefits to coastal communities."

Congress Sees What They Can See
On Wednesday, March 15, the House Subcommittee on Water, Power, and Oceans picked up the issue of marine monuments—part of a recent pattern of giving exceptional attention environmental preservation's role in harming economic activities—with a hearing titled "Examining the Creation and Management of Marine Monuments and Sanctuaries."
Expert witness John Bruno, a marine community ecologist and Professor of Biology at UNC Chapel Hill, tried to convince conservative lawmakers that the monuments were in everyone's best interests. He testified that research in the field has shown that marine sanctuaries and reserves can result in "win-win" scenarios for environmental and economic interests.
"Dozens of studies indicate that well-designed and strictly enforced reserves increase the density, diversity and size of fishes, invertebrates and other marine organisms important to recreational and commercial fishermen," he said in his written testimony. Furthermore, these improvements often have "spillover effects" in which the fish leave the off-limits area and enter into commercial fishing territory.
Bruno said the science is clear that the biggest threat to marine ecosystems—and to the fishermen who rely on them for their livelihoods—isn't government protection, but rather the warming of the oceans through climate change.
"We really need to come together and tackle this problem together," he said.
Republican lawmakers and their expert witnesses appeared far from convinced, and even put forth the argument that the science was incomplete or nonexistent. The notion of protecting these strongholds of biodiversity, some of the few left on a human-dominated planet, just for their inherent value seemed to hold little sway with them.
"I don't believe the Antiquities Act should have ever been applied to oceans," Alaska Republican Rep. Don Young said during the hearing. "There was never intent of that."
Sewell took a stance opposed to Young's, saying that both ocean and land area are required by law to be managed for all citizens.
"The fishing industry catching fish is much like the timber industry logging in national forests," he said. "Special places on land and in the ocean are our country's heritage—and belong to all Americans. We must ensure we have protected these places so future generations of Americans can enjoy and benefit from them."
Sewell echoed the sentiments of Bruno, saying that protected ocean areas increase the density, diversity, and size of fishes and invertebrates that are important to fishermen.
"One way of illustrating the benefits is the well-known phenomenon of fishermen fishing around the boundary lines of protected areas to reap the benefit of the spillover effect," he said.
Sewell also pointed out that ecotourism ventures with serious economic potential, like diving, whale watching, and bird watching, are rapidly growing in and around protected marine monuments. And recreational fishing remains permitted and popular.
"Many of those seeking to roll back protections of public waters and lands have ties to or get contributions from extractive industries," said Sewell. "What the public wants does not seem to matter, as protection of our public lands and waters is extremely popular. A marine national monument is one of the few tools that can protect a place from all human impacts, from fishing to mining to drilling, in perpetuity."