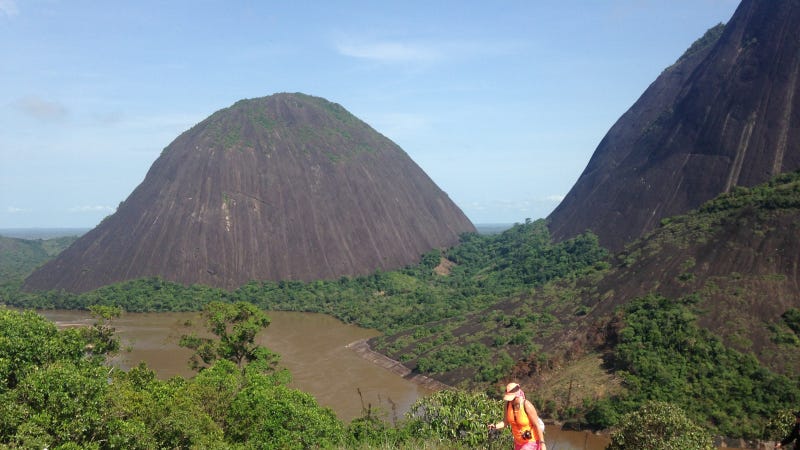 GUAINIA, Colombia — Three massive rocks rise high above the jungle canopy in Colombia's easternmost province.
Like ants on a mound, small groups of tourists occasionally brave the scorching heat to hike up one of these hills, a steep, 600-foot tall monolith known as El Cerro de Mavecure. The reward is worth the trek.
"It's a magical place," said Ruth Bustos, a 45-year-old engineer from Bogota, after reaching the summit and contemplating the awesome panoramic view.
"I wouldn't change this for a day of sitting on a couch watching TV; these places give you life and equilibrium, they make people different" added Bustos, who fought a swollen knee to get to the top.
The stunning rock hills are a source of pride for the residents of Guainia, a remote jungle province that is twice the size of Massachusetts, but home to only 45,000 residents.
The hills also symbolize how Colombia is slowly rediscovering its forgotten attractions. Improved security and a waning war is drawing tourists to areas of the country that were previously off limits during the decades' long armed conflict between government forces and Marxist guerrillas.
As the Colombian army pushes rebel groups further into the jungle, Mavecure is starting to receive intrepid visitors from Colombia and abroad.
"Tourism only picked up here four years ago," says Mauricio Bernal, the owner of a 15-room hotel in Guainias' small capital, Inirida.
In 1999 and 2005, the Revolutionary Armed Forces of Colombia (FARC) launched deadly raids in two unsuccessful attempts to take over Inirida. The area has been much more safe since then, and is now home to a naval base that can hold 1,000 troops.
"For people in Bogota [and abroad], the jungle was equivalent to war," Bernal said. "But little by little we're shedding that reputation."
In Bogota, only a handful of tourism agencies are promoting destinations like the Mavecure hills. Few tour operators offer trips to destinations off the beaten path of Colombia's typical attractions on the Caribbean Sea or in the Andes mountains.
Juan Fernando Calle, owner of EcoGlobal Expeditions, a small travel agency, argues that the Mavecure hills along with other destinations in the Amazon, the Orinoco Basin and along Colombia's Pacific Coast, have become the "next frontier" for ecotourism in South America.
"Foreigners go all over Peru, Bolivia and Argentina, but for most of them large chunks of Colombia are unexplored territory," said Calle, whose tour agency promotes destinations that aren't even mentioned in travel guides like Lonely Planet.
"People were afraid of going there," Calle said; "and the Colombia Lonely Planet guide is outdated."

Rediscovering new-old tourism destinations
Colombia now has some of the most uncrowded natural attractions in South America.
There's Caño Cristales, a river that looks like it has seven colors, which until recently snaked through impenetrable FARC territory. And the Torrent of Jirijirimo, a majestic group of rapids in the Amazon basin that are only accessible by small plane and boat.
Calle just started offering a week-long cruise along Colombia's pacific coast, a prime spot for whale and turtle watching, lined by one of the wettest, densest jungles in the world.
"We take kayaks on the boat and paddle into different rivers," Calle said. "You can get there by boat, but by land it's still too dangerous."
Colombia's National Parks service is also trying to draw people to places that were formerly off limits. National Parks Director Julia Miranda told Fusion that Colombia, over the past decade, has nearly doubled the number of protected areas that are open to tourists.
Tourists are now allowed to visit 23 of the 59 natural reserve areas in Colombia, and the government hopes to open four more parks in the next few years.
"We've tried to promote these destinations with the ministry of commerce, which has a campaign to portray Colombia as a nature destination," Miranda said. "We also want to show people that being in nature is good for your physical, mental and spiritual health."
Officials say ecotourism generates a much-needed source of income for communities in remote areas. The government says it spent around $1.5 million to improve community run tourism infrastructure in national parks last year. It sees that money as an investment in its conservation efforts.
"When people visit parks and we show them the [ecological] value, we are gaining allies in our efforts to conserve these places," said Carlos Tamayo, the National Parks service's director for sustainable development.
The Parks service's stats show that tourist visits to protected areas in Colombia have been growing steadily over the past 10 years, drawing 910,000 people last year. However, 84 percent of those tourists congregated in just two national parks that are located next to large cities on the Caribbean coast. Convincing people to venture deeper into the country remains a challenge.
Diego Vargas, the top tourism official in Guainia, says his province attracted only 400 tourists last year. But that's a nearly 2,000 percent increase from three years ago, when Guainia saw only 20 tourists all year.
Vargas says that part of the problem for Guainia is that the jungle province is only serviced by by one airline, and has no roads linking it to the rest of Colombia. That makes it expensive to get there, with round-trip flights from Bogota costing at least $250. Increasing air connectivity is a major goal, he said.
"We are trying to convince Avianca [Colombia's largest airline] to fly here in 2016", Vargas said. "But first we need to make some improvements to the airport, like expanding the runway."
The Colombian government also needs to make sure that places like Guainia remain safe as peace talks continue with the FARC guerrillas, amid flaring tensions. In April, two weeks after a group of rebels killed 11 Colombian soldiers in an ambush in western Colombia, locals reported clashes between the guerrillas and the army in Caño Colorado, a remote village that is a five hours boat ride up river from Guainia's capital.
Until a lasting peace comes, natural attractions such as the Mavecure hills will likely remain remote ecotourism destinations visited only by small groups who are adventurous and wealthy enough to make the journey.
"Tourism is important; it's good for people to have opportunities to open their minds," said Juan Gabriel Gomez, a University professor who recently made the climb to the top of the stone hill. "But it's only good if they come to these places conscientiously and take care of what he have here."
Manuel Rueda is a correspondent for Fusion, covering Mexico and South America. He travels from donkey festivals, to salsa clubs to steamy places with cartel activity.