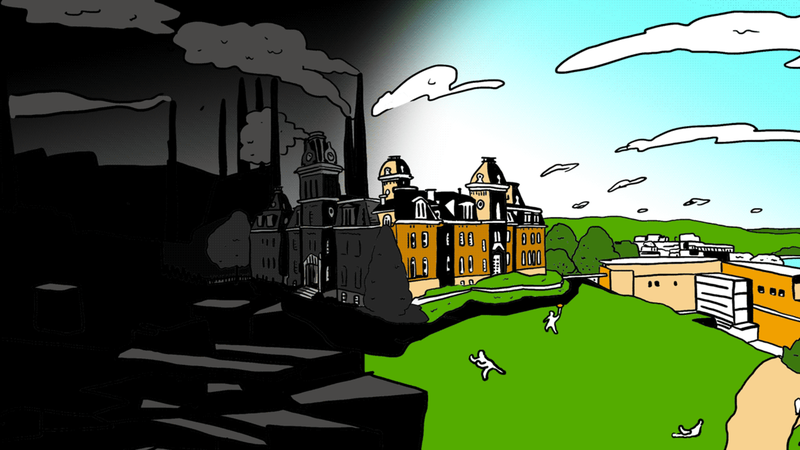 Coal is fading in America. As Fusion's Alexis Madrigal recently showed, the value of its corporate giants has vaporized, and more than three dozen coal operations have filed for bankruptcy in the past three years, according to SNL Energy's Taylor Kuykendall.
At many American colleges, where the domestic coal divestment movement was born, this news would undoubtedly be heralded.
But for students living in coal country — the parts of the America's midsection rich with fossilized carbon — a sharp divide is emerging about the future of the world's dirtiest fuel, and whether to abandon the land containing it.
At Southern Illinois University — located in the city of Carbondale — a divestment campaign was narrowly defeated in October. Patricia Walker, a junior majoring in plant biology who helped lead the campaign, said it received widespread support despite its outcome.
"The…anti-coal voices have been much louder, especially in last couple of years," she told Fusion.
But she said part of that support was a result of the rising influence of students from the northern, more urbanized part of the state.
"It's pretty split between students where coal is the family tradition, and the advocates of more safety and health," she said.
That seems to be the source of the fissure elsewhere. Kasey Tyring, a senior and native of Louisville, said many of her fellow students don't feel any close ties to the area. Kentucky is America's third-largest coal producer, with most of it coming from the state's eastern half (Louisville is on the other side of the state).
"I would say there is no rush to stay, work, live in eastern Kentucky at all," Tyring told Fusion. "I know I would hate to work in eastern Kentucky or West Virginia. I just don't find Appalachia appealing at all.
However, she said, many students who grew up closer to the school are torn between finding better lives for themselves elsewhere and trying to help the area transition out of coal. A popular internship program has students working with the region's economic development agency, she said.
Given that students are now the ones reaching out to the remnants of the industry, it's not surprising to learn that coal companies seem to be retreating from campuses. David Durham, career services director at West Virginia University, said that while coal companies continue to reach out to the school's engineering department, their presence wasn't what it once was.
"They're not spending the money to come to career fairs," he told Fusion.
A spokesman for Peabody Energy, America's largest coal company, referred Fusion to the National Mining Association, which did not immediately return requests for comment. A spokesman for Walter Energy, the second-largest coal company in the U.S., did not immediately respond to a request for comment.
Durham added that many West Virginia students interested in the energy industry are switching their focus to oil and gas, which continue to boom in the U.S. despite falling prices. He noted the school recently opened an energy land management program designed to funnel non-engineering students into careers in natural gas.
A similar shift has occurred in America' largest coal-producing state, where last fall a multi-million dollar oil and gas drilling rig simulator was installed at the University of Wyoming.
Some coal country engineering students are starting to move beyond fossil fuels entirely. Back at Eastern Kentucky, senior Tyler Phillips said he doubted many grads would choose the coal industry because of how quickly it's losing jobs in the area.
Instead, he said, they have their sights on renewables, like geothermal and solar.
"I think it is a high possibility because those are good jobs that can be stable for a long time," he said.
The rural West Virginia native native says he personally plans to stick around to help the region get through its struggles.
But other Mountain State natives have different plans. Jake Jarvis, a junior at West Virginia University and who grew up in Huntington, W.V. — population 47,000 — said he plans to move to a large city when he graduates next year.
"There is definitely a feeling that if you stay in West Virginia you're kind of failing," Jarvis told Fusion. "Everyone wants to get out, everyone wants to leave. The students realize there are not a lot of opportunities."
Rob covers business, economics and the environment for Fusion. He previously worked at Business Insider. He grew up in Chicago.