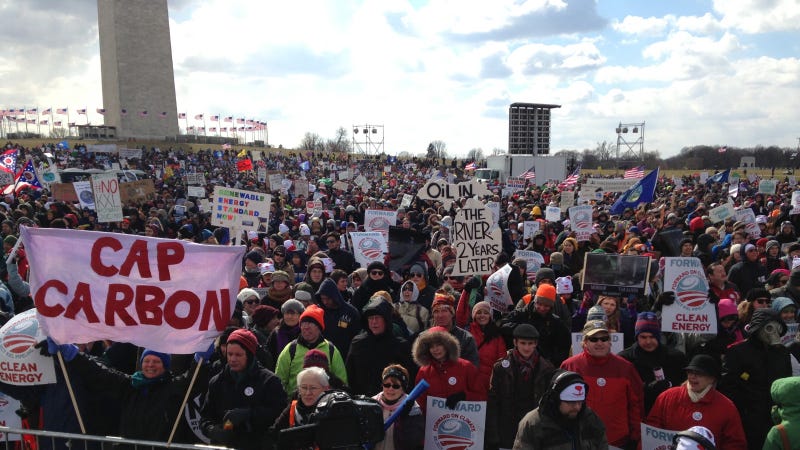 Next week, the international environmental organization 350.org is planning to lead a wave of protests against the incoming Trump administration as the President-elect's cabinet of climate change deniers and big oil interests signals tough times ahead for environmental progress.
From experienced activists to first-time protestors, 350.org has mobilized a broad base of frustrated Americans to make their voices heard beginning on January 9th, when the group is overseeing an effort to flood senators' in-district offices in all 50 states to demand a vote against Trump's "Climate Denial Cabinet." Jamie Henn, 350.org's Strategy and Communications Director, said that January 9th will be the first major event in a busy year of "ongoing resistance to the Trump agenda"—including protests, sit-ins, lobby visits, petitions, and phone banking operations—to encourage the government to take action on climate change.
"We know that a lot of these senators get big checks from the fossil fuel industry and other corporations that benefit from a dirty energy economy," said Henn. "We don't have that type of money to influence them, but we do have our creativity, voices and when needed, our bodies, to push them to stand on the right side of these issues."
Henn said that while the Trump administration has the power to approve large fossil fuel projects like pipelines and coal leasing operations, ultimately these undertakings still depend on local permits and cooperation. Already, many cities and states have pledged to oppose the Trump administration's anti-climate policies, with some leaders like California governor Jerry Brown planning for flat-out defiance.
"I think people realize that this sort of organizing can make a real impact" Henn said. "Trump is going to help make protesting great again."
Drawing from a wide support network, including affiliate-groups in almost all 50 states, 350.org has a reputation for organizing some of the largest protests in the history of the climate movement. Many are expecting big things to unfold over the next few months, including a sequel to 2014's anti-Keystone XL protest, considered one of the largest White House civil disobedience actions in a generation.
Since November, 350.org and other non-profit organizations have already experienced an unprecedented wave of support from Americans looking to push back against Trump's anti-climate agenda. For many, like David Elliston, a software architect from Silicon Valley, CA, January 9th will be their first time protesting anything.
"After the election I realized our democracy isn't working unless people get engaged," said Elliston. "Most people want clean energy and don't like pollution and yet I don't think the administration is going to support that."
Elliston was first inspired to take action after watching coverage of the Dakota Access pipeline protests. He has since pulled his money out of Bank of America—which, along with other big banks like Wells Fargo and Chase, has significant investments in the fossil fuel industry—and has convinced many friends and family members to do the same.
In the heart of South Carolina—one of America's most conservative states—25-year-old Charles Brown recently helped launch a new 350.org chapter in his hometown of Columbia. Attracted to 350.org's "on-the-ground methods," Brown helped establish the Columbia chapter with the aim of influencing the South Carolina General Assembly.
"For the average person, being out in the streets is the most effective thing you can do right now to change things," said Brown. "There may not be not much we can do as a small chapter in South Carolina to change Donald Trump's mind, but we can put pressure on local politicians where 50 votes would actually matter to them."
Brown said that the January 9th day of action is just the beginning, after which his group will help organize a counter-inaugural protest at the state capital in Columbia on January 21st, following a similar protest scheduled for the 20th in Washington D.C.
"I'm just a maintenance guy at a hotel, but it's important to still try to take the time to make the world a better place," said Brown.
Randy Dykhuis, a 60-year-old librarian from Michigan, said he joined his local 350.org chapter after Trump was elected.
"I'm 60 years old, I'm not likely to bear all of the problems that our continued reliance on fossil fuels is going to create," he said. "But there's that old saying about how all it takes for evil to triumph is for good people to do nothing—and that's the moment I feel like we're in."
In Nashville, TN, Russ Crawford, 66, recently started his own group to promote non-violent action against Trump's climate denial agenda, and to persuade U.S. Senators to vote against cabinet picks like Rex Tillerson, Rick Perry and Scott Pruitt.
"They are one way or another all tied to the oil industry." Crawford said. "Clearly, reducing the use of fossil fuels is not in their interest."
Crawford believes it's important to "create an environment where people can get more information and have an outlet for expressing their opinions to the politicians and policy makers."
Two students in their last year at Rice University in Houston, Texas, are doing just that. Hasan Seede said that he and fellow student Ryan Pappal started their own non-profit organization in Texas after the November 8th election to "bridge the conversations that are happening at the policy making level with those that are happening in the voting populous."
According to Pappal, it's necessary to be tactful when addressing climate change in a majority Republican state like Texas.
"Texans like hearing these political things from other Texans." Pappal said. "There are a lot of hard working families who are definitely not evil and don't want to destroy the environment—so it's important to respect them and how they make a living, while making sure we're making strides in the right direction."
Jonathan, a 38-year-old education consultant from Portland, Oregon, who requested his surname be withheld due to harassment concerns, is also new to protesting—and is very worried about the potential ramifications of political dissent in the era of Trump. These concerns are not unfounded: In a New York Times op-ed last month, former C.I.A officer and conservative independent presidential candidate Evan McMullin said that Trump's actions and behavior are "consistent with the authoritarian playbook" he has observed firsthand in other parts of the world.
Jonathan, who has started helping teachers develop climate change curricula, was motivated by Naomi Klein, author of the acclaimed 2014 book, This Changes Everything: Capitalism vs. the Climate. Klein also sits on 350.org's board of directors. In her book, Klein contends that "only mass social movements can save us now. Because we know where the current system, left unchecked, is headed."
Rob is a freelance writer and journalist covering human interest stories, the environment and human rights.