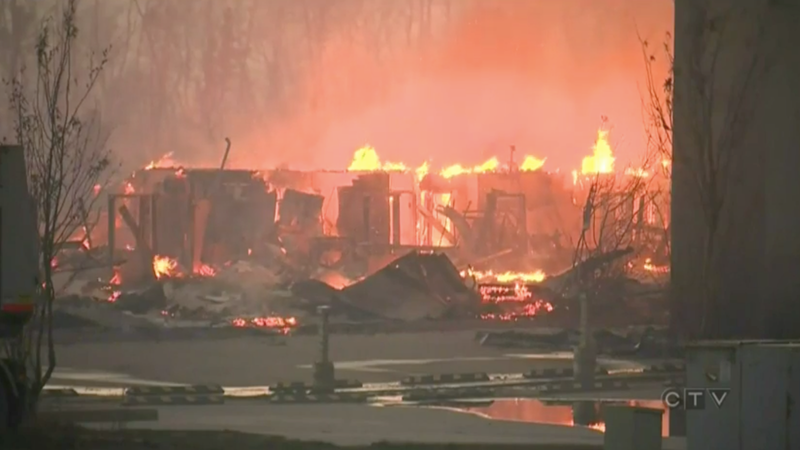 Fort McMurray, Alberta is on fire.
The Canadian city, nestled in the country's oil sands region, has been devoured by flames since the weekend, and its 80,000 residents have been forced to evacuate. On Wednesday, Alberta declared a state of emergency. So far, about 1,600 buildings have been burned.
The Associated Press describes the scene:

Former National Hockey League player Doug Sulliman said he could see from his apartment balcony that both sides of the highway south were engulfed in flames and estimated hundreds of homes in the Beacon Hill suburb over the hill were destroyed. "You could hear the pop, pop, pop because of the propane tanks. The fire was just consuming these houses. It just destroyed the whole community," he said.
Sulliman added, "there was a Shell gas station that blew up and a Denny's next door. There was nothing but the foundation and it was still smoldering in flames," he said.
Alberta Premier Rachel Notley said this has been the largest evacuation in Alberta's history. Federal Public Safety Minister Ralph Goodale said it might be the largest in Canadian history, overall.
Prime Minister Justin Trudeau called the fire "absolutely devastating." He added that, "while the full extent of the damage isn't yet known, we certainly do know that… it's a loss on a scale that is hard for many of us to imagine."
The AP explains that the persistent blaze was caused by a combination of hot temperatures, unusual for May, and dry conditions that have primed the Boreal forest for flames. Changing weather patterns prompted the mass evacuations.
Images posted to social media show devastating scenes:
Cooler weather and rain are in the province's forecast, and might help firefighters control the situation. .
Danielle Wiener-Bronner is a news reporter.