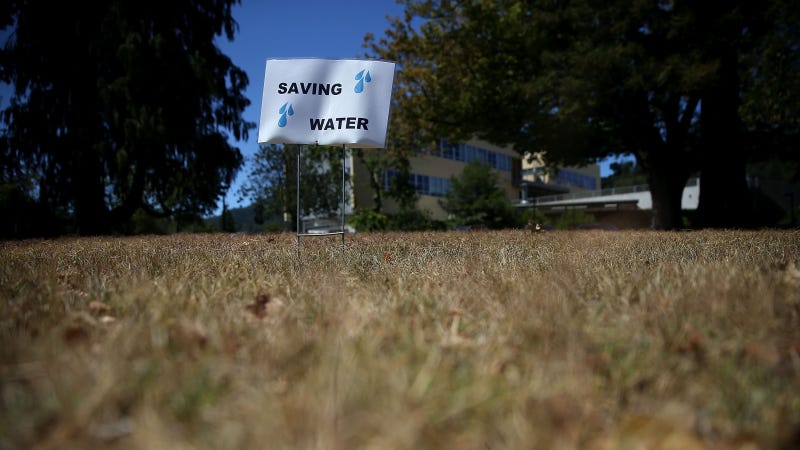 California's four-year drought has hit the state hard. On Thursday, I wrote about how the combination of excessive groundwater use and a switch to high-value crops such as almonds and wine grapes has helped buoy the state's agricultural economy through the tough times. Now let's focus on the people—the people just did something impressive.
According to new figures from the State Water Resources Control Board (SWRCB), in July Californians reduced water use by 31.3%, exceeding Governor Jerry Brown's statewide mandate of 25% cuts for the second straight month. This feat is made all the more significant considering July is historically one of the highest water-consuming months in California.
"Millions of conscientious Californians are the real heroes here—each stepping up to help local water resources last longer in the face of an historic drought with no certain end date," said Felicia Marcus, chair of the SWRCB, in a statement. "Water use rises dramatically in the hot summer months, primarily for landscape watering, which on average constitutes 50% of urban water use…This is the time when we can most easily save the most water."
In his April 1st Executive Order, Gov. Brown declared a state of emergency over the drought and called for water savings of 1.2 million acre-feet by February 2016, the first mandatory urban water use cuts in the state's history. While no fines have been issued so far, communities can be penalized for up to $500 per day for missing targets.
So far, simply the threat of harsh penalties seems to be having the desired impact. The total savings for June and July averaged 29.5% and cumulatively the two months saved 141,800 acre-feet of water, or 35 percent of the savings required to meet the February goal. June was the first month that the targets were in effect and 2013 is the baseline to determine the savings.
There are just over 400 water agencies in the state, and the vast majority, some 290, were within at least 1% of their July reduction targets. San Francisco and Los Angeles were two big success stories: San Francisco saw water use fall by 17% while L.A. saw a 21% drop.
Just a year ago, when the state had a 20% voluntary water conservation goal in place, Californians only managed to save 18 billion gallons in July, or less than a quarter of the 2015 cut.
This July was also a particularly rainy month in the state, especially along coastal Southern California, which made residential water conservation easier to achieve as less water was needed for outdoor use. Los Angeles broke a 128-year old precipitation record in July by getting nearly a third of an inch of rain from a storm. The state has also recently started pushing turf rebate programs to entice residents to make the switch from grass. The Water Board has also engaged in a creative marketing program in an attempt to convince residents that letting grass go "California gold" by not watering it is the cool thing to do.
In fact, a lot of the savings are being attributed to marketing and public outreach. Aside from "California gold", in the San Francisco area there was also "Nozzle Your Hose; Limit outdoor watering" and "Gardens Gone Wild; Use native, water-efficient plants."
"The fact is that this is one of the largest environmental social engineering experiments, if you will, in American history," Mark Gold, associate vice chancellor of environment and sustainability at UCLA, told Al Jezeera. "People are seeing that it's their responsibility for everyone to do their part. Or at least a lot of people are."
There's also the complimentary functions of drought shaming and peer pressure. Drought shaming involves calling out people, often on social media, for their water extravagances. Peer pressure, on the other hand, is when you look over at your neighbor's lawn and it's brown and you think "well gosh darn I can do that too."
It's important to remember that no matter how much California gold residents make off their lawns, the total water savings will still only be minor as far as the state's overall water use. This is because urban water use only accounts for about 10% of the California's water consumption. The vast majority, some 80%, goes towards agricultural demand.