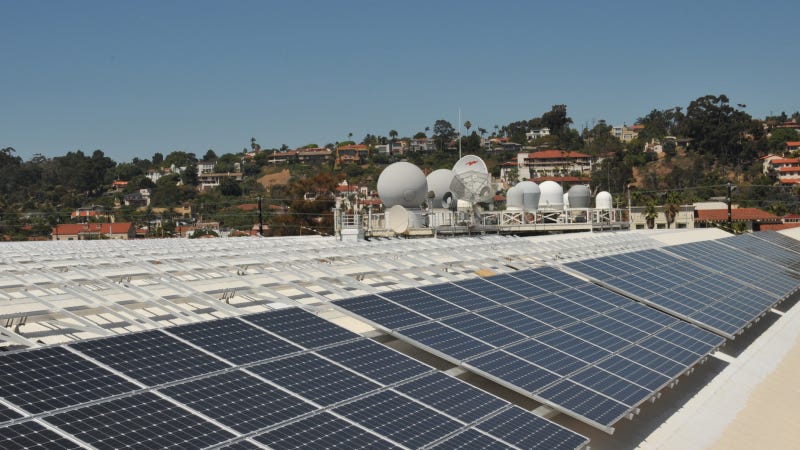 On Wednesday, California Gov. Jerry Brown is expected to sign into law the state's bold new clean energy and pollution reduction law. Once enacted, it will increase California's renewable electricity target from 33% by 2020 to 50% by 2030. It will also require a doubling of energy efficiency in existing buildings by 2030.
Brown, who is in his fourth term as governor of California, has made addressing climate change a priority. With the state is immersed in a crippling drought that has been shown to be exacerbated by climate change, Brown has repeatedly called for bold mitigation and adaptation measures.
When the Legislature approved the bill in September, Brown said "taking carbon out of the modern economy requires heroic efforts and tireless struggle…we have the technological means and now we have the legal mandate to reduce carbon pollution."
In fact, Brown and other climate hawks were pushing for a provision in the bill that would have required a 50% reduction in petroleum use from vehicles by 2030, en effort that was scuttled at the last minute due to industry and political opposition. While this disappointed many advocates of the initial legislation, the reception of the forward-looking law has been exceptionally positive from environmental groups.
"SB 350 is the product of extensive, thoughtful negotiations between government, business, and environmental experts across the state," said Lauren Navarro and Tim O'Connor with the Environmental Defense Fund. "California is, for the first time, figuring out how all the building blocks of a clean energy system fit together—renewables, customer-side resources, and other low-carbon resources—and it will set an example for the rest of the nation."
California now gets around a quarter of its energy from renewable sources and has more renewable energy than any other state. As the New York Times recently reported, its large solar farms produced more energy in 2014 than those in all other states combined.
Daniel Kammen, director of the Renewable and Appropriate Energy Laboratory at the University of California, Berkeley, told the New York Times that's it's been "kind of a quiet revolution."
"Nothing weird or strange has happened, electricity prices haven't shot up or down," he said.
Alongside the renewable energy and efficiency goals, California has a cap-and-trade program in place to help ratchet down the state's greenhouse gas emissions to 1990 levels by 2020 by cutting emissions some 16%. The state has a longer-term target of reducing greenhouse gas emissions by 80% below 1990 levels by 2050.