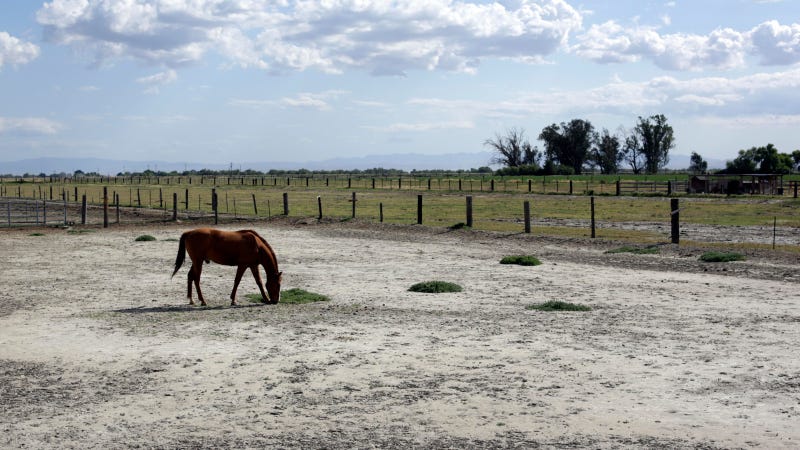 California is now in its fourth year of drought, but it's not completely out of water yet. Or at least, not all of it is.
While reservoirs in the southern part of the state, along with its central valley, have been heavily depleted, northern reservoirs are down somewhat from historical averages but remain relatively robust.
As a result, the north's rice farmers find themselves with an odd position. They can plant more rice—or they could skip that part and just sell their irrigation water to hard-up neighbors in the south. The way the math has been working out lately, the state could see a noticeable dip in rice production this year.
This map shows the relatively full reservoirs of northern California. (Source: California Department of Water Resources)
Fritz Durst's farm sits 30 miles northwest of Sacramento near the town of Knights Landing. The closest reservoir, at Folsom Lake (highlighted in green above) is at almost 100 percent of its historical average. So Durst plans to idle one of his five fields and transfer rights to the water that would have irrigated it to the south.
The price he's been quoted has gone up 30 percent in the past 12 months, to $650 per acre-feet from $500.
"I will probably make slightly more money doing the transfer than I will by actually growing crop," he said.
Jim Morris, communications manager for the California Rice Commission, a group representing the state's farmers, said it was too soon to say how many would end up participating in water transfers. Last year, when the drought was slightly less severe, rice production declined 25 percent, although not all of that was tied to water transfers.
"It's something we're watching," he said. "It's a reflection of four years of drought…there's just an insufficient amount of water for all needs in the state."
California's transfer system was first laid out during a drought in the late '70s, when a group of farmers, fearing that the state would simply requisition their water outright, proposed setting up a market system that would allow willing buyers to approach interested sellers.
Today, a constellation of state water districts act on behalf of individual buyers and sellers to work out a price, which has now reached an all-time high.
But it's a difficult decision for both sides, and not all farmers with access to plentiful water choose to make a sale. Charlie Hoppin, a farmer and former chair of the State Water Board, does not plan to idle any of his crops despite the potential for banking a decent profit. There are too many other businesses and workers in the supply chain — not to mention his own employees — who rely on crops being planted.
"If I go to them and say, 'I love you all but I'm not growing anything this year, I'm going to sell all our water, get a Winnebago and take my wife to Yellowstone,' that makes it a difficult decision for me," he said. "It would be my choice to put those people aside."
Meanwhile, California officials are trying to downplay the severity of the situation, saying they have responded swiftly to conditions by instituting strict conservation measures. On Tuesday, a state board voted to limit the number of days residents can water their yards, although the L.A. Times says most cities and counties already have such measures in place.
"When people turn on their faucets, water will still come out," said Jeanine Jones, Interstate Resources Manager for the California Department of Water Resources.
Rob covers business, economics and the environment for Fusion. He previously worked at Business Insider. He grew up in Chicago.