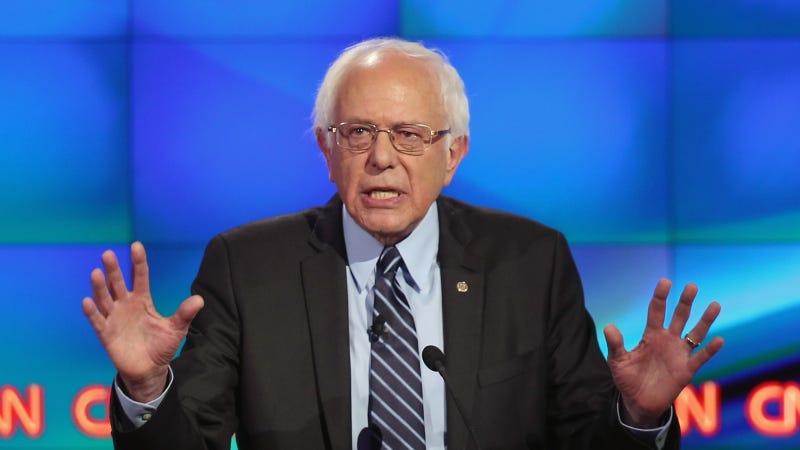 What's the greatest national security threat facing the United States? When asked that question during Tuesday night's Democratic presidential debate, the candidates gave answers you might expect: Russia. ISIS. The rise of China.
But once again, it was Bernie Sanders who stood out.
"The scientific community is telling us, if we do not address the global challenge of climate change, transform our energy system away from fossil fuels to sustainable energy, the planet we will be leaving to our kids and our grandkids may not be habitable," he said. "That is a major crisis."
Sanders' argument—that climate change is the most important national security issue facing the United States—is powerful because it shows global warming is no longer being relegated to a secondary or tertiary issue. Usually, politicians talk about our changing climate in the context of preserving the environment or reducing pollution. But the way Bernie puts it, in his unmistakable Brooklyn accent, the issue is much more pressing—and that urgency could help sway voters who don't normally view environmental matters as a leading threat.
Even though Sanders is hardly a military man—he was a conscientious objector during the Vietnamese War—the top brass shares his assessment. A Pentagon report in July called climate change an "urgent and growing threat to our national security."
"Global climate change will have wide-ranging implications for U.S. national security interests over the foreseeable future because it will aggravate existing problems — such as poverty, social tensions, environmental degradation, ineffectual leadership, and weak political institutions — that threaten domestic stability in a number of countries," the Pentagon report reads.
Yes, ISIS and Russia are looming threats to U.S. national security. But you don't get a second chance with the Earth— if we screw that up, Putin becomes a lesser concern.
Casey Tolan is a National News Reporter for Fusion based in New York City.