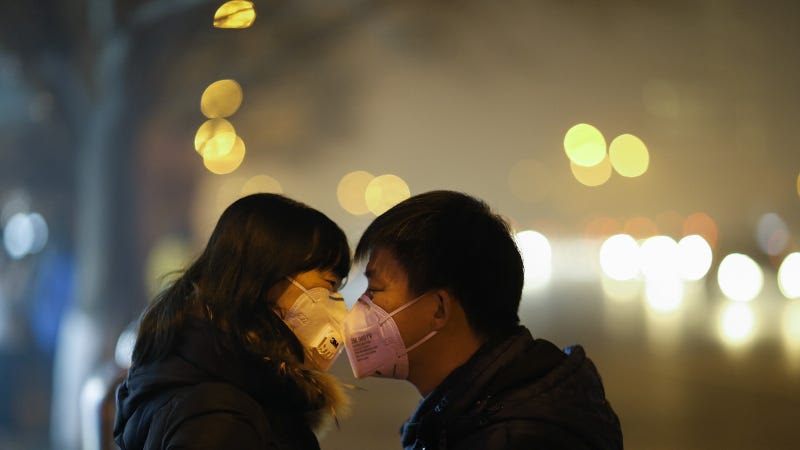 Beijing is experiencing the worst air pollution it's seen this year, the Associated Press reports, at levels that are 25 times higher than what's considered safe by the World Health Organization.
The smog in Beijing this week reached particularly hazardous levels, with people encouraged to stay indoors and visibility reduced to a few hundred yards. But Beijingers, not thrown by the extreme pollution, equipped themselves with masks and memes to deal with the "air-pocalypse":
There were invisible selfies taken in the smog and posted on Chinese social media network Weibo:
"Perfect weather - here's a selfie."
"I had the courage to post a selfie."
Some PSAs were posted on Wiebo that Beijing has not, in fact, turned into a zombie playground:
"This is not Resident Evil or Walking Dead or Zombies or Silent Hill, this is just a bunch of elderly ladies dancing in the park in Beijing…"
"All the people going to work today are brave men."
And some sarcastic observations that some landmarks disappearing in the smog:
"Congratulations on the successful launch of the central tv tower."
And some took it upon themselves to add the buildings back in:
"When you think about it, breathing out a brick [of pollution] to help build a country isn't that bad," wrote this poster, looking for a silver lining.
A local artist who calls himself "Brother Nut" took to the streets of Beijing with a vacuum cleaner for 100 days and came back with a "bricks" of smog collected in his machine. One official in the city of Langfang, just outside Beijing, has taken to writing novels about the smog in an effort to raise awareness.
Meanwhile, Chinese President Xi Jinping is in Paris for COP 21 (the United Nations Climate Change Conference), pledging once again to reduce pollution in China, and announcing that China will launch low-carbon industrial factories and other efforts to tackle climate change. "Tackling climate change is a shared mission for mankind. All eyes are now on Paris," he said, while re-iterating that each country should be allowed to come up with its own individual solutions.
Isabelle Niu is a digital video producer at Fusion.
Nidhi Prakash is a journalist in NYC via Sydney, London, Santiago, Auckland, Mumbai. She reports on international news, healthcare, labor news, and more for Fusion.