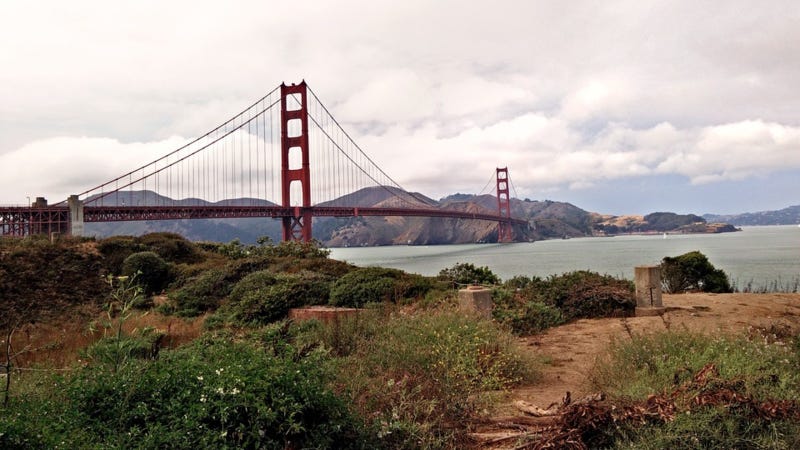 Next month, in a first-of-its-kind measure, San Francisco Bay Area residents will decide if they're ready to put real skin in the game when it comes to protecting the region against climate change. On the June 7th ballot in nine Bay Area counties is a property tax that would cost residents $12 a year for the next 20 years. If passed, the measure—known as Measure AA— would raise $500 million dollars to protect the San Francisco Bay from sea level rise, which could claim large swaths of land in the coming decades if not confronted, and other negative environmental trends.
While many view the innovative approach as working in everyone's favor, some are concerned about equity issues with low-income residents paying the same amount as those from places like Silicon Valley's well-to-do tech industry—even if the annual fee amounts to less than a workweek of to-go coffees.
"I think that because the fee is regressive, people should vote against it," said Brian Beveridge, co-director of the West Oakland Environmental Indicators Project. "The Bay, and the environment in general, is a public asset. In the private sector the owner of an asset would not willingly pay to repair damage done by another person, so why are we charging the public for damage by industry and developers?"
Beveridge thinks that since the public has already suffered the loss of these resources, polluters and developers should pay for any restoration.
"Twelve dollars for one person is just the cost of a fancy cocktail in Uptown Oakland," he said. "For someone else it might be the monthly power bill in July or a week of lunches for their child."
Beverage said he thinks the people promoting the measure should look for funds elsewhere, such as the hundreds of millions of dollars being released from the state cap-and-trade program. He also thinks the Bay is in better shape than it has been in decades, having already benefited from a number of revitalization programs.
Monica Canfield-Lenfest with Save The Bay, a non-profit in full support of the tax, said the measure's pros far outweigh any cons and that $1 per month is a reasonable price for everyone to pay.
"A small investment from a large number of people will generate a huge impact for the future of the Bay Area," she said. "Ultimately, our region will need to generate even more resources, and everyone will need to contribute their fair share. But we cannot afford to wait, and this small parcel tax will allow us to get started now."
Canfield-Lenfest said the Bay needs 100,000 acres of new wetlands to be fully healthy and sustainable and that while more than 30,000 acres of shoreline await restoration, funding is lacking. While other coastal cities across the country are relying on government or private funding for this type of action, San Francisco could be the first to put matters directly into residents' hands, and wallets.
If passed, the money raised from the measure will be utilized in a number of ways. To confront sea level rise and flooding, the Bay's wetlands, which act as a natural barrier against these threats, will be extensively built-out. Overall water quality will be improved and trash and other pollution will be cleaned up. Wildlife habitat will be restored and increased access to shorelines will be provided for the public.
Before the California Gold Rush in the mid-19th century, some 350,000 acres of bay wetlands existed that have since been destroyed by drainage, agriculture, and development. This represents almost 85% of the entire region's marshlands. According to The Bay Institute, nearly 40% of the historical Bay's aquatic ecosystem has been lost.
Canfield-Lenfest said the improvements from these efforts will benefit even those who don't live directly next to the Bay. For instance, better flood protection will help safeguard billions of dollars' worth of critical infrastructure that helps fuel the region's economy.
She also said the lessons learned from this process can be applied to other fast-growing and dense urban areas across the country, such as New Orleans or New York City
"All of us will need to take a hard look at our natural resources in our regions that provide ecosystem services that are going to be so important for fighting climate change, and figuring out how to protect and restore and enhance those resources."
The parcel tax is being proposed by the San Francisco Bay Restoration Authority, a California government entity established by the state legislature in 2008. According to the SFBRA, projects to improve the Bay would be prioritized by their positive impact on the San Francisco Bay as a whole. The six representatives on the SFBRA's governing board approved the ballot measure unanimously in January. In order to pass, two-thirds of voters will have to approve the measure—a high bar but one that the liberal-leaning, environmentally minded populace could support.
Adrian Covert, policy director for the Bay Area Council, a business-sponsored public policy outlet that supports the measure, said this approach to saving the Bay was selected after "years of careful scrutiny and consideration."
"We've found that the health of the Bay is something that virtually everyone in the region cares about, and that huge majorities feel strongly enough about it that they're willing to pitch in a modest sum to keep the Bay healthy,"  he said.
Covert also said that there's no question that if the measure doesn't pass the issue will cost Bay Area residents more money in the long run.
"Wetlands are cheaper to build and maintain than levees, and in areas that need extra protection, levees can be built smaller and cheaper if there's a wetland in front of it," he said. "So we're asking for $500 million to prevent over $10 billion in the near term, and billions more in the long term. In exchange, we'll also improve the environment for fish and wildlife and expand public access to the Bay. This is a win across the board."
The Bay Area Council Economic Institute recently produced a study saying that the region could suffer $10.5 billion in damages from a 150-year storm event right now. Another recent report from the San Francisco Public Press found that the Bay Area's "current waterfront building frenzy" includes at least $21 billion-worth of construction in low-lying areas that could become victim to sea level rise of up to five feet (possibly 8 feet during high tide) by the end of the century.
According to the report, Google, Microsoft, LinkedIn, and Facebook are among some of the corporations driving this bay-side expansion. If left unaddressed, the public cost of protecting these developments with dikes, levees, and artificial wetlands will only increase in the future.
This post has been updated to reflect Brian Beveridge's comments.