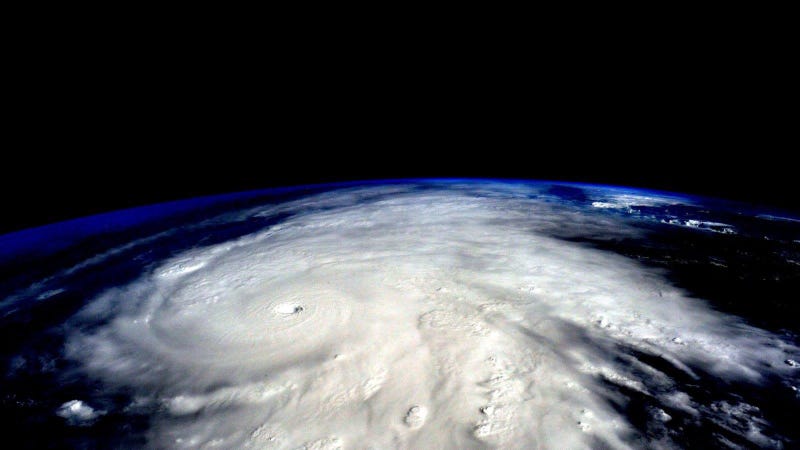 When astronauts gaze back on Earth from space, they often report feeling overwhelmed by the fragility of the tiny planet "hanging in the void." This is known as the "overview effect" and it imbues those select few who make it out of our atmosphere with a unique cognitive awareness of the profoundness of life and need to actively protect it.
Now for the first time, 60 of the world's space agencies, including NASA, have agreed to work together to protect life on Earth from one of the gravest threats humankind has ever faced. Climate change, a slow-moving catastrophe, is notoriously hard to experience firsthand at the local level, but from space the impacts are much easier to spot and monitor. In fact, according to the news release from the Indian Space Research Organisation (ISRO), which oversaw the final agreement on Friday in New Delhi, "without satellites, the reality of global warming would not have been recognized."
Meanwhile, not all is sunny on the climate science horizon. In the United States, Congress is targeting climate change research through proposed cuts to NASA and the National Oceanic and Atmospheric Administration (NOAA) for next year. In late May, the House Appropriations Committee passed a bill allocating $128 million for NOAA's climate research, a 20% cut, and $1.7 billion for NASA's earth science division, a 12% cut. An earlier bill passed by the Senate Appropriations Committee maintained 2016 funding for both these agencies. These differences will have to be resolved during conference negotiations.
It is well documented that there are an abundance of climate change deniers in Congress. Even as 97% of scientists agree that humans are causing the climate to change, a recent Center for American Progress Action Fund report found that there are 182 climate deniers in the current Congress: 144 in the House and 38 in the Senate. If Donald Trump becomes climate denier-in-chief, then this pendulum will become harder to swing even as more and more Americans say they are concerned about climate change.
Both these agencies could vastly benefit from more funding to study the climate; funding they've repeatedly asked for but have for the most part been denied. Instead, if the cuts go through efforts to update carbon dioxide observatories and track U.S. emissions will suffer.
In an even bigger strike to climate science, Australia's science agency CSIRO is preparing to cut between to third and half their climate scientists in a highly unpopular reorganization.
Climate monitoring stations in the United States and Australia this year observed record levels of carbon dioxide concentrations in the atmosphere.

Big Space Data
By sharing valuable information and coordinating their research, the international space community hopes to arrive at something they've deemed "big space data". This galactic trove of data will be used to both measure climate variables and monitor climate commitments. According to the press release, out of 50 essential climate variables being monitored now, 26—including sea level rise, sea ice extent, and greenhouse gas concentrations—can only be measured from space.
As this knowledge continues to accrue and the dire implications of climate change become evermore apparent, reducing emissions becomes key. While countries can discuss at great length their goals and targets, actually verifying that these commitments end up being fulfilled is an oft-overlooked part of the puzzle. Again, this is something that can only be done by satellite. With the Paris Agreement coming into force in the near future, the space agencies decided to centralize this effort and create an "an independent, international system" to make sure promises are kept.
Jean-Yves Le Gall, the president of the French space agency Centre National d'études Spatiales (CNES), which also oversaw the agreement, called called the event historic, and one that reaches far beyond just the space sector.
"With this consensus among space agencies from more than 60 nations, including the world's leading space powers, the international space community and scientists now have the tools they need to put their talent, intelligence and optimism to work for the good of humankind and our planet," he said in a statement.
And that's not something just every astronaut can appreciate, but also every human.