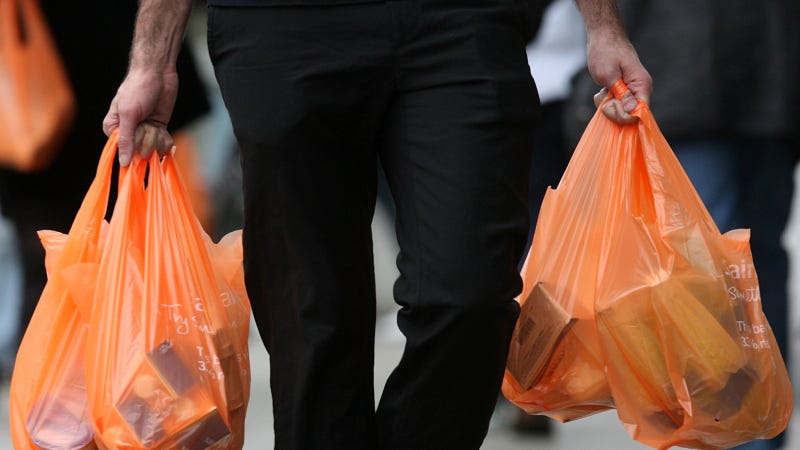 The New York City Council's closest vote in years on Thursday won't be about criminal justice, housing, or education. It will be about plastic bags.
The fight over banning or charging for plastic bags has played out so many times in cities around the country that it has almost become predictable. Pictures of entangled wildlife and litter-strewn streets will be shown. Statistics on recyclability will be debated. Questions about the effects on low-income communities will be raised. While all of these arguments have varying degrees of validity they often miss the bigger issue.
Plastic bags are only part of the single-use, disposable culture that has created growing waste management headaches. The bags themselves are far less important than what we put in them.

♻️♻️♻️♻️♻️
When they first gained widespread popularity in the early 1980s plastic bags were seen as a great advancement. Unlike paper bags they wouldn't rip in the rain and could hold up to 1,000 times their own weight. For people without cars living in urban areas this made a big difference. Yet in recent years public opinion has begun to shift.
"I think that the plastic bag is going the way of the typewriter," said Antonio Reynoso, chair of the New York City Council's sanitation committee. "I just don't accept that we can't do better."
Reynoso is one of the council members supporting a bill that would charge shoppers five cents—reduced from 10 cents after opposition—for paper or plastic bags. Bag fees or outright bans have already passed in cities and towns from coast to coast. Countries such as Ireland, Bangladesh, and China have instituted their own versions. The director of the United Nations Environment Programme famously said he sees "zero justification" for even manufacturing them anymore.
Whole Foods hasn't offered plastic bags in years and Wal-Mart Canada recently began charging a fee, but the bags are still available in many stores. Estimates put annual worldwide use anywhere from hundreds of billions to a trillion. According to the Natural Resources Defense Council, the average American family brings home 1,500 plastic bags each year.
Though they're still a relatively new addition to consumer life, the bags' ubiquity has made them seem indispensable. Every time a ban or fee is discussed, the most common argument against it is that low-income communities will be affected. Protests inevitably pop up in front of city halls, divisive ad campaigns begin, and government officials are left scrambling to answer their constituents.
Jennie Romer, an attorney who has worked on bag ordinances nationwide, said this logic misses the point.
"It works really well to distract people and to pressure council members," said Romer. "The intent is not to have people pay for bags. The intent is to have people bring their own."
Romer points to previous ordinances in other major cities such as Washington, San Francisco, and Los Angeles as success stories. A 2010 study of potential effects in Los Angeles found that the overall cost of a ban—including those incurred by stores and customers—would be no more than $5.72 per person each year.
Similar to other cities, New York's bill would exempt residents buying groceries with government benefits from paying the fee and reusable bag giveaways have already begun.
Cambridge, Massachusetts recently enacted a ban on plastic bags and a fee on other bags with a built-in provision to help residents make the switch. The city is currently giving out 10,000 reusable bags to public housing complexes, food pantries, and senior centers. More than half of the bags were collected in a regional donation drive and the rest have been purchased by the city.
Michael Orr, the city's waste reduction program manager, said that so far the new rules have been a success across the board.
"There's always going to be some people that are apprehensive to change, but most people have adapted," he said. "People of all demographics are actually very passionate about this ordinance."

♻️♻️♻️♻️♻️
The next major talking point in any plastic bag debate is whether they can be recycled. Environmental advocates often point to the low recycling rates for plastic bags as proof that they aren't sustainable. The after effects are where this issue gets complicated.
Bags and other types of film plastic are collected in thousands of stores across the country. Some states, such as New York, even have laws requiring this service be available. Novolex, one of the major bag manufacturers, has two facilities in Indiana and Wisconsin that can break this material down and repurpose it for future use.
Phil Rozenski, the company's senior director of sustainability, said approximately 12 to 15 percent of bags are collected for recycling nationwide. While that rate may seem low, he said it's only part of the story.
"Our largest competitor in recycling is actually consumer reuse," said Rozenski. "That's the reality of our business."
Plastic bags are commonly used again after making the trip home to line trash cans, collect animal waste, or any number of other things. Without these bags, people might buy fresh ones from the store anyway.
As for reusable bags, Rozenski takes issue with claims of their environmental superiority. While canvas bags have a much longer lifespan, many of the bags available today are made out of thicker types of plastic that can become an ever greater burden once they end up in the trash. A 2015 study done after Austin's bag ordinance began found a drastic increase in the percentage of thin reusable bags being thrown away.
Further questions about whether the money from fees should go to business owners or local government has also complicated the issue. Washington's ordinance made provisions for money to go to river clean-up efforts and education programs. New York's ordinance would let business owners keep the money.
These complexities, combined with industry pressure, have led to some setbacks for the anti-bag movement lately. A ban in California was challenged in court and will now be decided by voters in a statewide referendum this fall. Dallas repealed their own ban last year and Denver decided not to pursue one. A few states have even taken steps to preemptively ban local ordinances on plastic bags entirely.

♻️♻️♻️♻️♻️
Though it's true that the bags are unique in their ability to gum up recycling equipment and storm drains, others types of plastic are equally culpable in harming wildlife and littering streets. Yet for an item that makes up such a small percentage of the country's waste the common plastic bag has still generated more controversy than anything else and the debate shows no signs of letting up.
Some would say that's because the bags are an easy target for environmentalists. Others say it's because they represent the worst of a disposable consumer culture that has led to wasteful single-use items such as plastic bottle and upward of 40 percent of food being wasted in the United States every year. Others say it's even bigger than that, pointing to the role thin plastic has come to play in our daily lives.
"It just pervades all levels of food procurement and preparation and storage," said historian Susan Strasser. "This stuff is not dismissible."
Known for her books "Satisfaction Guaranteed" and "Waste and Want," Strasser has studied the effects of consumer culture for years. She said that like the invention of modern refrigeration and the rise of supermarkets, plastic marked a major turning point in the way people shop. It has had profound effects on the sanitation and durability of our food, but also poses major challenges.
While sandwich bags and the wrapping on packages of meat may technically be recyclable they often end up in landfills instead. The bag debate has made people think twice about their waste, but may be a convenient distraction from the larger question of how waste and consumption habits are affecting the environment.
Strasser views plastic bags as another step in the evolution of food transportation that we must now move past. Just as humans used animal skins, baskets, cloth totes or paper bags in the past, we will find a new way.
"This civilization has gone beyond the carrying capacity of the planet, or come pretty close," said Strasser. "It's not like there aren't advantages in all kinds of things, but the disadvantages are becoming very obvious."
Cole Rosengren is a garbage enthusiast, Mainer and Brooklynite. He covers local government and environmental issues in New York.