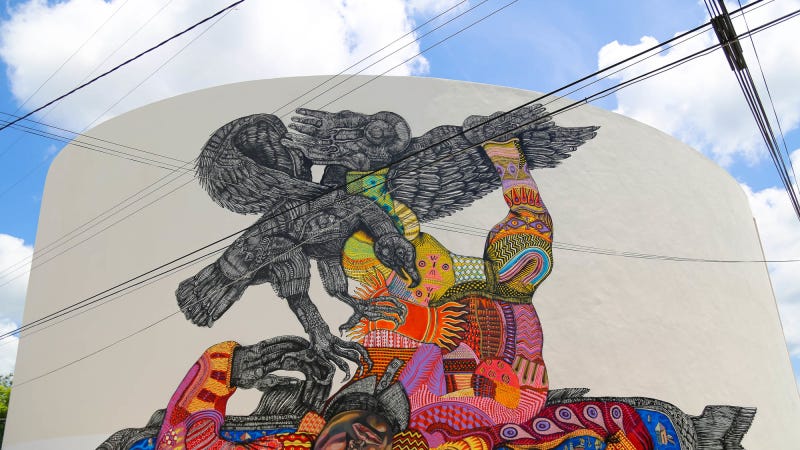 Many people might struggle to use the word 'artivism' in a sentence, but for Tre' Packard, the founder and managing director of PangeaSeed, a Hawaii-based non-profit using art to raise awareness around environmental issues, it's a word that comes in handy.
Packard told Fusion in an email that PangeaSeed's recent "mural festival" on the Caribbean island of Cozumel, Mexico, was another step in the group's effort to "bring attention to the global plight of our oceans through artivism."
What is artivism exactly? According to Pangeaseed's definition, it's the convergence of public art and activism, which Packard said the group is using to foster "a new breed of conservation through sustainability, education, ecology and design."
In Cozumel, they did this with the Sea Walls: Murals For Oceans project, an event that took place in mid-July, a period during which a group of artists painted 35 large-scale public murals throughout Cozumel's town center. A 250-square-mile island located off Mexico's Yucatán Peninsula, Cozumel has a population of about 1,000. It is threatened by sea level rise, and a number of important species inhabit the coastline.
"By bringing the oceans into the streets, the viewers are compelled to learn more, and contribute to a more ocean-friendly environment," said Packard.
The artists involved in the project included 12 from Mexico and 24 from 11 other countries. Their murals bring attention to topics including plastic pollution, sea turtle conservation, coastal development, overfishing, coral reef preservation, shark finning, oil development, and more.
Since 2009, Pangeaseed has hosted over 20 public art exhibitions in an effort to bring together elements of art, nature, and society for a public not always aware of what's at stake.
"At PangeaSeed, we deliver our message by means of positive, engaging and inspiring public art," said Packard. "As Jacques Cousteau famously said, 'people protect what they love.'"
And these murals are definitely loveable.
The full list of participating artists included: Aaron Glasson (New Zealand), Alexis Diaz (Puerto Rico), Amanda Lynn (USA), Bicicleta Sem Freio (Brazil), Caratoes (Hong Kong), Celeste Byers (USA), Christopher Konecki (USA), Colectivo La Quinta (Mexico), Cryptik (USA), Curiot (Mexico), CYH Jayson (Taiwan), Dherzu Uzala (Mexico), Ever (Argentina), Faith47 (South Africa), Fintan Magee (Australia), Honghikuri (Mexico), Hueman (USA), Ian Ross (USA), Jack Fox (South Africa), Jason Botkin (Canada), JAZ (Argentina), Jesús Benítez (Mexico), Kai'ili Kaulukukui (USA), Liz Rashell (Mexico), Meggs (Australia), Melhor (Mexico), Naturel (USA), NEWS (Mexico), Osel Paint Crew (Mexico), Paola Delfín (Mexico), Phlegm (UK), Seher One (Mexico), Tatiana Suarez (USA), The London Police (UK), Tristan Eaton (USA), Zio Ziegler (USA).