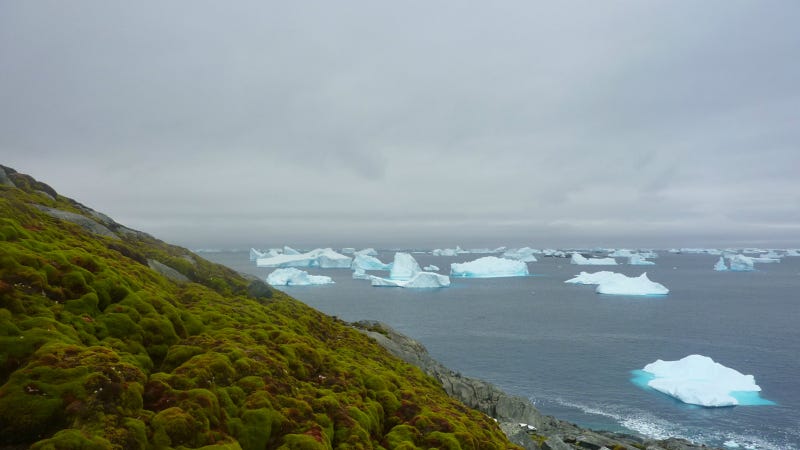 Antarctica is a cold, white continent at the bottom of the world. Or so it has been for thousands of years. New evidence points to a sharp increase in biological activity in recent decades across the Antarctic Peninsula, resulting in large swaths of newfound greenery.
Published in the journal Current Biology, a new study found major increases in Antarctic moss growth over the past 50 years, which the team of researchers attributes to temperature rises in the region.
"It's another clear sign that the biology of the planet is changing as a result of warming temperatures," said Professor Dan Charman of the University of Exeter, who led the research project. "What surprised us was just how rapid the changes have been and the fact that they are very unusual when compared with growth rates in the late 19th and early 20th century."
Charman said their evidence shows just how fast Antarctic land surface can change along with climactic changes. The Antarctic Peninsula is among the most rapidly warming areas in the world, with temperatures having increased by almost three degrees Celsius over the last 50 years. In March, a research base near the northern tip of the Antarctic peninsula set a heat record of 17.5 degrees Celsius (63.5° Fahrenheit).
Currently, plant life only exists on about 0.3% of Antarctica. Charman said that, while as the Arctic warms a variety of plant life and soil organisms can migrate north, in Antarctica there are no nearby land areas for species to colonize from. But while no new natural plant life is anticipated, existing plant life such as Antarctic hairgrass and Antarctic pearlwort could occupy new ice-free ground as glaciers retreat.
Dr. Matt Amesbury, also of the University of Exeter, said there were two main findings to take from their new study, scale and temperature sensitivity:

Before now, studies have been from single sites but using a transect of sites, we've been able to show that this significant response to climate change is pervasive across the whole of the Antarctic Peninsula. The second important point is our finding which suggests that moss growth has been highly sensitive to temperature change since the 1950s—under future warming scenarios, this means we are likely to see a greening of the Antarctic Peninsula, both in terms of further increases in growth rates and also expansion of mosses and other plant life.
While weather records only began in the 1950s in Antarctica, moss cores can provide a much older picture of how climate change has influenced biology in this frigid part of the world. Going forward, the researchers, who received funding from the Natural Environment Research Council, plan to examine core records dating back thousands of years to see how climate change affected the ecosystem before human activity was part of the picture.
In March, James McClintock, a marine biologist with the University of Alabama at Birmingham and author of Lost Antarctica: Adventures In A Disappearing Land, told NPR that in Antarctica it's possible to really see the impacts of climate change with your own eyes.
"You know, we're seeing changes in whole ecologies, whole communities down here that probably wouldn't be unusual over millennia," he said. "But here, they're happening over a few decades. I really believe this is sort of the bellwether, if you will, of climate change environments on our planet. And we need to take heed of that. We're seeing changes at home. They're much more dramatic here, and they're going to get more dramatic where we live as well."