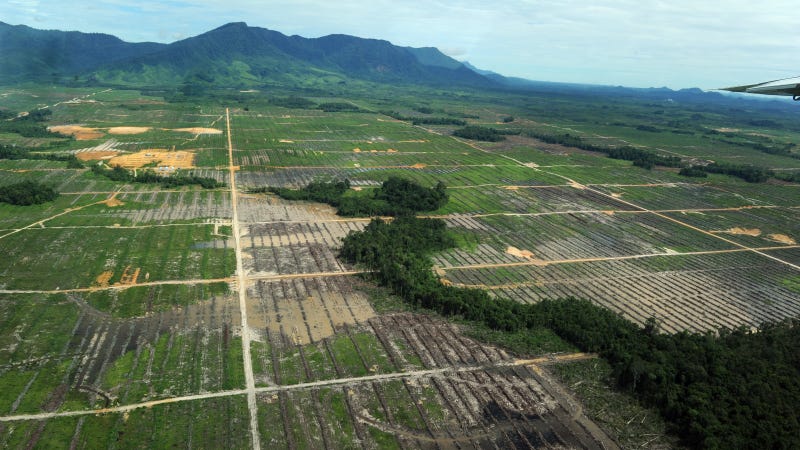 As President-elect Trump prepares to take office and usher a wave of climate change deniers into power, one of Earth's most vital natural defense systems against global warming is quickly deteriorating.
Two new reports, one by CDP (formerly known as the Carbon Disclosure Project) and the second from Global Canopy Programme, which track policies that contribute to deforestation, assert that corporations and governments are not currently hitting international targets to protect the planet's tropical rainforests. According to the report, products like palm oil, beef, and paper are the worst offenders. Combined these products require that wide swaths of forest—nearly 50 football fields every minute—be cleared for production. Cattle farming to raise livestock for beef or leather products, a majority of which ends up on retail shelves in countries like the United States, is the biggest single driver of this deforestation.
These tropical forests are the most effective natural carbon-storing systems on the planet. As the Trump administration prepares to ramp up fossil fuel extraction while stripping away carbon dioxide regulations, these assets will become even more critical than before.
"Right now the world is racing to develop much-needed carbon capture technology, but nature has already beaten us to it," said Katie McCoy, head of forests at CDP. "Forests are nature's ready-made solution to capturing and storing carbon. Amazonia alone holds a quarter of all the world's carbon that is stored on land. Up to a third of the annual carbon mitigation needed to keep temperature rises in check could be achieved by addressing this issue."
Tropical forests' ability to store huge quantities of carbon also means that cutting them down releases more carbon into the atmosphere than other types of forests. Deforestation represents about 15 to 20% of the world's total carbon emissions—most of which comes from the degradation of tropical forests.
These unsustainable business practices represent about $906 billion in yearly revenue for the publicly listed companies included in CDP's assessment. But it isn't just companies that are driving this deforestation. As the GCP explains, their assessment found "nearly no ambition among importing countries" to curb policies that contribute to deforestation.
This last point is not particularly surprising considering the current state of U.S. politics. Trump's refusal to address climate change is especially problematic considering the U.S is the second highest carbon emitter on the planet, behind China—and according to the WorldWatch Institute, one-third of China's emissions are tied to exports, much of which are sent to the United States.
As Lux Research recently predicted, Trump presidency could introduce 3.4 billion more tons of C02 to the atmosphere over the next eight years than would have been expected had Hillary Clinton won the election.
Trump has already signalled his intentions to unravel Obama's progress on policies like the Clean Power Plan (CPP), which was designed to curb CO2 emissions from coal and oil based energy plants by about 32% of 2005 levels by 2030.
This policy was introduced a year after the 2014 New York Declaration on Forests in which governments and companies made a non-legally binding pledge to cut deforestation rates in half by 2020, and entirely by 2030. According to the GCP, we are not currently on track to hit these crucial targets.
Reducing carbon emissions, and restoring tropical rainforests that capture them, are interdependent.
"It will be absolutely impossible for us to prevent dangerous climate change without forests," said McCoy. "And this is why the Paris Agreement specifically references forests, calling on parties to 'take action to conserve and enhance, as appropriate, sinks and reservoirs of greenhouse gases…including forests.'"
But according to GCP's report, 57% of the companies assessed have either weak or no policies at all to strike deforestation out of their business practices, and only 3% of the financial institutions assessed have taken steps to reform these policies. The report looked at 250 companies, 150 financial institutions, and 50 national and subnational jurisdictions
According to McCoy, encouraging a more sustainable business model doesn't just benefit forests—it's also good for business. "The investments companies will have to make to rebuild brand value could be much higher than the investments they need to make now to ensure that deforestation-risks don't topple their supply chain," she said.
Already, 81% of agricultural producers—where the supply chain starts—are changing production methods to accommodate this shift in demand, according to McCoy.
But American companies are not doing as much as their European counterparts to encourage more sustainable production. "About 85% of European companies have board-level accountability of this issue, while in North America this is much lower, at about 40%."
This is evident when looking at the supply chain for products like processed beef, one of the main contributors to deforestation identified by the GCP. In 2014, the United States accounted for 35% of total processed beef exports, making it by far the largest export destination for processed beef products in the world.
Still, according to Holly Gibbs, an expert on tropical land-use change, deforestation and carbon emissions at the University of Wisconsin, the potential for Americans to influence corporate business practices is greater than ever—largely due to social media. "By using social media to ask companies to protect forests, or thank them for their commitments, we can send clear signals that reach the companies but also other consumers."
McCoy agrees that public opinion is one of the most significant drivers of corporate change. "We know from the data companies are reporting through CDP forests that consumers already are influencing the deforestation policies of companies. The most common type of deforestation-related risk companies disclosed to us is reputational risk, resulting in a reduced demand for goods and services."
Gibbs said that Americans can also use their dollars to influence where corporations source their products, as business practices are largely responsive to consumer habits. So long as beef is consumed as a daily staple food, for example, so will forests be consumed by companies ready to meet that demand.
Rob is a freelance writer and journalist covering human interest stories, the environment and human rights.