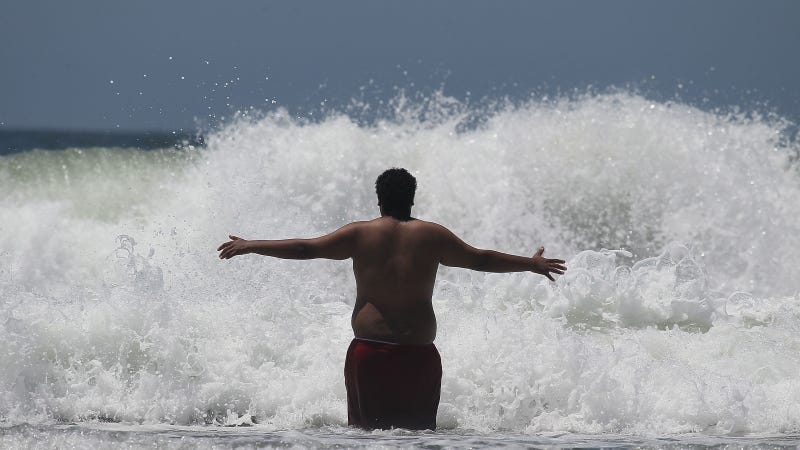 Things are heating up in California this week, and not just politically. With the official start of summer still around three weeks away, much of the state is bracing for an extensive heat wave that will bring temperatures well into the triple digits. The heat wave, which will extend up into the Pacific Northwest and east across the Southwest, will usher in the country's hottest temperatures of the year so far. It's also a precursor of the long, hot summer being forecast across the nation, in which only a handful of states are not expected to exceed average temperatures.
In late May, the National Oceanic and Atmospheric Administration released a foreboding map showing that anyone wanting to avoid the heat this summer should head towards the center of the country, where Kansas, Nebraska, and parts of adjoining states might be blessed with merely average temperatures—which are still pretty hot.
Stephen Baxter, a meteorologist with NOAA's Climate Prediction Center, said that this summer will likely be an exceptionally warm one. Though on the plus side, he doesn't think it'll beat the western scorchers of 2010-2012.
The worst place to be: California and the rest of the Southwest, where temperatures will likely be at least a half a degree higher than normal. On Wednesday, the National Weather Service issued an "Excessive Heat Warning" for the California Desert, where temperatures could reach up to 116 degrees over the weekend.
While eyebrow-raising, this type of heat should come as no surprise. April was the 12th record warmest month in a row globally—an entire year of record-setting heat buoyed by El Niño—and according to Gavin Schmidt, head of NASA's Goddard Institute for Space Studies, there's a 99% chance that 2016 will usurp 2015 as the hottest year on record, which only recently overtook 2014 for the title.
Unnatural Air Conditioning
The United States isn't feeling the worst of the heat either. Across the world in South Asia, temperature records have been crumbling. In late-May, India set a new all-time high temperature record when a town in the western state of Rajasthan hit 123.8 degrees Fahrenheit. The already prolonged drought in the region is exacerbating these pre-monsoon temperatures by failing to soak up heat through evaporation. Similar heatwaves in India and Pakistan last year caused thousands of deaths, a tragedy repeating itself this year as more than 1,000 people have already succumbed to the intolerable conditions.
In the United States, most people can beat the heat by seeking air-conditioned shelter. While this is certainly nice for one's local environment, it's costly for the broader environment (and also just costly). Americans use 5% of all of their electricity cooling homes and buildings. All this climate control contributes about 100 million tons of carbon dioxide to the atmosphere each year. So we are beating the heat by adding to the problem. As the rest of the world catches up to the American standard of living this unfortunate conflict of interest will continue to grow. A recent report on this air conditioning boom by researchers at Lawrence Berkeley National Laboratory found that there will be 700 million new air conditioners installed by 2030, and 1.6 billion by 2050. Right now there are still less than one million.
Beat The Heat
One way to address this problem is to focus on energy efficiency, a mostly untapped realm of energy conservation that could significantly reduce greenhouse gas emissions across the spectrum of household items, from air conditioners to refrigerators to light bulbs. As the Washington Post reports, the Berkeley Laboratory study "found that if the world can shift toward 30% more efficient air conditioners, and phase out HFCs at the same time, that could effectively offset the construction of as many as 1,550 peak power plants."
If efficiency doesn't become more of a priority, the energy used for heating globally could overtake that used for cooling by 2060 according to a report from the Netherlands Environmental Assessment Agency. As greenhouse gas concentrations continue to rise, those most affected by this excessive heat are also the most vulnerable to the health impacts that can result in fatal outcomes.
For those without regular access to air conditioning, or who find themselves outside in the heat for prolonged periods of time, remember to drink more water and avoid alcohol and caffeine, which can contribute to dehydration. There are also a number of public places, such as libraries, malls, and even special cooling stations to help fend off any heat-related illness such as heat stroke, heat cramps, or heat exhaustion.
Heat is the leading weather-related killer in the United States, even though most of these deaths could have been preventable, according to the EPA. As heat waves become longer and more intense, the risk of heat-related deaths is also expected to increase. Since 1979 more than 9,000 Americans have died of heat-related causes.
Heat Island Living
Those living in large cities are already ahead of the curve when it comes to their heat conditioning, as cities are usually several degrees hotter than nearby suburban and rural areas—a phenomenon known as the "heat island" effect. According to the EPA, this effect, which is caused by the pervasiveness of pavement and dark roofs and a lack of green space, harms communities "by increasing summertime peak energy demand, air conditioning costs, air pollution and greenhouse gas emissions, heat-related illness and mortality, and water quality."
As urban planners work towards making cities more sustainable, moderating this spike in temperatures will be key to improving the environment for the many low-income and minority residents that often lack sufficient access to preventative measures to avoid heat-related illnesses.
Meanwhile, the global population continues to urbanize at a rapid rate. A new study found that even plants are subject to this urban heat conditioning as spring buds burst earlier in dense urban areas than in their suburban and rural surroundings. Published in Environmental Research Letters, researchers found that in Madison, Wisconsin the growing season lasted up to a week longer in the city's densest areas. The authors hope their research will help planners create "more sustainable cities that behave more similarly to the natural areas they have replaced."