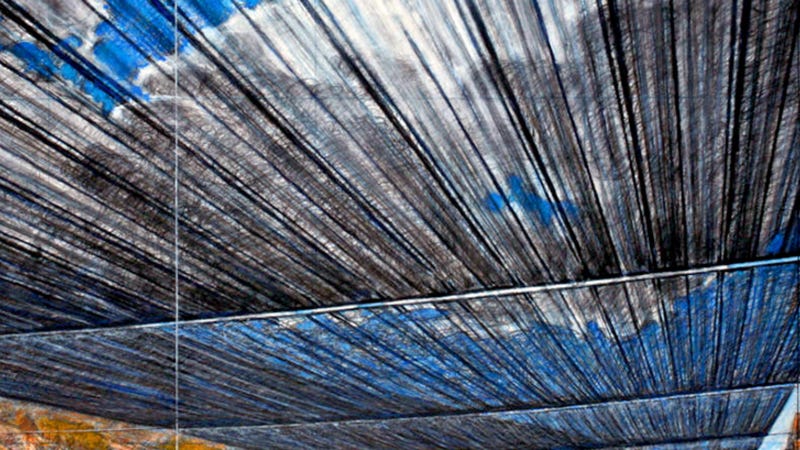 World-famous artist Christo and President Trump both like making big, mind-altering statements. But that's where their similarities end. Christo has spent decades interweaving his large-scale, temporary artworks into the natural environment. Trump wants to build overbearing and permanent walls that seriously disrupt local ecosystems (not to mention all his other construction aspirations).
Now, the 81-year-old artist has decided to cancel his latest endeavor in protest of the Trump administration. After more than two decades spent planning the "Over the River" installation—which would have suspended almost six miles of silvery, luminous fabric panels above different popular section of the Arkansas River in Colorado—Christo announced this week that he had abandoned the endeavor.
Christo, whose partner in life and art Jeanne-Claude died in 2009, had already gotten all the federal, state and local permits necessary for the project and gone through five years of legal arguments. Even with the finish line so close, it wasn't worth it anymore. He said his main reason for the decision was that he did not want to deal with the Trump administration as most of the project would have been installed on federal land.
"I use my own money and my own work and my own plans because I like to be totally free," he said. "And here now, the federal government is our landlord. They own the land. I can't do a project that benefits this landlord."
Christo is famous for large-scale, fleeting art installations that force people to experience space and art in new, unfamiliar ways. Some of the most famous of these include "The Gates," the saffron-flagged transformation of Central Park, and when he covered a large section of rural Southern California with giant yellow umbrellas.
While it's understandable that such an environmentally minded person wouldn't want to be associated with Trump, who in less than a week in office has already vowed to do away with countless environmental regulations and fast track fossil fuel projects, some reacted with dismay, saying his project could bring much needed attention to the issue.
In an op-ed in The Guardian, art critic Jonathan Jones wrote:

Christo's protest–the weightiest yet, by one of the most revered artists of our time–raises questions about how artists should protest against what they rightly see as a dark turn in American history.

I think it is a mistake for them to withdraw their work in the way Christo has just done. Such gestures will not harm Trump. If no art gets made or shown in the US during his presidency, he and his supporters won't even notice. The loss of works like Christo's will, however, rob those who need its power–from younger people who can be inspired by art to Trump dissidents who might be nourished by it.

I'll go further. Art is the easiest way for ideas and emotions to cross borders. As Trump seeks to build walls and make entry into the US harder for huge groups of people, art is one thing that can sneak through passport control and keep a human dialogue alive between the US and the rest of the world.
The project, which would have been the largest Christo ever constructed in America, would have taken an estimated two years to complete before being on display for only around two weeks.
On Wednesday, Christo's team released a statement saying he was grateful to everyone who was part of the journey, but that he no longer wishes to wait on the outcome.
"I have decided to devote all of my energy, time and resources into the realization of The Mastaba, Project for Abu Dhabi, United Arab Emirates, which Jeanne-Claude and I conceived 40 years ago," it reads.