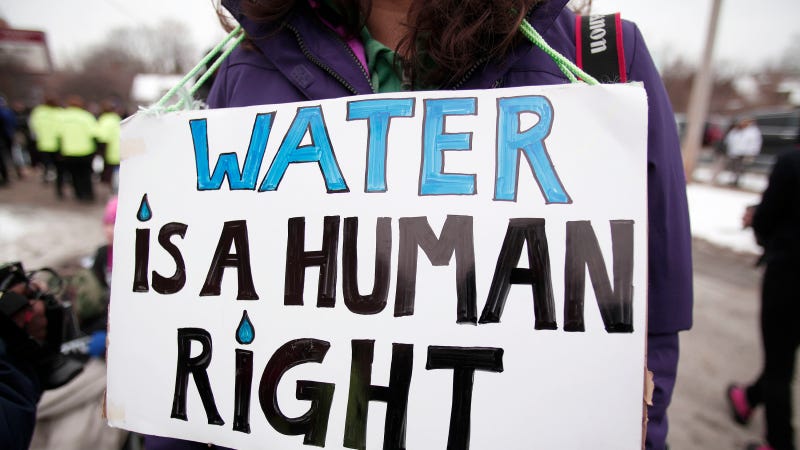 At a school on Roosevelt Island, in New York City, some water tests came back with higher levels of lead than from samples taken in Flint, MI, during its water crisis, DNAinfo reports. Eight faucets have been removed from the school.
In its "lead and copper rule," the Environmental Protection Agency (EPA) determined that if lead concentrations exceed 15 parts per billion (ppb) "the system must undertake a number of additional actions to control corrosion." When this happens, too, the EPA says the public needs to be informed about how it's going to be resolved and what must be done to protect their health.
So, the EPA says anything above 15 ppb of lead in the water is no bueno. Let's take a look at what some of the levels were at P.S./I.S. 217. From DNAinfo:

Water from the school's first floor kitchen tested at 60.2 ppb, a boys dressing room showed 23.4 ppb, a second-floor classroom came in at 23.5 ppb, the library at 68.9 ppb, a locker room at 16.5 ppb, and three weight room faucets tested at 35.9 ppb, 3,430 ppb and 655 ppb, according to the city's Department of Education.
Whew. That's a lot. The lead source at P.S./I.S. 217 though is most likely their pipes, whereas the lead source in Flint was caused by a "chemical problem."
A spokesperson for the Department of Education told DNAinfo that higher concentrations of lead were found in cold water faucets, and not in drinking fountains. Now, according to DNAinfo, the school is flushing its entire water system every week until it's re-tested.
Collier Meyerson is a reporter at Fusion with a focus on race and politics. She lives in Brooklyn.