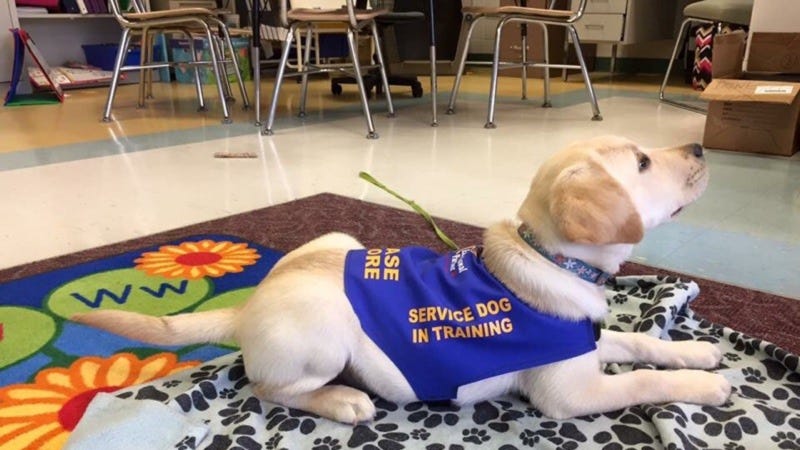 Soon after the Sandy Hook Elementary School shootings in Newtown, CT, Abby Hill, a certified professional dog trainer, received numerous requests to provide service dogs to the children and families in town. That was four years ago, and the need is still strong.
Returning to the classroom after a horrifying experience was hard for many students and teachers. Even though the students were in a new building, everyone who attended school and the parents of the children and families of the teachers who survived the massacre were frightened.
Fast forward to today: Hill has rolled out the Exceptional Partner Service Dogs program that pairs children and adults with psychiatric service dogs. What makes her nonprofit different from other service dog organizations is that the service dogs she and her crew are training will go to children and adults who are civilians, not veterans. Psychiatric service dogs usually go to veterans with PTSD, not kids or adults with mental illnesses.
The Exceptional Partner Service Dogs' team raises money to cover the costs for raising and training the dogs. Each dog costs approximately $25,000, and there is no cost to the recipient. The training, which is done by volunteer puppy raisers, takes between 15 months and two years. The dogs will then go to people in Newtown and its surrounding communities.
"Research shows that having a dog in the classroom promotes social interaction, increases concentration, and reduces stress and anxiety," Hill said.

Psychiatric service dogs also use passive techniques to keep their owners safe. They are trained to spot when an owner is about to have a panic attack. For instance, if a stranger approaches, the dog will gently place himself between owner and the stranger. They are also taught to nuzzle an owner to prevent a panic attack.
Hill and the members of her team are taking the program a step further by educating members of the community about people struggling with mental illness. One of the puppy raisers is Laura Feinstein, a teacher at Sandy Hook Elementary School. She's training Bella, a Labrador retriever, who turns one this month.
"Bella has been with me from the get go," she said. "I bring her to school and the kids respond positively. She's not my pet; she's a service dog."
The five dogs in the program will serve different purposes. Some will go to individuals struggling with mental illness and others will be facility dogs working in the school. Bella may turn out to be a facility dog. She goes everywhere with Feinstein, including her classroom where she teaches small groups of children from kindergarten through fourth grade how to read. "They've known Bella since she's just a little pup," Feinstein said.
Often the kids don't notice Bella when they're in Feinstein's classroom. She quietly sits in her crate while Feinstein works with the students. "Still, having Bella here is quite comforting to them," she said. "It brightens their day to see a service dog in the classroom. The staff also requests a 'Bella fix.' Just seeing her, makes people smile."
Feinstein has been teaching in Sandy Hook since 2001. The shootings occurred in December, 2012. "We just had an anniversary and that's when tensions are heightened," Feinstein said.
Many of the students who were present during the shooting have moved on to a new school. "Most of the students coming to this school weren't here on 12/12/14," Feinstein said. "Still, we all think about it and it comes out in different ways. Some students have trouble sleeping, some act out, some suppress their feelings. With little kids, you can't always pinpoint the cause of their stress. That's why having Bella here helps."
"Bella relaxes them and they feel comfortable talking to her," said Feinstein. "She gives them unconditional love and the kids know it."
Bella lives with Feinstein and her family, which includes two pet dogs. Another puppy raiser is 13-year-old Sara El Moustakim. She attends a middle school in a neighboring town of Newtown. She describes herself as a dog person. Her two dogs interact well with the puppy, named Harry.
"We want these service dogs to be comfortable in all situations," she explained. "That means being comfortable around other dogs and around people. We take Harry pretty much everywhere with us—movie theaters, restaurants, and stores. He has his vest on and people understand that he's working."
Knowing that Harry will soon leave is a bit difficult, but not overwhelming. "I'm doing this because Harry will help someone in need," El Moustakim said. "Raising him is for a good cause. Everyone in the program learns about mental illness and the goal of our program is to break the stigma of mental illness."
With five puppies soon to go to permanent homes, Hill hopes to add more service dogs in the coming months. "We are also going to launch a Teen Trainer Program in 2017 that will involve Newtown High School students during the day," Hill said.
Students in this program will be assigned to dogs at different intervals throughout the school day and will have the opportunity to train them. "The students in the program will be required to participate in workshops about mental illness," said Hill. "We want them to share that information with their peers to break the stigma of mental illness."
The Exceptional Partner Service Dogs has a waiting list and Hill still gets several calls a week from people wanting a trained psychiatric service dog. People with a mental illness can apply if they live in and around Newtown, CT.