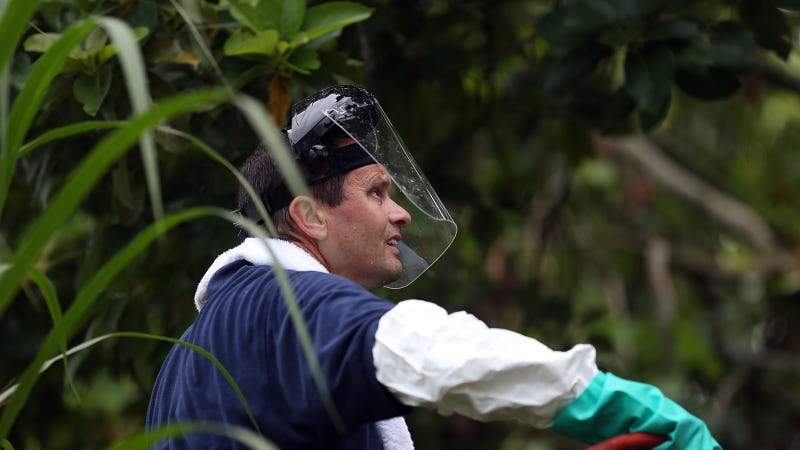 Remember that 2013 Super Bowl commercial "And God Made A Farmer?"
It was basically a version of the SNL skit "Who's More Grizzled," featuring a bunch of old white dudes gazing steely-eyed into the distance.
What the commercial failed to mention was that in 2015, 64% of the people doing the actual work on U.S. farms were born in Mexico, according to the U.S. Department of Labor, with 69% speaking Spanish as their primary language.
The National Farm Worker Ministry, an advocacy group, estimates that six out of 10 U.S. farmworkers are undocumented, and that 78% are foreign born.
Each year, between 1,800 and 3,000 incidents of pesticide exposure are reported to government agencies, though the EPA says there is "widespread underreporting."
Which is why in late September, the Environmental Protection Agency unveiled new regulations designed to protect an already vulnerable workforce.
"This is the first time in 20 years that we have taken steps to make those standards tighter," EPA Administrator Gina McCarthy told me in an interview in mid-October during her visit to Miami. "So that farmworkers are given same level of protections other workers enjoy."
The changes include:

An 18-year-old age minimum for those handling pesticides.
Posting signs that state when and where a spraying has occurred.
Keeping records so that if anyone is exposed to pesticides the case can be tracked.
"That's just not farmworkers, but it's to their families when they bring pesticides home and it impacts their kids," McCarthy said. Here is an edited version of our interview:
Pesticide exposure is not as rare as we'd like to think.
A 2012 survey of New Mexico's farmworkers found that 20% had reported having worked in a field in the last year where pesticides were being applied at the same time the workers were working. According to ThinkProgress, that same survey found workers reporting that managers threatened them with layoffs if they refused to work in direct contact with pesticides.
National Geographic reports that studies have found pesticide exposure has been linked to chromosomal damage in cells, increased risks of non-Hodgkin lymphoma, and tumor formation in some animal studies. The EPA is reviewing findings by the U.N. that pesticide exposure probably raises the risk of cancer.
The agricultural industry has opposed the EPA's new measures, saying they were already doing enough.
"Agricultural retailers pay a lot of attention to worker safety because they care about their employees, and accidents are costly for both employees and employers," Daren Coppock, president and CEO of the agricultural retailers association, said in a statement at the end of September. "The final rule overlooks improvements made in worker safety by the industry over the preceding 22 years, most significantly through development and adoption of precision agriculture and drift reduction technologies. It also discounts the significant efforts of state pesticide regulators."
But the EPA estimates that the final rule will result in an annual reduction of between 540 and 1,620 acute, health-related incidents.
McCarthy announced the new protections at a California event in September alongside Arturo Rodriguez, president of the United Farm Workers. It was three years ago that a group of UFW representatives met with EPA officials demanding greater protections.
"Today, we can say that most of the same rules that have protected other American workers from dangerous cancer- and birth-defect causing pesticides are finally going to protect farm workers under the new EPA regulations," Rodriguez said at the event announcing the new protections. "Is it ever too late to do the right thing? It's been a long time coming, but it has come today."
Rob covers business, economics and the environment for Fusion. He previously worked at Business Insider. He grew up in Chicago.