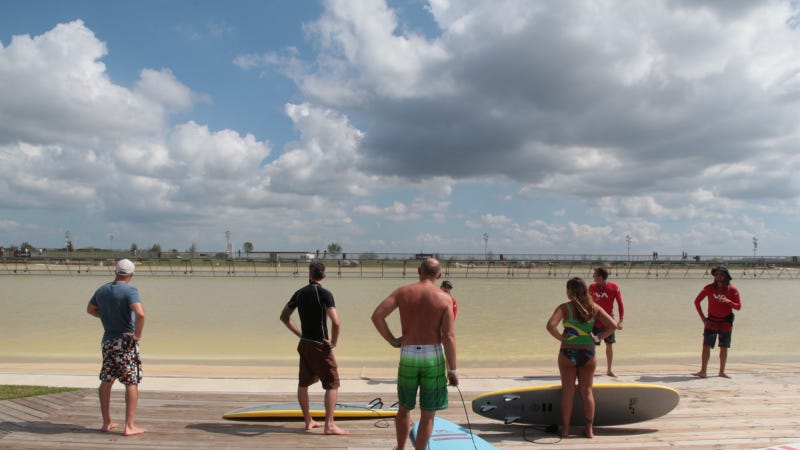 AUSTIN, Texas — "Well, it's closer than Galveston and there aren't any sharks," 49-year-old surf veteran Casey said as he waited for the next set of waves at North America's newest surfing destination—a consistent, readymade six-foot swell making landfall right outside of Austin, Texas.
Located 10 minutes from the airport and 300 miles from the nearest coast, first-of-its-kind inland surf park opened to the public on Friday, October 7th. Dubbed NLands, the surf park features a wave pool the size of nine football fields with six surfing zones catering to "foamies" (novice surfers) and professionals alike.
"As a surfer and an engineer, NLand has been a dream of mine for the past 20 years," said Doug Coors, NLand's founder and scion of the Coor's Family Brewing Company, said before the grand opening. "We have had our share of challenges, but they are behind us and I look forward to sharing our waves with the world."
Coor's dream of building a surf park in Central Texas has been a long time coming. Officially slated to open in 2015, the park's arrival was delayed due to a back-and-forth legal battle with Travis County Officials over water quality regulations.
"We've never seen anything like this before, so that was part of the issue," said Travis County Commissioner Margret Gomez. "We just didn't know quite what to do with it."
Gomez said that the park was allowed to open as long as daily water quality tests were conducted, but that future regulation of surf lagoons in Texas will have to ultimately be addressed by the State Legislature.
For the hundreds of visitors who lined up opening day to get their shot at NLand's debut waves, the park's completion could not have come any sooner.
"I've known about this park for over a year," said Austin resident Patrick Darby while waiting for his first NLands surf session. "It's a dream come true for sure. Having grown up surfing on the Texas coast, a lot of our waves are weather-driven, and now you can just show up and know you're going to catch a wave. There is a lot to be said for that."
Using technology designed by the Spanish-based engineering firm, Wave Garden, NLand is capable of producing a six-foot barreling wave every 60 seconds. Perhaps even more remarkable is Coor's commitment to run the 14-million-gallon lagoon completely off of rainwater despite Texas's legacy of drought.
After being collected on NLand's 160-acre property, rainwater is channeled through a pond where it is bio-filtered by algae and fish, then pushed through a series of underground filtration and treatment reservoirs, before finally being pumped into the surf lagoon.
"We designed the park to tread lightly on the land and all its resources, especially water," said Coors. "Even in the most challenging drought conditions, we will be capable of operating the lagoon with only rainwater."
The park's ability to handle Texas-sized droughts is yet to be tested. Fortunately, recent rainfall has filled up Austin's reservoirs to above average levels, but climate scientists predict a return of drought-like conditions in the future.
For now though, the surf is up and Texan surfers are psyched. In the water, NLand's surf guides, sun-grizzled pros wearing red-uniform wet shirts, direct the surfers where to line up. Every two to three minutes, a low mechanical whir accompanied by jubilant hoots marks the coming of another wave.
The waves are generated by a wave foil. "Basically a snowplow pulled through the water by a ski lift cable," explained NLand spokesman Chris Jones. As the wave makes its way across the pool it dissipates, creating different sections of varying size and speed. A whitewater section gives beginners a chance to get their feet wet, while intermediate surfers can practice their skills on a four-foot inside wave. For the pros, the real jewel of the park is the steep, open-faced barreling wave that offers 35-second-long rides.
NLand's waves may be a hell of a fun ride, but they aren't cheap. A one-hour session on the park's beginner or intermediate level is $60, while an hour session on the pro-reef wave costs $90. For the price of a six-hour session at NLand, one could potentially buy a plane ticket to an actual beach in Mexico or Costa Rica.
Despite the hefty price tag, sessions on NLand's reef wave are booked solid for at least the next couple weeks. If the trend continues, Coors envisions more inland surf parks— A prospect that has some pondering about just how this landlocked growth will change the surfing world.
"It's an interesting dilemma," said Nick Strong-Cvetich, executive director of the Save the Wave Coalition, an NGO that works to protect and preserve surf spots around the world. On one hand, he admits that surf parks could lessen the demand on fragile coastal environments as well as cut down on resources needed to travel to the coast, but Strong-Cvetich is worried that new surfers will lose their connection with the environment.
"My big issue would be divorcing people from the ocean," he said. "Surfing is a natural thing that connects people to the waves they use for recreation. By superseding the ocean you may lose that impetus to protect it."
Strong-Cvetich likens surf parks to rock climbing gyms or snowboarding parks. They're a good place to hone your skills, but he hopes their proliferation will ultimately inspire some people to discover the real thing.
Many who showed up to surf at NLands for the grand opening shared Strong Cvetich's sentiment. "It's a great place to learn or keep your skills sharp," said Houston resident Jason Pennington. "But, nothing like this could ever replace being out there in the ocean, alone with nature. It's a sport where it's you and the ocean. You are a team, and you won't get that at a surf park."
"That being said," he added. "I'm stoked that it's here."