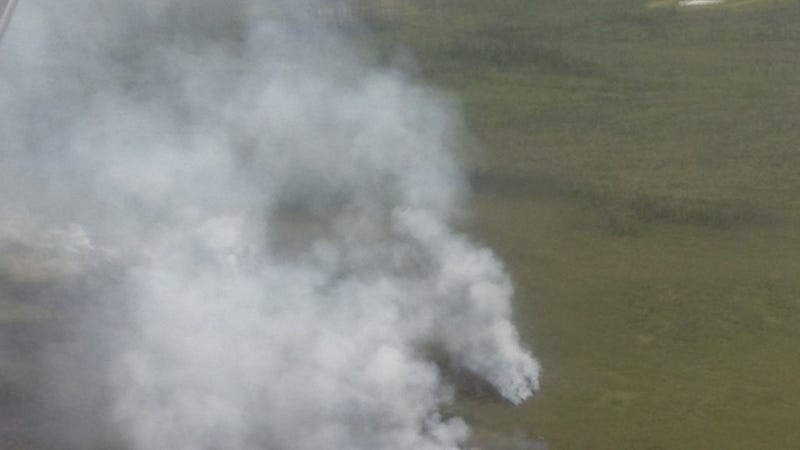 Three wildfires are threatening rural Alaskan communities in the midst of a dry, historic heatwave.
The Sockeye, Card Street, and Tanana Slough fires have burned multiple structures and caused hundreds of evacuations.
More than 300 firefighters from the continental U.S. and Canada arrived to help fight the blazes Wednesday. Alaska Division of Forestry spokesman Terry Anderson sounded grim Tuesday when he told the Alaska Dispatch News, "This is all we can handle. If we have another (fire), we're in trouble."
Those are just the tip of the rapidly-melting iceberg—there are more than 52 active wildfires in the state, according to the Alaska Interagency Coordination Center. Many of those are left alone due to the fact that they are nowhere near any human settlement, but the National Weather Service currently has the bulk of the state under a "red flag" fire warning.
Wildfires can be common in the Alaskan summer, which includes 18-21 hour days depending where you are in the state. The worst fire season on record was as recent as 2004, when more than 6.5 million acres of the state burned.
But this year's season is exacerbated by an unseasonable heat wave that hit the eastern Interior and northern Southeast regions of the state back in May. The National Weather Service reports the warmest May on record, with eight towns breaking their records for hottest May temperatures.
Eagle, Alaska, an 86-person town on the border with Canada, earned on May 23 the dubious distinction of having the earliest-ever day where the temperature went above 90 degrees in Alaska. As the National Weather Service dryly observed in a Facebook post:

Given the size of Alaska, it is unusual to have to have such consistent extremes in widely separated parts of the state.
It actually snowed outside of Fairbanks on June 1, where the temperature was in the high 80s just a few days before. It didn't last long; this week's forecast high temperatures for Fairbanks are holding in the mid 80s.
Patrick Hogan is a reporter for Fusion based out of New York. E-mail at patrick.hogan@fusion.net.