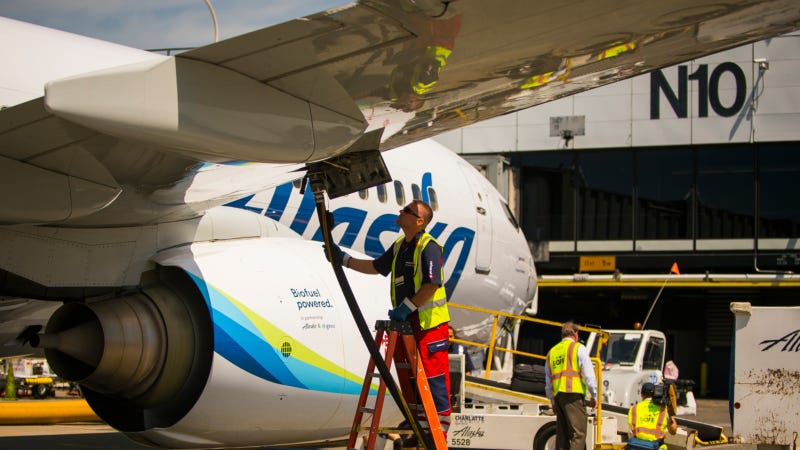 Those of us with even the slightest awareness of our carbon footprint know that flying is just about the most carbon-intensive endeavor there is. With this knowledge in mind, stepping onto a plane is imbued with a whole other layer of apprehension. However, for two commercial flights out of Seattle on Tuesday, climate-conscious passengers could rest a little easier as they flew on Alaska Airlines' inaugural biofuel flights.
According to the airline, the 20% biofuel blend used on the flights reduced their greenhouse gas emissions by around half. These two demonstration flights—one from Seattle to San Francisco and one from Seattle to D.C.—marked the first use of a new alcohol-to-jet (ATJ) biofuel feedstock just approved by industry organization ASTM International in March. Made by Minnesota-based Gevo, Inc., the biofuel blends isobutanol, fermented from corn at a biofuel refinery, with conventional jet fuel.
"Flying a commercial flight with our ATJ made from renewable resources has been a vision of ours for many years, and it has taken many years of work to get this far," said Gevo CEO Pat Gruber in a statement. "We believe our technology has the potential to be the lowest cost, renewable carbon-based jet fuel, given the efficacy of our technology."
The renewable fuel produced by Gevo is made from non-edible field corn—corn that people don't eat—that has been separated from the nutritional portion of the corn that is used for animal feed. The corn is also sustainably grown by farmers like those working with The Funding Farm in South Dakota that aim to limit the use of water, fertilizers, pesticides, and herbicides.
According to David Kolsrud, a founding partner of The Funding Farm, having the chance to grow and sell corn to Gevo is a major opportunity.
"This practice is a game-changer for traditional farmers like me, as this allows us to extend the use of our crop and create new jobs that frankly didn't exist six years ago," he said in a statement.
According to The Funding Farm, for every one acre of corn they grow they can produce 300 gallons of jet fuel and two tons of high-value, high-protein animal feed. Using the fuel in commercial planes requires no alteration to the planes themselves and has been deemed entirely safe.
Glenn Johnston, Gevo's executive vice president of regulatory affairs, said that the point of the biofuel is to shorten the carbon dioxide cycle "so the carbon dioxide we're emitting today, we're putting back into the ground tomorrow."
While these two Alaska Airlines flights were really just demonstration flights, the company hopes they represent a turning point toward significant carbon dioxide emission reductions. According to the airline, if the ATJ fuel could replace 20% of its entire fuel supply at Sea-Tac Airport, it would reduce greenhouse gas emissions by about 142,000 metric tons of carbon dioxide—the equivalent to taking approximately 30,000 passenger vehicles off the road for a year.
Alaska Airlines has a goal of using sustainable biofuel on all flights at one or more of its primary airports by 2020.
Alaska Airlines is not the only major commercial aviation company hoping to reduce dependence on fossil fuels. For example, last year Fulcrum BioEnergy, a California-based biofuel company, announced a $30 million deal with United Airlines to develop jet fuel using oils derived from animal and vegetable fats, otherwise known as household trash.
Airplane flights account for 2 to 3% of domestic greenhouse gas emissions and about 2% of international emissions, however this percentage is likely to rise in coming decades as airline travel grows in popularity. According to the International Council on Clean Transportation, by 2050 the industry could contribute up to 15% of all anthropogenic greenhouse gas emissions if they continue to increase 4% annually.
Both the EPA and international organizations have been working hard to develop carbon dioxide regulations for the airline industry. The United Nations' aviation agency recently proposed the first such limits, which would apply for all new airplanes delivered after 2028. The new standards, which would require a 4% reduction in fuel consumption for new aircraft after 2028 as well as limits for those delivered after 2023, still need to be adopted by the civil aviation council of 36 member states before being formalized.
Meanwhile, according to the New York Times, commercial airlines are voluntarily limiting carbon emissions to 2% growth per year through 2020, with a cap coming into force after that. These fuel reductions come from a variety of changes, including better aerodynamics and lighter planes.
And who knows—maybe one day all our flights will be powered by the sun. Then we'd have a lot less to worry about.