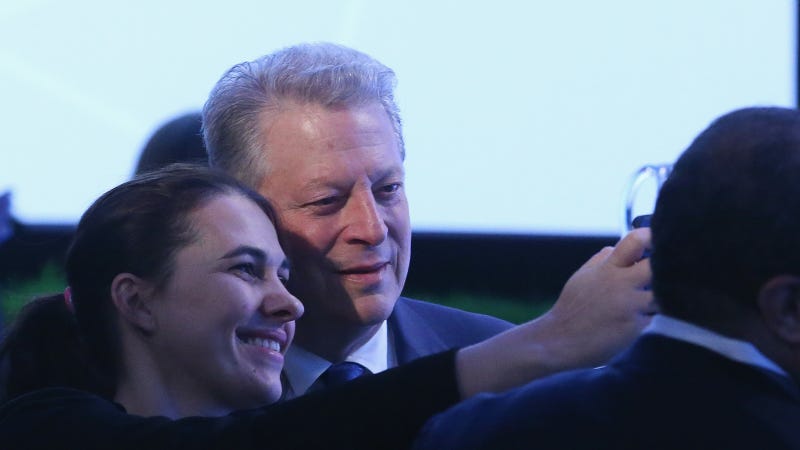 Al Gore follows extreme weather closely, and on Tuesday he'll hit the campaign trail in Miami days after Hurricane Matthew tore through Florida.
Gore is being brought into Hillary Clinton's presidential armada as a climate change weapon. His years, decades even, of devotion to the cause of fighting climate change gives him an element of global warming credibility that not many politicians can offer. It's the hope that those people—especially younger voters—who rank climate change high on their issues list will warm to Gore's pointed rhetoric and get motivated to do things like, you know, vote.
Kicking off his campaigning in Florida is even more symbolic for Gore than just being ground zero for climate change in America. Gore lost the 2000 presidential election to George Bush by a few votes in Florida. Together, Gore, Florida, and the Supreme Court changed history forever, and not for the better when it comes to climate change. Seven years later, Gore won an Academy Award for An Inconvenient Truth, his documentary on climate change, and also the Nobel Peace Prize for his devotion to solving climate change and avoiding as much catastrophic damage as possible. Now, nearly a decade later, he's still trying to inspire action and make up for lost ground—and as far as the president's office, the only person that action will originate from the next four years is Clinton. Donald Trump is a climate change denier who hates environmental regulations.
When Gore appears beside Clinton at Miami Dade College at 3:00 p.m. on Tuesday, he will also be trying to address another specter from his past: the role of third parties in presidential elections. In 2000, Green Party candidate Ralph Nader helped throw off Gore's candidacy. Gore will warn voters not to let their ideological scruples get in the way of one candidate's path to the presidency this time. The alternative is Donald Trump, after all.
Gore spokeswoman Betsy McManus told The Washington Post on Sunday that "for those who agree that we must solve the climate crisis, the choice is clear in this election—and VP Gore is looking forward to joining Secretary Clinton in Miami to talk with Florida voters about how we solve this challenge."
Even as Republicans continue to deny human-caused climate change, Gore has been talking about it for longer than any millennial has been alive. He held his first congressional hearing on the issue in 1976 after winning a seat in the House of Representatives that same year.
Once the hubbub around the election dies down, Gore will likely get back into the weeds of climate policy and the roots of climate activism, where he feels most comfortable and impactful.
Gore founded The Climate Reality Project in 2005 to further his grassroots efforts and is not afraid to make his voice heard when he feels strongly about a climate policy, whether it's coming from a Democrat or Republican.
Regardless of which candidate gets elected, there will be more room—and more need—than ever for climate activism over the next four years. The crisis is reaching an emissions tipping point, and the global community is coalescing around the best ways to mitigate emissions and adapt to short and long-term environmental changes—not to mention the challenges that tie into almost every industry and walk of life.
While Clinton supports reducing greenhouse gas emissions, tackling environmental justice issues, and boosting clean energy, Trump is still calling global warming a "hoax" and threatening to shut down the EPA. In Clinton's acceptance speech for the Democratic nomination, all she had to say was that she "believes in science" to draw a stark contrast with Trump. In Trump's major economic policy speech, he touted all the fossil fuels he would develop and all the environmental regulations he would rescind. Trump wants to back out of the Paris Agreement and do away with the Clean Power Plan. Clinton is heavily in favor of both.
One thing that could go a long way in awakening voters to the true stakes surrounding climate change this election would be to ask about it at a debate. Is that too much to ask?