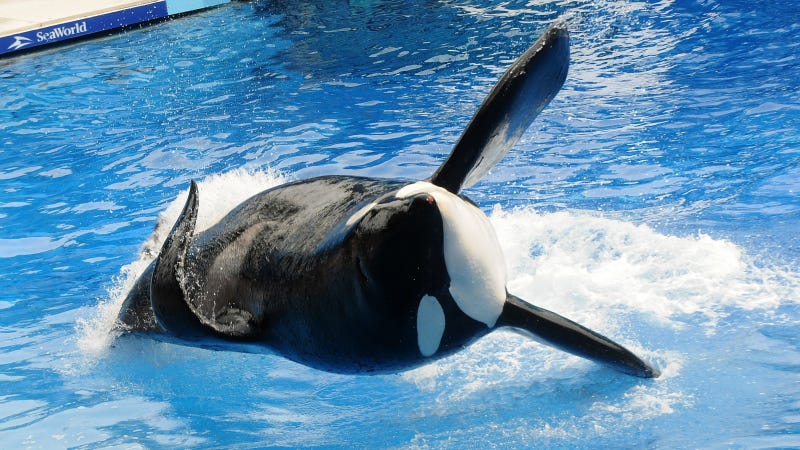 After 25 years at SeaWorld Orlando and a long battle with sickness, Tilikum, a male orca whale, has died. Tilikum rose to fame in recent years after being featured in the breakout 2013 documentary Blackfish, which heavily criticized SeaWorld's treatment of captive orca whales.
Tilikum was the star of the documentary, which induced a heavy public backlash against the company that persists to this day. In November 2015, SeaWorld announced it would be replacing its highly controversial killer whale show with "a new orca experience" that will take place in a more natural setting and carry a conservation message inspiring people to act. Then last year the theme park announced it would no longer capture or breed killer whiles.

In a statement on their website today, the theme park said that "Tilikum passed away early this morning, January 6, surrounded by the trainers, care staff and veterinarians that provided him around-the-clock world-class care…While today is a difficult day for the SeaWorld family, it's important to remember that Tilikum lived a long and enriching life while at SeaWorld and inspired millions of people to care about this amazing species."
Tilikum was involved in three human deaths during his years in captivity. The film Blackfish alleged that the animals suffer physical and psychological damage from being kept in the parks, sometimes separated from their families, and trained to perform. The company has denied the allegations, calling the film "propaganda."
Last March, SeaWorld's veterinarian staff announced that Tilikum had become increasingly lethargic and was showing signs of having a treatment-resistant bacterial infection in his lungs. While the staff continued to care and medicate him with hopes for the best, they were focused on "managing his illness in a way that makes him comfortable and creates an enriching life."
In response to the news of Tilikum's death, PETA's Senior Vice President Lisa Lange released a statement:
SeaWorld's announcement that it's ending its orca-breeding program came too late for Tilikum, who was bred 21 times—and 11 of his offspring died before he did. From the moment that he was taken from his ocean family, his life was tragic and filled with pain, as are the lives of the other animals who remain in SeaWorld's tanks and exhibits. Tilikum must be the last orca to die at a SeaWorld amusement park.
It's been an especially bad first week of 2017 for killer whales, as the oldest member of the small population of endangered Puget Sound orcas has gone missing and is also presumed dead. Nicknamed "Granny, " she was believed to be the world's oldest known orca and was already an adult in the late 1960s when members of her pod were captured for marine aquariums around the world.