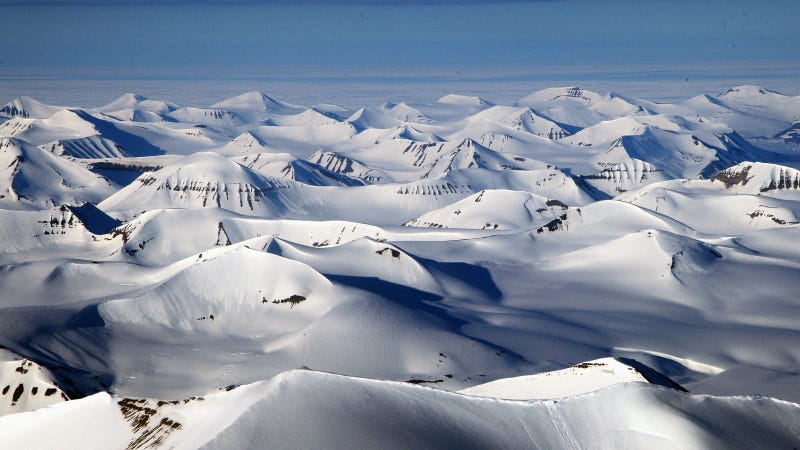 December has been a month of crazy weather across the world. Between the spring-like temperatures in the Northeast, fatal cyclones in the South, and record flooding in the UK, nothing seems normal anymore, weather-wise.
That abnormality now includes one of the coldest places on Earth.
The Weather Channel reports a warm storm heading across the Atlantic Ocean today is expected to bring higher than average temperatures to the Arctic and North Pole.
The average temperature at the North Pole during the winter ranges between −53 to 9 degrees Fahrenheit. The storm is expected to raise the temperature into the mid 30s, as much as 50 degrees above the average temperature for this time of year.
Meteorologists interviewed by Slate said they had "never heard of" such high temperatures in the Arctic in the winter, and the data appears to support that statement.
The same weather system is also bringing strong storms to the United Kingdom, which is still recovering from severe flooding, and Iceland, which is coming off its worst storm in more than 25 years.
The primary driver for all the strange weather we've experienced this winter has been the Pacific weather pattern known as El Niño, which is currently at record strength. While there is correlation between global warming and more frequent El Niños, it's difficult to look at a single weather pattern and say that climate change is responsible.
Here's something you can ascribe to global warming: 2015 was the hottest year on record and 2016 is expected to be hotter. Good news for people who hate winter, bad news for people who like civilization.
Patrick Hogan is a reporter for Fusion based out of New York. E-mail at patrick.hogan@fusion.net.