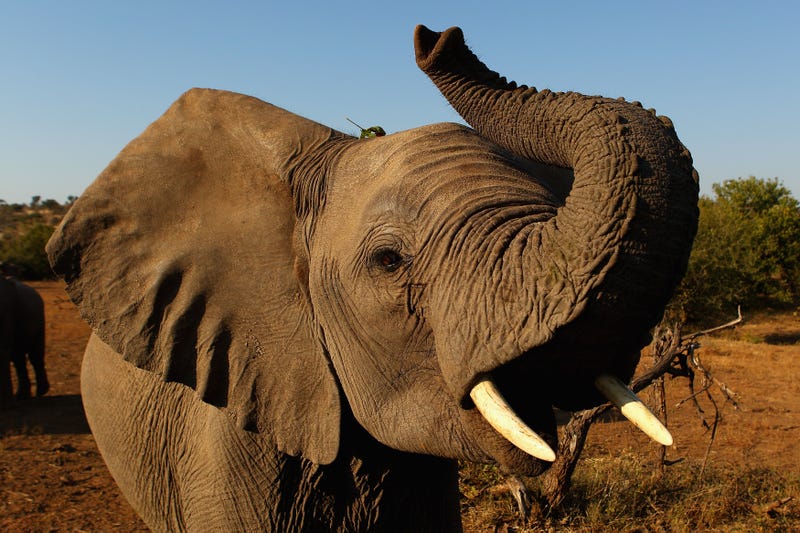 Wayne Lotter, a wildlife conservation leader, is the latest environmental defender to be killed in 2017; he was shot in the head last Wednesday in Dar es Salaam, Tanzania. Lotter was a director and co-founder of the PAMS Foundation, a conservation organization that has been pivotal in the anti-poaching movement across Tanzania; PAMS provides support for Tanzania's National and Transnational Serious Crimes Investigation Unit (NTSCIU), which, according to The Guardian, has been responsible for over 2,000 arrests of poachers and ivory traders since 2012.
Lotter had reportedly received death threats for a number of years, and while the events surrounding his death are still uncertain, he was almost certainly killed because of his work.
Conservationists from around the world have been speaking out all week, pouring in praise for Lotter and mourning his loss.

"Wayne was a hero of mine, a hero to many, someone who devoted his life to protecting Africa's wildlife," wrote Jane Goodall in a memorial statement on her website. "There is no doubt in my mind but that Wayne's anti-poaching efforts made a big difference in the fight to save Tanzania's elephants from the illegal ivory trade. Moreover, his courage in the face of stiff opposition and personal threats, and his determination to keep on fighting has inspired many and encouraged them also to keep fighting for wildlife."

"Wayne was one of Africa's leading and most committed conservationists," wrote Azzedine Downes, the president of the International Fund for Animal Welfare. "He had over two decades worth of experience in wildlife management and conservation, and can be credited as the driving force behind ending the unscrupulous slaughter of Tanzania's elephants."
The Risks That Environmental Defenders Face
Unfortunately, Lotter is far from the only environmental defender who has traded in his life for his work. According to a report published last month from Global Witness, last year was the deadliest year on record for environmental activists and land protectors. During 2016, 200 environmental defenders were killed across 24 countries—nearly four people every week. Activists involved in the mining and oil sectors were the most targeted, followed by those working against logging and agribusiness.
Figures from the first half of 2017 show that things aren't getting any better for environmental defenders. The Guardian, in collaboration with Global Witness, reported that 117 environmental defenders have been killed in 2017 as of the end of July. Lotter is not yet included in this list.
And it's not just death that threatens environmental and land defenders. The Global Witness report explains how across the world these actors are pressured by arrests, abduction, sexual assault, and aggressive legal attacks.

"These reports tell a very grim story: The battle to protect the planet is rapidly intensifying and the cost can be counted in human lives. More people in more countries are being left with no option but to take a stand against the theft of their land or the trashing of their environment," said Global Witness campaigner Ben Leather in a press release.

Lotter was well aware of the risks related to his wildlife conservation and anti-poaching work. Just last year, a pilot was shot dead near Tanzania's Serengeti National Park during an anti-poaching mission; shortly after Lotter told The New York Times in an interview: "The more you go after them, the more situations where confrontation between poachers and rangers will take place. There are going to be risks." But at the same time, Lotter understood that without fighting poaching and the ivory trade, it would be impossible to stop the dramatic decline of Tanzania's elephants; the population of Tanzania elephants has plummeted, from 109,000 in 2009, to about 43,000 in 2014, largely because of poaching.
"Wayne devoted his life to Africa's wildlife. From working as a ranger in his native South Africa as a young man to leading the charge against poaching in Tanzania, Wayne cared deeply about the people and animals that populate this world," read a statement released by the PAMS Foundation team on Facebook. "Wayne's charm, brilliance and eccentric sense of humour gave him the unique ability to make those around him constantly laugh and smile. He died bravely fighting for the cause he was most passionate about.
Wayne leaves behind his wife Inge, daughters Cara Jayne and Tamsin, and parents Vera and Charles Lotter. We all grieve with his family, colleagues and friends. His legacy will continue in our work."
PAMS has set up a funding page to cover the costs of Lotter's funeral and support his family in this time of need.