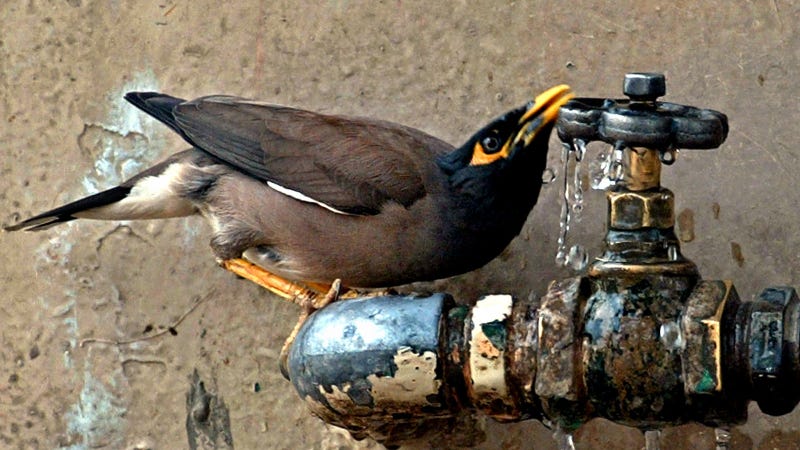 While much of the United States braces for a weekend defined by a suffocating heat dome, a hemisphere away the weather is making these 100-degree days look downright pleasant in comparison.
According to Jeff Masters at Wunderblog, on Thursday the Eastern Hemisphere may have set at all-time high when a city in Kuwait hit "an astonishing" 129.2°F (54°C). Wunderground's weather historian Christopher C. Burt told Masters that if verified, "this would be Earth's hottest temperature ever reliably measured outside of Death Valley, California."
According to Burt, the highest reliably recorded temperature at Death Valley was a 129.2°F reading on June 30, 2013—tied with Thursday's measurement in Kuwait. Death Valley has hit 129°F four other times: July 20, 1960, July 18, 1998, July 20, 2005, and July 7, 2007.
Masters said that considering the incredible heat surrounding the city of Mitribah, Kuwait on Thursday—such as the all-time heat record of 128°F (53.4°C) at Basrah, Iraq—the Kuwait temperature will likely be verified.
These extreme heat waves in the United States and the Middle East are just the most recent headlines in a year that's been chock full of baking temperatures. As NASA recently verified, a record-setting June prolonged a 13-month global heat wave. The first six months of this year have been the hottest ever recorded.
Stateside, the latest reports show that some isolated spots could reach up to 115 degrees today, while over 100 million people may experience heat indices above 100 degrees. Saturday is expected to be the worst of the heatwave, at which point we can all emerge from our houses for a few moments and give the air a big, wet kiss.
According to NBC News, "the intense weather is the result of an atmospheric phenomenon called a heat dome — a ridge, or high-pressure system, that traps hot air underneath it — creating unusually hot and humid conditions."