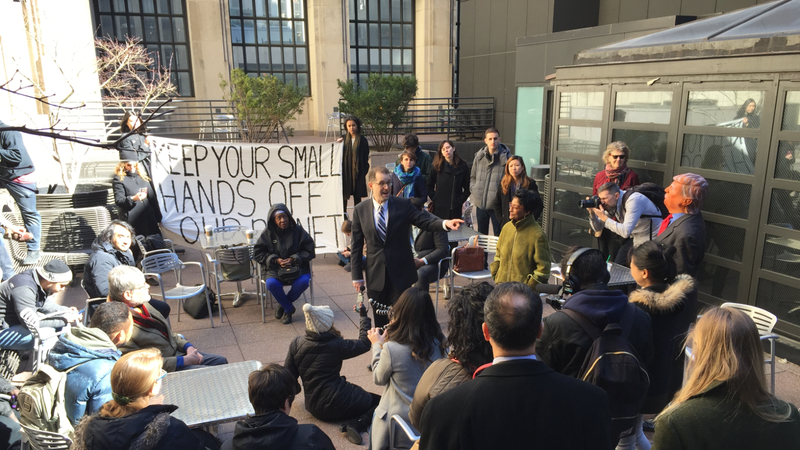 By denying the existence of climate change and refusing to pursue climate solutions, President Trump is denying young Americans a prosperous and healthy future. Someone will have to foot the bill for Trump's efforts to roll back climate policies and the price is expected to fall most heavily on the shoulders of my generation. Climate inaction can cost millennials a staggering $8.8 trillion in lifetime income.
Over 90% of millennials believe climate change is occurring and our voting bloc is projected to have a pivotal role in future elections. But we don't have four years to wait. So we took a message of climate action to a space that Donald Trump can't ignore: his own building.
To try and educate President Trump about climate change and to let him know that we can't afford delay, dozens of college students led a climate change teach-in for the president on Thursday. Anyone who pretends that climate change is a hoax created by the Chinese would flunk grade-school, much less college, so we thought the President would benefit from a crash course on climate facts.
Our teach-in was held inside Trump Tower at a fifth floor public garden required by city zoning law to be accessible to the public seven days a week from 8 am to 10 pm. The teach-in is the latest in a series of direct actions at Trump Tower that utilize the skyscraper's public space as a living lab.
We focused on carbon pricing, a policy which sets a price on the pollution caused by burning fossil fuels. This solution is uniquely powerful because it levels the playing field for renewable energy and encourages energy conservation, at the same time. Without a strong price on carbon, our government subsidizes rich fossil fuel companies by letting them pollute for free, while we all pay the true costs of their unsustainable business.
With the same certainty 97% of the world's scientists assert that humans are causing global warming, the effectiveness of carbon pricing to combat climate change is similarly solid. Trump Tower is one of the most energy inefficient buildings in New York City and carbon pricing would help encourage building owners like Donald Trump to stop wasting energy.
For too long, political divisiveness has hindered progress toward sensible policies like carbon pricing. After decades of Koch-fueled denial, Republicans are increasingly realizing that the threat of climate change is too great to ignore. Appropriately, the free-market solution of carbon pricing is being heralded as a bi-partisan solution. Republican leaders, including Former Secretary of Treasury James Baker, recently delivered a carbon tax proposal to President Trump and Congress.
In an encouraging move, 19 Republican members of Congress have called on their party to take climate change action. Republican Congress members Elise Stefanik, Carlos Curbelo, and Ryan Costello recently introduced a resolution calling on the Republicans to develop policies that will address climate change. They will surely be praised for standing on the right side of history. As millennials facing a future of extreme weather and food shortages, we are heartened to see some Republicans begin to reverse their party's longstanding edict of delay and denial.
Acknowledging that climate change is real is a key first step, but that alone won't save our homes, health and livelihoods. Even if Trump and some Republicans refuse to yield the floor to the future, we can continue to push for carbon pricing at the local level. More than 40 countries and 20 states, cities and provinces around the world have adopted carbon pricing plans. Students like myself are actively encouraging additional US college campuses, cities and states to enact carbon pricing policies.
Thanks for hosting us inside your home today to teach you about climate change Mr. Trump—we hope you study carbon pricing carefully so that you don't flunk your presidency.
Sam Blackwood is a student at Fordham University. He volunteers with #PutAPriceOnIt, a youth-led campaign created by Years of Living Dangerously and Our Climate to establish a price for carbon pollution.