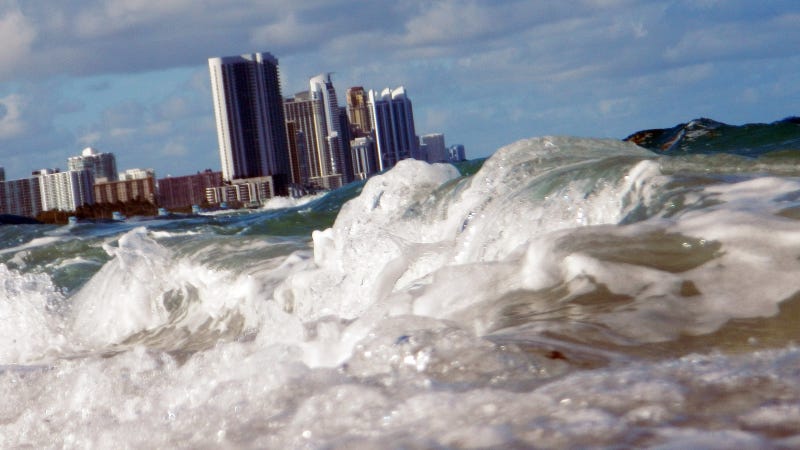 President Obama highlighted the national security risks of climate change and the implications it has for military preparedness in a commencement speech at the United States Coast Guard Academy on Wednesday.
"No nation is immune. I'm here today to say that climate change constitutes a serious threat to global security, an immediate risk to our national security. And make no mistake, it will impact how our military defends our country," he said.
The White House also released a report this week detailing the top reasons that the administration is concerned about climate change, including contributing to poverty, enabling greater terrorist activity, and adding to political instability. The new report draws on previous studies published by federal government agencies.
The president told graduates that the science behind climate change is "indisputable." Republicans, however, are likely to disagree. Only 37 percent of conservative Republicans said they believe the effects of climate change will take place in their lifetime, according to Gallup.
Obama dismissed the opposition, saying that politicians who say they care about military readiness must care about climate change as well. He pointed to three main areas of concern:
1) Increased risk of instability and conflict
The president told the class of 2015 that he is concerned that international conflict will be exacerbated by scarcity of water, food shortages, and competition over natural resources, as governments around the world struggle to meet the needs of its people.
The global effects will likely hit countries in Africa and Asia hardest, as well as poor countries around the world. The president said that while "climate change did not cause the conflicts we see around the world," conflicts have been exacerbated by its impacts. He said Boko Haram exploited drought in Nigeria and that early unrest in Syria was fueled by drought and crop failure.
2) More extreme storms
Superstorm Sandy, which hit the northeast in 2012, demonstrated the need for a massive response from U.S. security personnel in the wake of increasingly frequent weather events. First responders from the Federal Emergency Management Agency (FEMA), National Guard, and Coast Guard helped in the aftermath of the disaster.
He also pointed to the 2013 typhoon that hit the Philippines, killing thousands and requiring an international relief effort, as a "glimpse of things to comes."
"More extreme storms will mean more humanitarian missions to deliver lifesaving help. Our forces will have to be ready," he said.
The Department of Defense, which is the single largest user of energy in the United States, implemented  a number of actions aimed at reducing its own energy use and costs, which resulted in a rapid increase in DO energy efficiency, according to Pew.
"International instability caused by extreme weather, famine, and droughts can require deployment of American forces abroad while super storms can expand the disaster response roles of the military here at home," said Phyllis Cuttino, the director of the Pew Charitable Trusts Clean Energy Initiative.
3) Rising seas
Obama said that rising sea levels threaten homeland security, such as economic infrastructure and force readiness.
"Along our coasts, thousands of miles of highways and roads, railways, energy facilities are all vulnerable," he said.
Obama said that coastal military installations around Norfolk are already being impacted by flooding. He also expressed concern that the thawing permafrost in Alaska is already damaging military facilities.
Geneva Sands is a Washington, D.C.-based producer/editor focused on national affairs and politics. Egg creams, Raleigh and pie are three of her favorite things.